When I say shrimp boil what comes to your mind? For me, a non-southerner, I conjure sunny days, surrounded by family, in an outdoor setting with messy, buttery broth covering our fingers and dripping from our chins. I picture loud conversation and a spat over someone picking up the morsel that someone else was going to grab. If this event would go on into the night, I might call it one of the greatest days spent with family ever. Ultimately, I picture a moment in time that will be remembered fondly and discussed for years to come. Remember the time….
Sure, I also imagine the delicious, flavorful food spread out in all of its glory on top of the table (or on a platter)-shrimp, perhaps some sausage, potatoes, corn on the cob, celery, carrots and onion smothered in butter, Tabasco and Old Bay-seasoned broth. If this is too messy sounding, have a water fight (hose off afterward) for an even more memorable family event. Add some summer tunes that make you tap your foot during the meal and entice you to get up and dance once the feast is done. (I would also add icy cold, light beer to round off the delightful occasion.)
Old Bay seasoning is highlighted in this dish and rightfully so; we're talking about a blend of celery salt, mustard, red pepper, black pepper, bay leaves, mace, allspice, cloves, ginger, cinnamon, cardamom and paprika. You might become hooked like me and sprinkle it in and on top of other dishes. (Some people use Zatarains seafood or Cajun seasoning and those would be fine too.)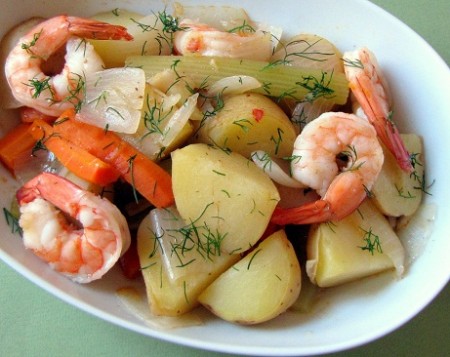 Seafood boils have a strong connection to particular areas of the United States. I didn't experience anything like this growing up which was part of the reason I wanted to prepare a shrimp boil for the two of us. Simply looking at the list of ingredients made my mouth water so that was the other part. Then, I went further and created, in my mind, the ideal way to enjoy this meal.
Pardon me if my method or ingredients are not traditional but that's how I work. I would be happy to hear other versions of a seafood boil. I found an older Food & Wine recipe and began adding my own ingredients such as, clam juice, celery, carrots, butter and dill. I didn't have sausage or corn on the cob (really wish I did) but would love to toss those into the mix.
Martha Stewart has a spicy shrimp and sausage boil recipe on my radar. Maybe it's just me but I think a splash of dry white wine would round out the already amazing broth. Served with a side of melted butter, more Old Bay and a drizzle of the broth to the top made this finger-licking delicious. (This is the only time I'm going to use that phrase-promise.)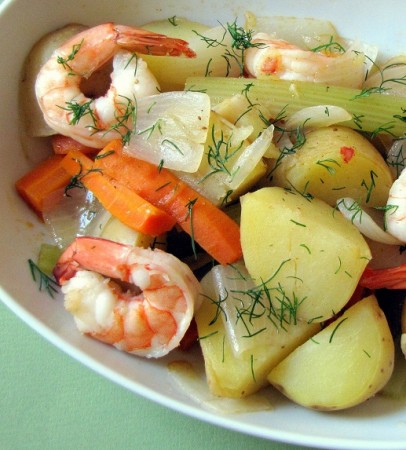 Shrimp Boil with Potatoes, Corn and Buttery-Spiced Broth
Serves 4 to 6
Ingredients:
6 cups water
4 cups clam juice (or 8 cups of veg or seafood broth)
4 cups seafood or vegetable broth
6 cloves garlic, peeled and smashed
½ lemon, cut into 4 wedges
½ cup Old Bay seasoning
2 tbsp butter (plus more for serving on the side)
1 tsp to 1 tbsp Tabasco sauce (depending on how spicy you'd like it)
2 bay leaves
salt/pepper (to taste)
splash of dry white wine-optional
1 lb. potatoes, quartered (about 3 or 4)
1 large onion, cut into wedges
2 long stalks of celery, cut into thirds
2 carrots, peeled, cut into thirds (or however you want them)
2 ears of corn, husked and cleaned, cut into thirds
1 ½ to 2 lbs. uncooked large shrimp (I like deveined, tail-on but you can get the shell-on)
1 tbsp fresh dill, chopped-optional
In a large pot, bring the water, clam juice, broth, garlic, lemon, Old Bay, butter, Tabasco, bay leaves, optional splash of white wine and salt/pepper to a boil. Reduce to a simmer for 10 minutes.
Add the potatoes, onion, celery, and carrots. Be sure they are submerged in the broth. You might have to add more water. Simmer until they begin to tenderize, 10 to 15 minutes, and then add the corn for about 5 minutes. The veggies should be tender by now. Add the shrimp and bring back to a boil. Simmer until the shrimp are done, about a minute. (If you prefer more meat, add some cooked sausage to broth.)
With a slotted spoon, remove all of the contents to a large platter (or once drained, pour on a paper-covered table). Keep the broth. Serve with more hot sauce, butter, Old Bay and some of the broth. No need for plates, if you dare, grab from the shared platter. You will need a load of napkins for messy hands and faces (or a hose). This shrimp boil is worth it!
* You can reuse the broth to make soup-add beans, potatoes and other vegetables you have on hand.