August, month of many special birthdays and creating plans for our trip home in (my favorite month) September, you have arrived. I can officially release my excitement about going home (northern Indiana) for much needed family and friend time. I tried to contain it as best I could for months but it's nearly around the corner. One day, I will turn that corner and smack into that time-the only time I am happy about running into something. (Ouch, you hurt so good.)
Our nephew still hasn't arrived-the main reason for our travels. Come on, Junior! I want to smother you in love and watch the happiness that our family will have from the new member. This is an epic moment.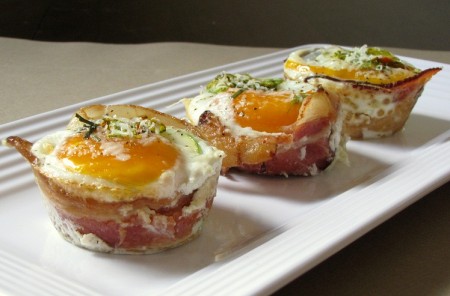 I am blissfully late writing this post because I'm planning for this trip. There's so much to do and figure out. I want to focus on one thing at a time and right now, I'm researching what we might do when visiting my sis-in-law at Indiana University in Bloomington, Indiana. She begins school this fall and may not be able to come home so we will not only travel 12 hours to our northern destination but also 3 hours, slightly beyond Indianapolis, to the southern portion of the state (some might argue central…and no, there aren't accents….). We are more than happy to do this.
Yes, I am an alumna of Purdue University and IU is a rival but there's still camaraderie, in my mind. I have been to IU several times and admit that their campus is more attractive than the grounds of my alma mater. (Shhhhh!) Last I knew, their library was sinking but as the joke says, no matter, they only have one book and it has crayon marks on the pages. Haha!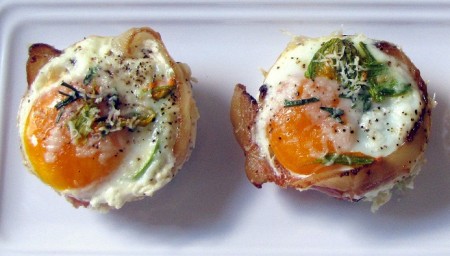 Bloomington is bursting with cultural activities, great food, a brewery and a few wineries dotting the landscape. If we can, we will spend a little over a day waltzing around the town. The goal is to be home from September 10th through the 18th. We haven't been home since Christmas! I don't think that will be long enough.
Just like these bacon and egg cups didn't stick around long enough. Greg liked them. He really liked them. I basically put some veg, cheese, cream, herbs and bacon together in a muffin cup and topped them with an egg. They are as good as they sound and I think placing them in a muffin cup made such a compact, adorable morsel of deliciousness.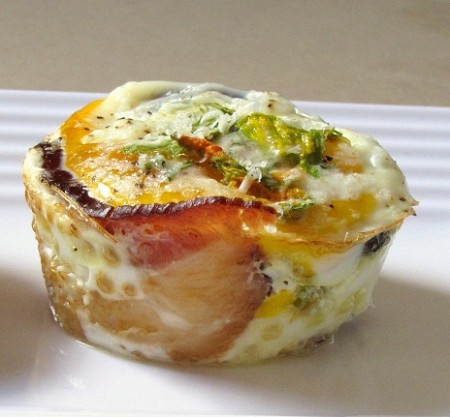 Bacon and Egg Cups with Potatoes, Parmesan and Squash Blossoms
Serves 2 as a meal-serve with toast
Ingredients:
6 slices of bacon
3 small potatoes, diced (I used tiny purple)
1 medium zucchini, diced
3 tbsp rosemary (or herb of your choice)
6 tbsp heavy cream
3 tbsp butter
6 large eggs
grated Parmesan
salt/pepper
squash blossoms, torn-optional (I had some on hand)
Preheat the oven to 350F. Lightly coat 6 muffin tin cups with oil. In a skillet, cook the bacon until cooked but not crisp. Line the sides of the cups with a slice of bacon. In the same skillet, keep about ½ tablespoon of the bacon grease, remove the remaining, and cook the potatoes until tender. If you don't have that much leftover grease, add some butter or oil.
Place the potatoes and zucchini in the bottom of the 6 cups, divided evenly, making sure the bacon stays on the side. Top the potato mixture with ½ tbsp of rosemary, 1 tbsp of cream and ½ tbsp of butter in each cup. Crack an egg over the top of each cup, grate the Parmesan over the top of the egg, sprinkle salt/pepper and place the optional torn blossoms on the very top. Bake for 20 to 25 minutes or until the egg is set. Serve with toast or a muffin-whatever you desire.