I wasn't familiar with Norwegian lefse until a few years ago when I saw a package in the freezer section of our local coop. As I normally do, I checked the ingredients and saw potatoes as the first followed by milk and butter. Umm, yes, I need this is basically what I decided. That sounds like pure goodness.
When I make a meal served with some kind of bread, I commonly interchange naan, lefse, pita and my favorite French baguette from the local bakery. (Making baked goods is not my forte…hence the lack around here.) Different world regions make up my unintended "fusion cuisine." For example, an Indian meal does not require naan in our house. Lefse works. Greek dishes are just as lovely with this flatbread in place of pita. Things along that line. The other night it held my tandoori chicken in wrap form with a little sour cream, lime and cilantro. Pretty amazing. Greg applauded. That chicken recipe to come. (It's kind of why I'm leading with the lefse recipe because they go so swell together.)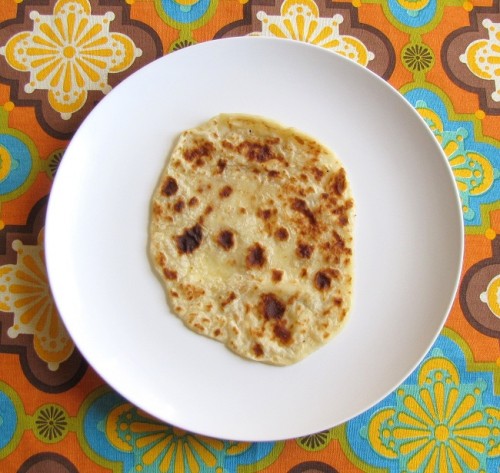 So, after preparing a batch, I found out how easy it is to make and resulted in tasty bread, surpassing what I had purchased. I do not intend to belittle the process but you pretty much make mashed potatoes, chill those, add a few more ingredients, stir, add flour, roll out the dough into thin pancakes, dry cook them in a hot hot pan or griddle for a few minutes, continue the cooking process for each pancake then serve. You can make them into a sweet treat by adding butter, sugar and maybe even some spices in the end.
Thanks to Megan at Feasting On Art and the Kitchn for having her guest post the recipe.
Lefse
Makes a dozen or so medium pancakes
Ingredients:
3 medium potatoes, peeled and quartered
3 tbsp milk
4 tbsp of butter
1 tsp sugar
1 tsp salt
1 cup flour
Add the peeled/quartered potatoes in a pot of boiling water and cook until tender. Drain then mash until smooth. Place mashed potatoes in freezer until good and chilled.
Melt the butter in the microwave or on the stovetop then add the milk, sugar, and salt. Mix and add to the chilled potatoes. Stir well then add the flour until a thick dough is formed similar to a pie crust. On a floured surface with a floured rolling pin, roll out egg-sized portions of the dough into very thin pancakes.
Place a griddle or frying pan on high heat (no butter or oil). Place the pancake on the dry pan and cook for about a minute until golden spots appear. Flip and cook the other side for an additional minute. Continue this process with the rest of the dough.
Serve and eat immediately. You can also add butter and a sprinkling of sugar (also nice with a bit of cinnamon or other spices) in the end for a sweet treat.