I'm having one of those weeks already. It's a Tuesday. A Tuesday in August. I don't know how we got here. Over 4 months ago we were rejoicing in the early spring then early summer temps and the fact that we could work in our backyard in March in Minnesota. That is miraculous. Now it's August. (My second favorite month. September being numero uno.)
Greg's birthday is almost here-his 28th. Our nephew's 2nd birthday before that. My grandma, my mom's, my sis-in-law's, my in-law's anniversary then, of course, the one I talked about weeks ago, the big 30 for me. Bring it.
To get you up to speed around here:
I don't want to jinx it but our furniture "redecorating" is going very well. We just celebrated our 1 year mark last week and since adding my vintage decor finds to our etsy shop, half the store sold in a few weeks. I've been packaging and shipping my heart out. Now I just need to find more items which means I have to go through my resources for finding garage/estate sales, flea markets and vintage/thrift stores. It's not some random trip. It takes planning. A good portion of my week is on that step. Our empire dresser just sold to a newlywed couple on their way from Brazil (her home country) to Philadelphia with a stop at his parent's house in St. Paul.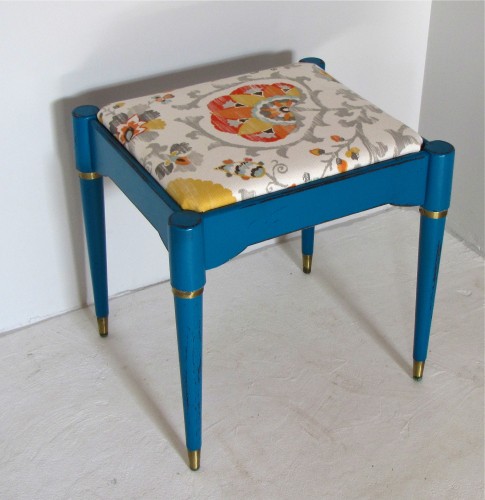 We've got new and different projects coming up and when the weather is too chilly to go outside, we'll be turning to indoor tasks (which really excites me). Drywall work, painting and picking out the details that add character, such as, doors and new trim. All that remains for the yard this year is to reroute the downspouts, regrade the yard, establish new grass and clean up the other side of the yard (yeah, it's a big job but we're past the halfway point).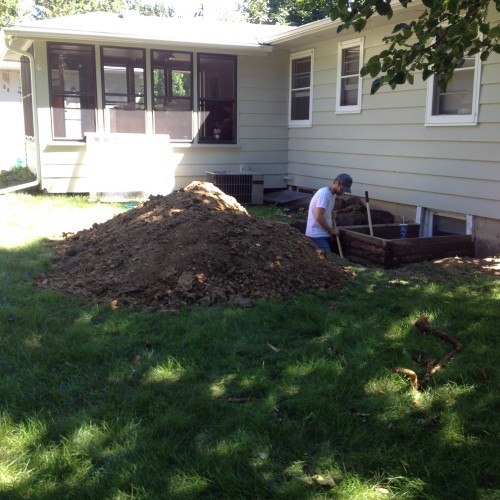 Greg fixed the window well over the weekend (a big job) that was collapsing in on itself making it no longer a viable fire escape. And the temps are starting to drop making it more comfortable outside (except for the mosquitoes).
That makeover I so desperately mentioned probably isn't happening. Not yet. And I gave up on the treadmill for now. Regular "treadmilling" that is. Just as I thought, I could only stare at our basement's brick wall so many times, listening to the same songs and not losing much weight. 4lbs. in 6 weeks is disappointing when you're counting calories and busting your hump. I'm going for a more natural way…which means I gained 2 of the 4 back. I'm still outside every weekend and some weeknights digging (5 blisters on my hands), lifting (my legs are always sore), moving something heavy (those damn rocks). Now that we've started on the other side of the yard we've dug up at least 100 more landscape rocks. But even that and calorie counting has no impact so far. It feels cruel to be sore and blistered and see the scale remain the same (or higher). C'est ma vie.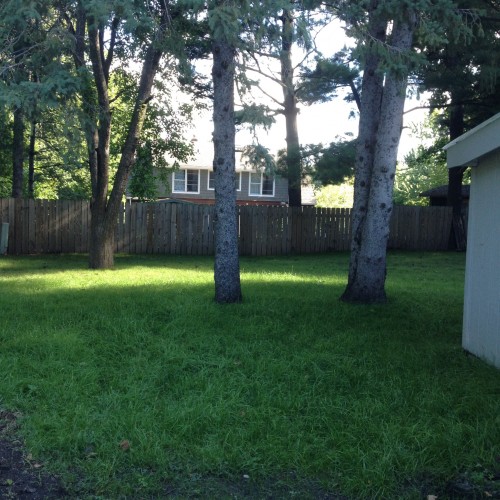 Greg and I paid off a student loan. We work with 4 student loan companies. Paying them buttloads of money each month. To have one paid off is a victory.
It's almost fall. My favorite season and pretty much with the dipping temps around here, I'm getting in the mood for fall recipes. To offset the lack of summer enjoyment since he's in a building 12 or 13 hours a day during the week, he's actually been staying home Fridays like he was meant to do from the beginning but rarely can with all the projects on his plate for his day job. He will hopefully get to log-in remotely from home instead of driving to fix a program or work on designs. Thursday begins his travels to the other facility in the Minneapolis metro due to his promotion. And we're expecting a new routine that is much improved.
Where was my original thought? Ah, yes, one of those weeks in terms of cooking. I've made two recipes that were not just slightly off but nearing inedible. (I'm pretty hungry by that time so almost inedible.) The ingredient amounts were way off, something was to be a paste and it ended up soup…just bad. Since I'm counting every calorie and make it so that dinner is the meal to look forward to, I've been ticked. Livid more like it. Not only is dinner the highest calorie intake of my day but the ingredients can be expensive. Shame on those usually reputable recipe sources.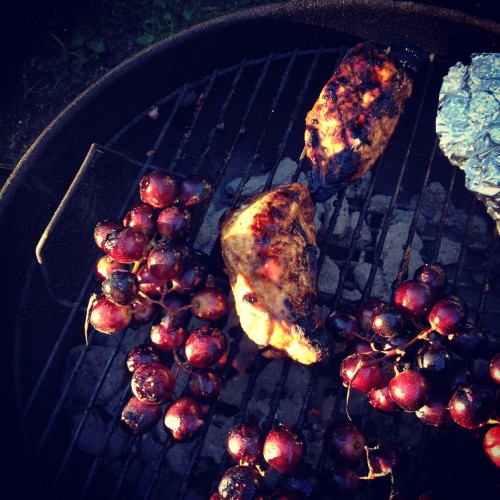 There is one exceptional meal from the weekend. Something simple. Here it is. You can tell it's gotta be good by the ingredients and grilling. Grilling makes almost anything better.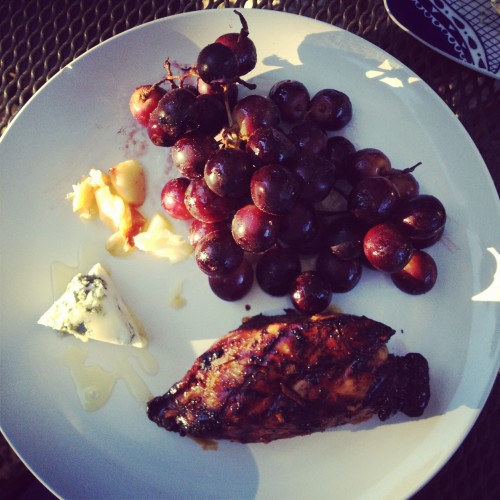 Honey-Glazed Chicken with Roasted Grapes from Better Homes and Gardens
Serves 4
Ingredients:
4 bone-in, skin-on chicken breast halves, 2 ½ to 3 lbs. total (I used boneless but think bone-in would be best)
5 tbsp balsamic vinegar
1 tbsp olive oil
3 cloves of garlic, minced
¾ tsp salt
¼ tsp black pepper
¼ cup honey
2 tsp shredded orange peel
1 bulb of garlic (about 10 cloves)
2 tsp olive oil
1 lb. red or green seedless grapes, in 4 bunches
1 tbsp honey
1 wedge of blue cheese
1 tbsp honey
Place the chicken in a large resealable bag. In a small bowl combine 2 tbsp of the vinegar, 1 tbsp oil, minced garlic, 1/2 tsp of the salt, and pepper then pour over the chicken. Seal and turn bag to coat chicken. Set aside for 15 minutes and up to a few hours.
Meanwhile, in another bowl, combine the remaining 3 tbsp vinegar, 1/4 cup honey, orange peel, and remaining 1/4 tsp salt. Mix well and set aside. Separate and peel garlic cloves; place on an 8-inch square of heavy foil; drizzle with 2 tsp olive oil. Wrap foil around garlic and seal.
For a charcoal grill, arrange for medium heat. Remove the chicken from the bag, discard the marinade. Place the chicken, skin side down, on the grill rack for indirect heat. Place the garlic packet next to the chicken. Cover and grill for 20 minutes. Remove the garlic and cool. Turn chicken skin side up; brush with some of the honey mixture. Cover and grill for 15 to 20 minutes more or until an instant-read thermometer inserted in chicken registers 170 degrees F., brushing occasionally with honey mixture up until the last 5 minutes of grilling. (For a gas grill, preheat grill. Reduce heat to medium. Adjust the heat for indirect cooking. Place chicken, skin side down, on grill rack on unlit side. Cover and grill as above.)
Meanwhile, drizzle the grapes with 1 tbsp of honey. Place on the grill. Cover and grill for 4 to 5 minutes or until browned and softened, turning once.
Remove chicken and grapes to serving plates. Serve with blue cheese topped with garlic (or garlic on the side) and drizzle with honey.