Greg's 28th birthday (that'd be my husband and bestest friend…yeah, gag) is Friday. He's a young pup. Younger than me by almost 2 years. I tell him that some of us adults are going into their 30's soon (my 30th is September 5th) while he gets to play in the ball pit at McDonalds, figuratively speaking, being all youthful and admired and not called ma'am…. ……. … …………………anyway. A bunch of dots and pauses is exactly how I see the idea of turning 30. I leave it alone these days since it's approaching full speed. That day, Greg has taken that week off, I'm sure to be all over the emotion board. Look out people of Northfield. Annie's turning 30.
What's going on for his special day? Food. Well, duh you're probably saying. The plan is to grill steaks-the expensive, rarely bought variety and cheesecake. His request. Also his request was something with peanut butter and chocolate (which is odd since we usually crave something tart) so it's a peanut butter cup cheesecake. There will probably be a potato or some kind of side or a grilled salad which has been something we're both craving. It's much better than a plain, non-grilled salad. Toss some romaine and garlic on the grill (garlic in some foil with olive oil), make a nice vinaigrette, perhaps some tomatoes, a little Parmesan and I'm actually more excited about a salad than the cheesecake. What's wrong with me? Don't answer that.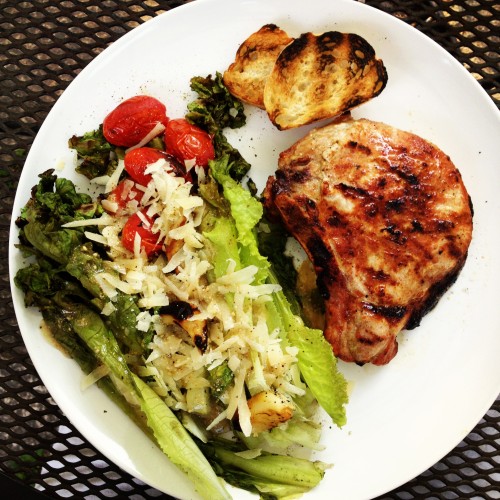 If it's everything Greg ever wanted and more, I'll share the cheesecake recipe with you. I'm into making wishes come true.
But today, I know it may seem odd to go into a spiel about cheesecake, steak, salad and come out with a simple fruit dessert but that's how it goes in these final weeks of 29. (Milking this for all its worth.)
Life is going to hand you a peach in these dwindling days of summer (and youth) and you should make poached peaches with honey, cinnamon, and vanilla. Add some sparkling wine in there and oh, did I get your attention? Poaching just means simmering it in liquid. Liquid based on wine this time. Only the best for you. Ignore that it takes a little water to cover the fruit. Just a little.
Pair it with some yogurt or ice cream or devour it by itself. I tossed in a few raspberries for good measure just before serving so they aren't too fally-aparty. Technical term. You can do this with many fruits-peaches, nectarines, plums, apricots, pears. Remove the cinnamon stick before you place the fruit in to simmer. It has a way of overpowering the juice. Someone always has to ruin the party. The fruit party. Does your brain function better when you're 30?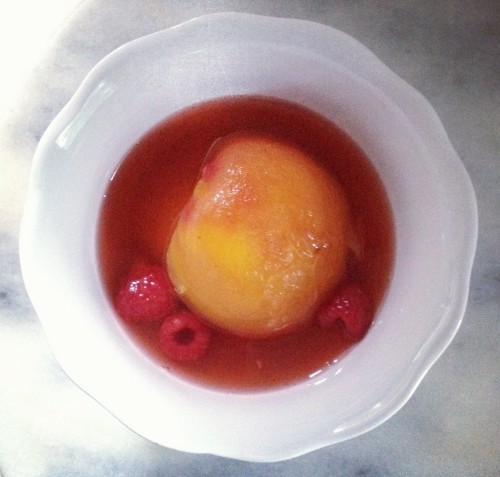 Peaches Poached in Sparkling Wine, Vanilla, Honey and Cinnamon adapted from Real Simple
Serves 2
Ingredients:
1 cup sparkling wine
1 tbsp sugar
1 tbsp honey
1 cinnamon stick
1/4 vanilla bean
2 peaches (or nectarines or plums or apricots or pears), halved and pits removed
In a large saucepan, bring the wine, sugar, honey, and cinnamon stick to a boil. Split the vanilla bean lengthwise and scrape the seeds out. Add the seeds and pod to the saucepan. Remove the cinnamon stick then add the fruit and enough water to cover them. Simmer gently until tender then transfer the fruit to a bowl. Continue to simmer the liquid until it's reduced slightly then remove the vanilla pod and pour the remaining liquid over the fruit in the bowl. Refrigerate until chilled (about an hour). I added some raspberries before serving. Pair it with some yogurt, maybe ice cream or eat it by itself.