Where did the time go? It's midweek already and I've yet to bring you up to speed about Greg's birthday Friday/our weekend. For one, we went to Gold Rush Days antique show and flea market in Oronoco, Minnesota. To hear more about that please visit my other blog, the Wits.
I did make the peanut butter cup cheesecake and I can't hide…it was gross. As in we couldn't eat it. It left a bad taste. I felt sorry for wasting the tasty peanut butter cups and almost dug them out. I can't believe it either but I had my suspicions when I read through the ingredients. I left that judgment behind because this recipe is all over the interwebs like it's some kind of sensation you must try and since I'm not a big peanut butter in my cheesecake fan (but Greg requested it), I thought I'd trust the public. What seemed off to me, from my experience making all kinds of cheesecake, was that the base didn't consist of enough ingredients beyond cream cheese nor was it baked surrounded by water which has been my favorite method. I won't be sharing that one.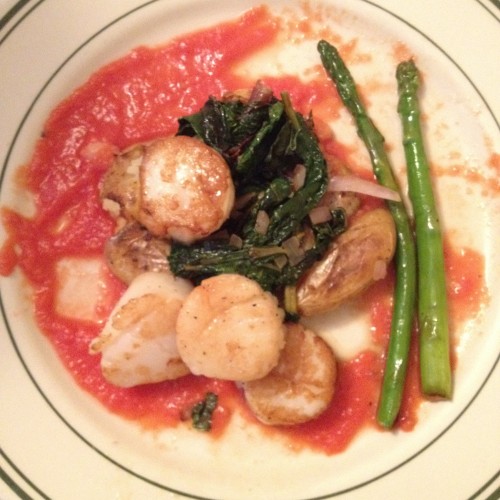 I was sad that my husband's special birthday dessert turned out so bad I didn't want to face the kitchen any more that day. Greg had the great idea to go down the street to the Ole Store. And it was delicious. We went all out and will certainly be back. (The steak and grilled salad I mentioned in the last post was prepared the following night without disappointment too.)
The rest of the weekend was a lovely blur (unlike that picture up there). The weather was beautiful and I got to spend much needed time with my husband. He's back to being extremely busy at work, still making the transition for his promotion to design engineer. Which means he's brought his work home and has been taking late night phone calls trying to "extinguish fires" that will hopefully soon not be his responsibility. Poor guy. Barely gets sleep or a break. He's looking forward to that week off around Labor Day (my birthday).
Are you still grilling or have you transitioned more to fall already? I'm in-between seasons but have a salsa recipe to share that involves pineapple. My friend Kris recommended this tacos al pastor with grilled pineapple salsa a while back during my pineapple frenzy. She was so right-the salsa definitely made the dish. Pork and pineapple rock. And you know my affinity for grilling practically everything right now. For the full pork recipe visit the link I provided above but I'll give you the pineapple salsa recipe. I imagine this with fish, on beans, with tortilla chips. It's just all kinds of awesome.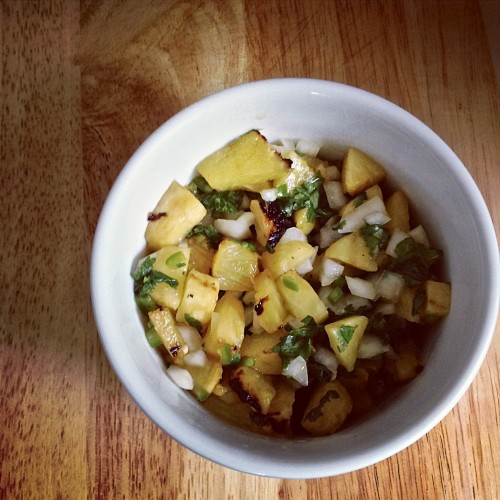 Grilled Pineapple Salsa from Cooking Light
Ingredients:
4 (1/2″ thick) slices
1/4 cup fresh cilantro leaves
3 tbsp thinly sliced red onion (I had white)
3 tbsp fresh lime juice
1/4 tsp salt
1/2 jalapeno, minced
Prepare your grill for high heat. Oil your grill rack then place the pineapple on it. Grill for about 5 minutes on each side. Take if off the grill and chop coarsely; add it to a bowl. Add the cilantro, onion, lime juice, salt and jalapeno. Toss to combine and serve. By the way, this goes extremely well with salsa verde or a tomatillo-based sauce.