Quick update: extended deadline is needed for the bank to decide to approve us for the house (new deadline to be discussed with agent tomorrow), extended deadline on snow (it's snowing again @%!&*), and we might be looking for a month-to-month lease on a new apartment in a month or so. You are now basically caught up.
Spring will come, a house will be ours and we will find a short-term apartment. That's just going to have to be what will be. Que sera, sera.
What little I am in control of, like cooking and dogsitting, has turned out great. Last week, my pet companion got me outside (although in very cold temps) and moving again which was nice. I'm pining for spring. It's also comforting to know that I can prepare a dish that will require me to sit down, take a load off of my mind and help steady me for a less stressful remainder of the day.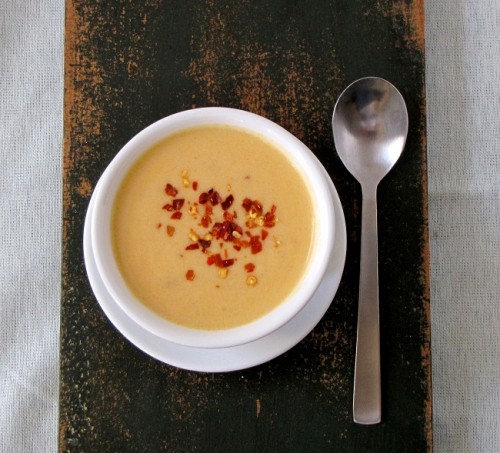 But it's not difficult when you pretty much toss things in a pot and produce something as magnificent as this cheddar cheese soup from Framed Cooks (one of my favorite sites).
I changed a few things for my taste, such as, reducing the amount of onion and celery but only because I do not like to increase the amount of vegetables for flavor in a soup just to strain those solids out (seems like a waste but that's just my preference) and I chopped the garlic in place of mincing. With that high of heat, I don't like to mince garlic for fear of burning it and causing a horrible taste. Plus, with my way, you end up pureeing the soup so you won't have chunks of anything in the end. To make the flavors more complex, try different varieties of cheddar cheese (mild, smoked, sharp).
Cheddar Cheese Soup
Serves 4
Ingredients:
½ stick butter
1 cup onion, chopped
1 celery stalk, chopped
2 cloves of garlic, chopped
¼ cup flour
¼ tsp paprika
¼ tsp red pepper flakes
4 cups chicken or vegetable broth
1 ½ cups half and half
2 ½ cups cheddar cheese, grated (I used a cup of smoked and medium for the remaining)
a few dashes of Worcestershire sauce
Melt the butter in a large pot over medium-high heat then add the onion, celery and garlic. Sauté until tender, about 5 minutes. Mix in the flour, paprika and red pepper flakes, stir, then stir in the broth and bring to a boil. Reduce the heat to a simmer for about 15 minutes or when the vegetables are soft then puree the soup with a hand blender, food processor, or blender. Be careful with the hot mix, folks.
Return the mix to the pot if needed and add the half and half. Bring to a simmer once again then add the cheese by the handful, stirring each time until each portion is melted. Season with salt and pepper to taste. Drizzle a few dashes of Worcestershire sauce over the top when serving or add to the entire pot, it's your choice. Bacon, croutons and a number of other toppings would be wonderful over this recipe. See my post about soup toppings for more ideas.