Happy birthday to my mom-in-law Eva tomorrow! I will likely not post that day but wanted to be sure to say it. We'll be thinking of you. To my sweet husband, safe travels to Milwaukee (or that vicinity) on business today. For me, I'll be dog/house sitting for some friends over the next few afternoons. My dog pal, Shotsy, and I will be dining with one another and going walkies. Too bad there's snow everywhere and the path is icy. But anywho…
I was perusing Food52's website last week, as I try to do a few times a week, when I came across this editor's pick recipe for curried lentil dip.
It drew me in mostly because I already had red lentils from my local co-op and it sounded amazing. Fresh ginger and coconut milk paired with garlic, cumin, garam masala and a bit of heat from cayenne simmered until the lentils fall apart. Then there was the kicker, cilantro sprinkled in at the end. (It's optional.) It's one of the best dips I've ever had and Greg is not big on coconut milk but he requested more and might have licked his fingers murmuring mmmm mmm with several bites.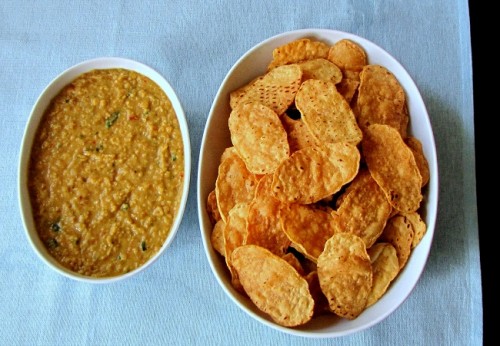 I had to do it my way so I added garlic chili sauce-just a tad for more heat and used the recommended sweet potato chips as the vessel to my mouth. I think that was a great choice but really any root veggie chips or lefse, a Norwegian flatbread made from potatoes, milk or cream and flour (another leftover of ours) were indescribably good paired with the dip.
This lentil dish can also be a side, stew or main meal-a creamy, buttery mass of lentils with a scent that will haunt you in the best way. Do yourself a favor and double it. It will keep for days, reheat like a dream and keep you happily noshing.
Safenervine, the creator, should receive a prize of some sort for this dish. That prize should be another pot full of this dip and a giant bag of chips.
Curried Lentil Dip
Ingredients:
1 tbsp + 2 tsp olive oil (I added this when my coconut butter began to smoke in the pot)
15 oz. can (or near that amount) coconut milk
1 ½ cups dried red lentils, rinsed and drained
1 medium onion, diced
2 large cloves garlic, minced
salt/freshly ground black pepper
1 tbsp fresh ginger, minced
1 ½ cups chicken broth
½ tsp ground cumin
½ tsp turmeric
2 tsp garam masala powder
¼ tsp cayenne
¼ tsp ground cinnamon
2 bay leaves
1 tsp to 1 tbsp garlic chili sauce (for heat)-optional
3 tbsp fresh cilantro, chopped-optional
sweet potato chips, root veggies chips or lefse for dipping
Place the can of coconut milk in the freezer for 20 minutes before cooking. While you are solidifying the coconut butter, prep the onion, garlic, lentils and ginger. Open the can and remove 2 tbsp of the solidified coconut butter at the top. Reserve the milk.
Place 2 tsp of the olive oil and 2 tbsp of the coconut butter in a large pot over medium heat. Add the onion, garlic and a few dashes of salt, stir until golden. Add the ginger, coconut milk, broth and 1½ cups water. Gently boil, uncovered, until lentils fall apart, about 20 to 25 minutes.
Meanwhile, add the remaining tablespoon of olive oil to a skillet over medium heat. Heat until hot but not smoking, then add the cumin, stirring for 30 seconds, until slightly darker. Add the turmeric, garam masala, cayenne, cinnamon, a few dashes of crushed black pepper and bay leaves. Stir, until fragrant, 30 more seconds and when lentils are completely cooked, stir in the spiced oil. Let stand for 5 minutes, covered, then add the optional cilantro and salt to taste. Serve with the sweet potato chips, root veggie chips and/or lefse.