Happy anniversary, mom and dad! We love you two very much and hope your day is extra special! Give my nephew a kiss for me. Nolan happens to be a few days over 7 months old and visiting grandma and grandpa today, I think. On that note, nephew Matthew will be 3 months old soon…I've gotta see these sweet guys pronto!
In the spirit of St. Patrick's Day, I've decided to post two recipes connected to traditional Irish cuisine. I've pulled these out of my recipe arsenal from days past, without any intention to mislead you into thinking I made these dishes recently, to share close to March 17th. The time has come, ladies and gents.
They happen to be made of some of my absolute favorite ingredients-potatoes, cabbage, bacon, and corned beef. I'm a hardcore fan of corned beef. Hand the salt-cured meat my way in a sandwich, breakfast hash, on top of a pizza, with a hodge podge of vegetables in a stew and I'm a happy lady. If I'm lucky enough to find it at my local market, it's embarrassing how excited I get when that happens, I'll make numerous meals in a row highlighting this love that I have. I think I have a little problem.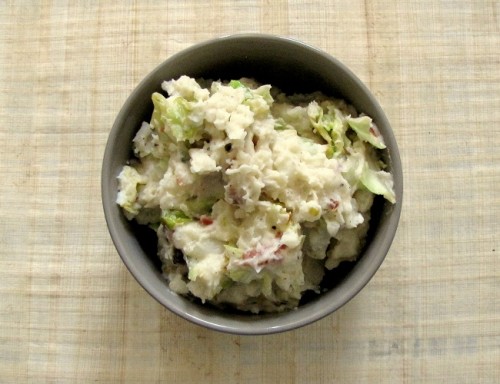 Colcannon is a tasty mashed potato dish made with cabbage (or kale) and sometimes bacon or ham. It's one of those dishes that feel oh so bad because it tastes oh so good with all of its buttery, fatty goodness. I wish I could eat it a few times a week but you can't exactly be watching your calories when colcannon is around. Eating it with reckless abandon is the only way to go.
I really don't need to say more. I have faith that you will see the awesomeness of these dishes just by glancing at the list of ingredients. Happy St. Patty's Day-wear your green this Thursday!
Colcannon
Serves 4 to 6
Ingredients:
2 lbs. potatoes, peeled and quartered (I used Russet but use what you have)
3 slices of bacon
1 small onion, diced
¼ medium head of cabbage, shredded (or kale)
4 tbsp butter (depends on how much you like in your mashed potatoes)
3/4 cup cream or milk
salt/pepper
In a large pot, add the potatoes, cover with water and bring to a boil. Meanwhile, cook the bacon in a skillet until nearly crisp, crumble and set aside on a paper towel. Keep about a tablespoon of the grease in the skillet and sauté the onion and shredded cabbage (or kale) over moderate heat until tender.
Reduce the heat with the potatoes to a simmer until soft then drain. In a bowl, combine the potatoes, 3 tablespoons of butter, cream or milk and a few dashes of salt and pepper. Mash it all together with a fork until the lumps are gone (or keep them if you like). Stir in the bacon and cooked onion/cabbage mixture with the grease. Top the dish with the remaining tablespoon of butter in a well in the center. Serve immediately.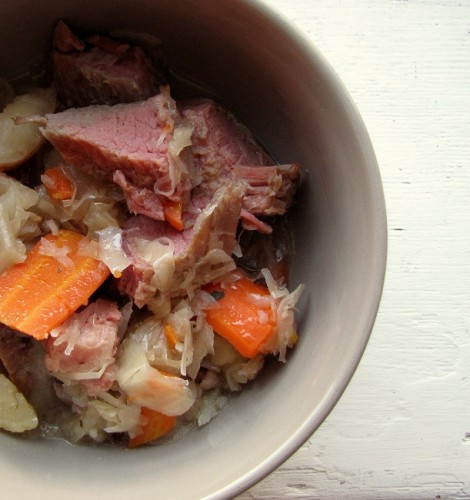 Slow-Cooked Corned Beef, Cabbage and Carrots adapted from My Recipes version
Serves 4 to 6
Ingredients:
4 garlic cloves, peeled
4 lb. corned beef brisket with seasoning packet, rinsed and trimmed
1 bay leaf
2 whole cloves
1 small onion, sliced
2 carrots, peeled and chopped into 1-inch pieces
1 small cabbage, shredded or coarsely chopped
Arrange the garlic, onion, carrots and cabbage on the bottom of your slow cooker. (You can add chopped potatoes as well.) Add the corned beef on top and sprinkle with the seasoning packet (pickling spices). Add the bay leaf and cloves plus enough water to just cover the meat; cover and cook on low until tender, about 6 hours and 30 minutes to 8 hours. Remove the vegetables and transfer the meat to a cutting board. Cover the meat with foil for 10 minutes. Remove all but a cup of the cooking liquid from the slow cooker and turn to warm. Add the vegetables back to the slow cooker and slice the beef across the grain. Add the meat back to the warm slow cooker with the vegetables. Keep on warm until serving.