While at one of our favorite bars years ago in Indiana, Chumleys in Lafayette, our friend recommended one of the 100 bottled beers (they also have 50 on draft) and he was on to something. Check out Chumleys. Greg, my husband, had fish tacos with this beer at this student-favorite bar; the flavor was enhanced by this Cave Creek Chili Beer that has an actual chili pepper in it. Spicy!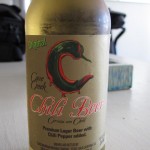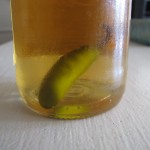 This is a great beer for chili, pulled meat marinades, and just by itself…it is an acquired taste though so beware. (I know it gets a bum rap on some beer rating sites but from someone who appreciates craft beers, I say give it a break and a try with fish tacos.) We happen to love this beer. I decided to recreate one of Greg's favorite meals since he was in the mood for this beer: fish tacos with cilantro slaw, pico de gallo and the aji sauce I made previously this week.
Fish tacos- found on myrecipes.com but adapted from Coastal Living
Makes 4 servings
Ingredients:
1 lime (or 3 tbsp lime juice)
2 tbsp cumin
2 tbsp canola oil
1 ½ lbs. mahi-mahi (or tilapia) – cut into 2 ounce pieces
corn of flour tortillas
Take rind from lime and juice, cumin, oil and place in gallon freezer bag and shake. Add fish and coat in marinade. Chill for several hours.
Heat a skillet over medium-high heat, add fish and cook for 10 minutes until brown on each side. Remove, be careful not to overcook and cut fish into smaller pieces.
Toast tortillas on each side in skillet over medium heat and then remove and cover to keep warm.
Spoon fish into tortillas, top with cilantro slaw (recipe to follow), pico de gallo (recipe to follow) and aji sauce. Garnish with more cilantro if desired. You can place the cilantro slaw on the side if you wish.
Cilantro Slaw- found on epicurious.com from Bon Appetit
Make 5 cups
Ingredients:
12 ounces shredded three-color coleslaw mix in produce section or green and red cabbage (3.5 cups each)
1 cup chopped cilantro
3 tbsp canola oil
3 tbsp lime juice
½ tsp salt
½ tsp pepper
Place canola oil, lime juice, salt and pepper in a bowl and whisk, add coleslaw mix and cilantro, toss to coat. Chill until serving.
Pico de Gallo- found at Cooking With Michele
Serves 4
Ingredients:
2 medium tomatoes, seeded and diced
1 jalapeno, seeded and minced
½ white onion, diced
3 tbsp chopped cilantro
salt and pepper to taste
juice of 1 lime
Optional: add fresh pineapple
Combine everything in bowl and mix well, serve fresh. This can be adjusted to your taste of course.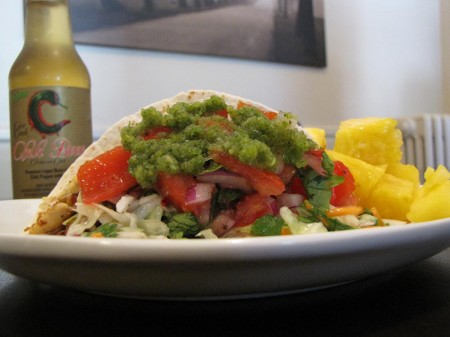 Don't forget a nice cold beer- you know which one I would choose for this recipe and maybe some fresh pineapple and/or mango.