I am filled to the brim with salsa verde and once again craving a margarita but unless I plan on working out oh about 8 hours,  I think I can get past the craving and go on to my cilantro pesto obsession.  For one, I love pesto of most sorts-with pine nuts, almonds, walnuts, cheese/no cheese, sun-dried tomatoes, basil, parsley, or a combination of herbs, spicy/not spicy-you get it.  I've created several combinations and found that they are great on rice, any kind of rice really.  I love them spread on paninis/sandwiches, soups, roasted potatoes, layered in casseroles and lasagnas and so on.  This recipe is a creation of my own and I have included several ingredients for variations that I think you will like.  My favorite nut to use is the walnut with a combination of sun-dried tomatoes, cilantro and the other ingredients on top of basmati rice and topped with crumbled feta….my all-time favorite rice dish.  Of course, you can place basil or flat-leaf parsley in place of the cilantro but it's cilantro week.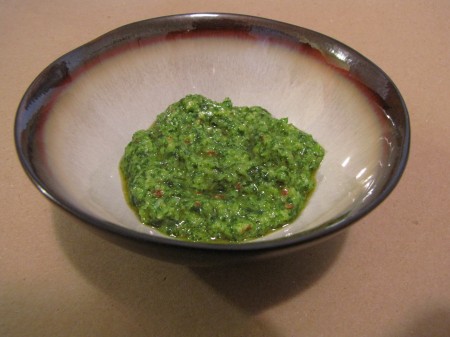 Cilantro Pesto
Makes ¾ cup
Ingredients
2 cups packed cilantro leaves
1 large garlic clove, coarsely chopped
½ cup pine nuts, toasted (almonds or walnuts work too)
½ tbsp water (helps process before adding olive oil)
pinch of salt and pepper
¼ cup extra virgin olive oil
1/8 cup red onion
½ of a chipotle pepper in adobo (adds smoky flavor and heat)-optional
4 sun-dried tomatoes-optional
2 tbsp grated pecorino-romano or Parmigiano Reggiano
In a food processor, chop all ingredients together except the olive oil.  Then, add salt/pepper and olive oil directly in processor.  I find it messy to pour it in the hole at the top of the processor for this recipe and don't see a difference by just adding it directly.  Chop a bit more until everything is combined.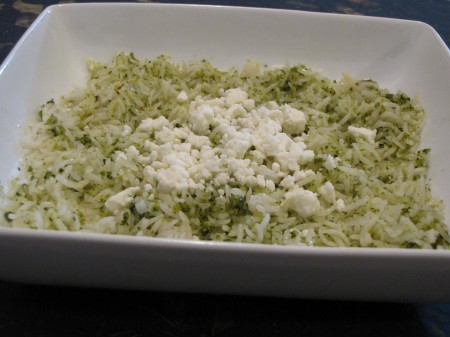 When my husband heard I was doing cilantro week, he requested that I make aji sauce.  This is a recipe I came across in Bon Appetit a few months ago and I tried that recipe and made a few changes.  This is a Peruvian sauce.  The aji is a hot pepper but I'm guessing it's a bit difficult to find so I followed Bon Appetit and used jalapenos.  I would actually recommend using a spicier pepper (like a serrano) mixed with jalapeno.  This is nice on rice, steak or other meats, dipping bread in it, and many other ways.  Here is my rendition (that word makes me want to sing karaoke; it might be margarita time again after all):
Aji Sauce
Makes 1 cup
Ingredients
2/3 cup chopped seeded jalapenos (about 3 large) – include a few seeds for heat
½ cup coarsely chopped white/yellow onion (1 small)
1/3 cup coarsely chopped red onion (1/4 large)
½ cup cilantro
2 tbsp red wine vinegar or fresh lime juice
¾ tsp salt
pepper
In a food processor, chop first 4 ingredients and half of the lime juice or red wine vinegar until blended.  Then, add remaining lime juice or red wine vinegar and salt/pepper and chop again until combined.
* I intend to use both the cilantro pesto and aji sauce in other recipes this week so keep an eye out.