I have decided to call this week Cilantro Week because I am obsessed with any recipe with cilantro in it.  The mere thought of a recipe based on its delicious, clean, fresh flavor drives me crazy.  I realize that some people do not enjoy cilantro and while I think that's weird, I respect that and will gladly eat their share.  For instance, I have a friend that thinks it tastes like soap.  I wouldn't recommend cleaning with cilantro although who knows, maybe it makes for a great facial.
Salsa Verde is my go-to recipe, especially over the summer but I usually end up eating chips and salsa for lunch, dinner, and snack time with my husband.   (I have eaten two bags of tortilla chips alone over a 2 day span…oh so bad.  I workout but I have yet to recover from those calories, oh well.)  That said, my first recipe has been made at least a dozen times, probably over this summer alone, and I put it on anything…rice, fish tacos, steak and other meats, casseroles, sandwiches, a curry dish, and on and on.  I decided to emulate the salsa verde from Moe's Southwest Grill that I am no longer near as Minnesota does not have that chain.  I miss the queso as well but have not been successful with that recipe.  My husband and I have found two excellent Mexican restaurants 20 minutes from our apartment called El Tequila and El Azteca and I know comparing authentic Mexican with a big chain like Moe's Southwest Grill might be considered a crime but I enjoy both experiences.  FYI, I also enjoy Chipotle Mexican Grill.
I  do have an issue with this recipe: I use canned already-prepped tomatillos because the one time I attempted to use fresh, it turned out horrible and I was disappointed.  It might have been the recipe that I came across, I'm not sure that the cooking instructions were right or I'm an idiot when it comes to tomatillos.  If you can help me with this dilemma, I would appreciate it.  How do you cook fresh tomatillos?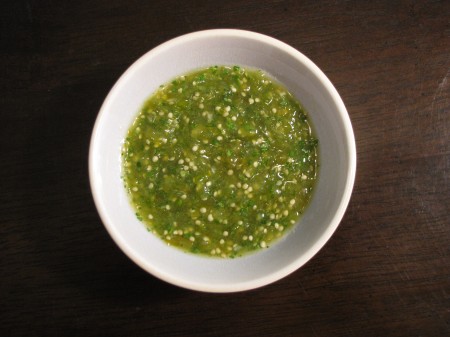 Salsa Verde
Makes 3 cup
Ingredients:
3 cans of 11 oz. canned tomatillos
½ small white onion
¾ cup cilantro (or to your taste)
1 tbsp lime juice
¼ tsp sugar
1 ½ peppers- fresh jalapeno or serrano (or a mix of the two)
½ tsp -1 tsp salt (to your taste)
Chop onion and pepper into chunks that the food processor can better handle.  Place all ingredients in the food processor and pulse to your desired consistency.  If you have a smaller food processor like me, you might want to do this in a few batches.  This next step is the hardest part as it involves waiting: place in bowl and cover with saran wrap, then place in the refrigerator to allow the flavors to blend for at least a half an hour.  Just add your favorite tortilla chips or on one of the above-mentioned foods and enjoy.
If you are like me, you don't stop there.  I mean what goes better with salsa and chips than a margarita.  It's kind of similar to the book If You Give a Mouse a Cookie by author Laura Joffe Numeroff, one of my childhood favorites.  If you give Annie salsa verde and chips, she's gonna want a margarita.  I adapted my version from the the awesome blog: The Kitchen Sink Recipes.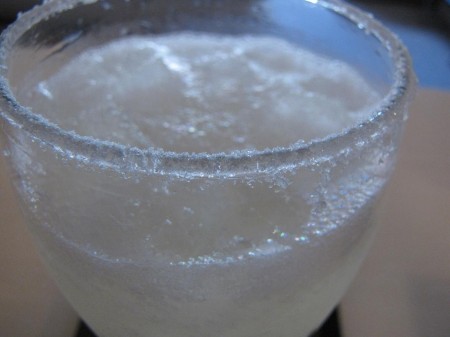 Margarita
Makes one pitcher- 4 large drinks
* Place 2-4 glasses in freezer (depending how many want some of course) before making the drink*
Ingredients:
4 cups ice
1/2 cup orange liqueur
1 cup silver tequila
1 cup lime juice
½ -1 cup simple syrup (boil 1 cup of water and sugar until syrup-y and remove to cool)
lime wedges-rub around rim and optional decor
coarse salt
Place ice in blender and add tequila, orange liqueur, lime juice and later add simple syrup.  Blend to desired consistency.  Take glasses from freezer, add more ice (if desired) and run a lime wedge around rim of glass, dip in salt and add mix to glass.  Place wedge on the side if you want and voila!