Once a week I like to make tapas or small appetizers to satisfy my wanting of a simple meal that can be shared with my husband (and others) and a nice beer or glass of wine, as I prefer, so I decided to create this dish. I am still not sure what to call it but I thought of this recipe when I was looking at tastespotting.com and saw a caprese-inspired bruschetta recipe. I decided to create my own version with a Mexican twist using pork chorizo and cilantro pesto topped with smoked mozzarella….rich, yes, delicious, yes. I look at it this way; I will not be eating so many of these that I will throw myself into a diet frenzy the following day…I don't diet.
The wine I pair this with is vinho verde, clean, crisp and summer perfect. An accompanying light salad would be ideal too. Also, sitting on the Spanish coast with a gorgeous view would go nicely but some of us can only dream about that for now because they have student loans to pay and a budget to work with.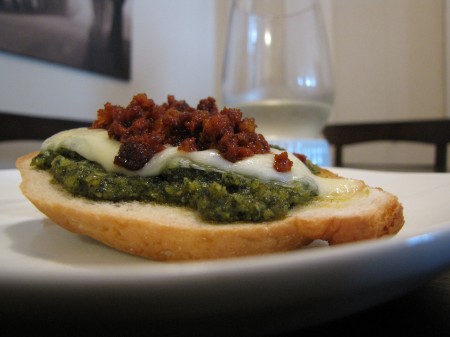 Chorizo and Cilantro Pesto Caprese-Bruschetta with Mozzarella
Makes 3 pieces for 2 people for a total of 6
Ingredients:
6 slices of Italian or French bread (use your favorite bruschetta bread)
1/4 cup cilantro pesto
3 ounces of chorizo (I used spicy Mexican pork but any chorizo would do, prepare as it specifies)
3-4 ounces smoked mozzarella (or fresh mozzarella with a sprinkling of pepper), sliced to fit bread
Make cilantro pesto and slice your bread. Remove chorizo casing, crumble and fry on medium heat for 10minutes or so. While the chorizo is cooking, preheat oven to 350 and toast the bread for a few minutes, then slice mozzarella, spread cilantro pesto on the bread slices, and then place the mozzarella on top of the pesto. Place in oven for 5 minutes until cheese is melted and then top with chorizo and serve. Enjoy!