This is easily one of my new go-to recipes. That said, I didn't always like sweet potatoes (yams) but in my adult life, something clicked and my mind changed. When I was young, I thought a potato should not be sweet or maybe it was just vegetables in general….how naive. Recently, Greg and I were at a local restaurant, Froggy Bottoms River Pub, when we ordered sweet potato wedges with a tangy dipping sauce. Yum! Greg accused me of only ordering sweet potato anything when we went out, to which I said "do not" and this lead to an even more immature conversation about how he loves them and I'm still scared of this big bad potato and so on. When I got home, I sought out a recipe based on this intriguing pestering from my husband. That's when I came across Bitchincamero's site, which I love and placed it on my weekly list. She has no idea who I am but thank you, Melissa, for showing my husband up and sharing a delicious recipe.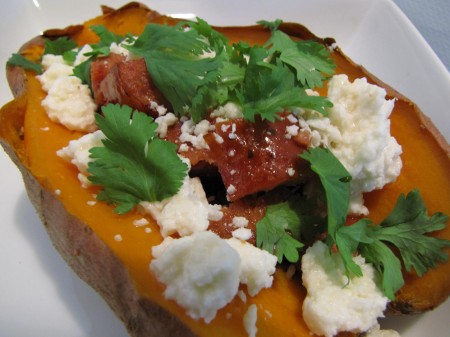 Sweet Potato, Sausage, Cheese and Cilantro
Serves 4
Ingredients:
4 medium sweet potatoes
1 tbsp. olive oil
1 tsp. coarse salt
4 smoked sausages (or 1 Kielbasa)
4 oz. Cotija cheese, crumbled
1/2 cup cilantro leaves
juice of 1 lime
Preheat the oven to 350. Add the olive oil and salt to a big bowl. Set aside. Scrub the potatoes clean and dry them, then poke with a fork and place in the prepared bowl. Toss the potatoes with the olive oil and salt. Place the potatoes directly onto the center rack of the oven. I placed a cookie sheet underneath to catch drippings. The sausages will go in with the potatoes on the cookie sheet later.
Bake the potatoes for 45 minutes, or until they're baked and tender all the way through and the skin is a little crisp. Halve the sausages or kielbasa and place them on a prepared cookie sheet. When the potatoes are about half done and there are still about 20 minutes on the timer, place the sausage on the cookie sheet. When everything is done, remove the potatoes and sausages from the oven. Chop the sausage into bite-sized pieces. Cut a slit into the top of each potato, using a fork to fluff up the inside a bit if you like and top with sausage, cotija cheese, cilantro and lime juice. Serve and stick tongue out to Greg…wait that's me.
The end of cilantro week is here. I am ready to move on…. I am not being fickle; I have to admit I just bought an ice cream maker and am ready to try it out next week. I know that the end of July might seem late but in this case, better late than never.
I'm still curious. What are some of your cilantro recipes?