The days seem to fly by in my life, I am still in July mode (although I do love that fall is coming) and have just started using my new Cuisinart ice cream maker. I had been eyeballing this thing for months and finally decided to just get it when I saw free shipping. (I'm a free shipping sucker.) It was especially hard and enticing when I visited tastespotting and saw hundreds of recipes for ice cream. I am not a person who is content with making vanilla ice cream; I'm more of an "oh, I need some sweet corn ice cream" or "yum, red wine gelato." So when I came across this gem: oatmeal stout ice cream, both my husband and I smirked at one another. Being my first ice cream making experience, I have to say it was pretty easy and if you enjoy stout beer, you'll enjoy this. I recommend adding chocolate sauce or chocolate chunks for extra oomph. The recipe is from a couple in Minneapolis, probably 30 minutes from me, and so my thanks goes out to them. Check it out at A Good Appetite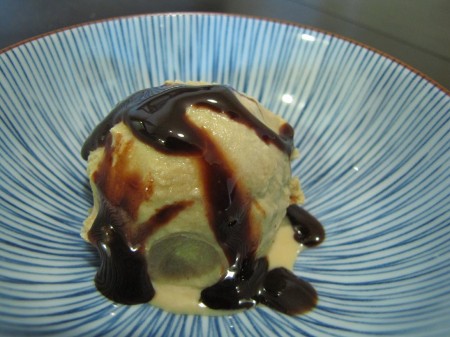 Oatmeal Stout With Toffee Ice Cream
Makes about 1 quart.
Ingredients:
16 oz oatmeal stout
3 egg yolks
1/2 c sugar
1 c cream
1 c half & half
½ cup chopped toffee-optional
chocolate sauce-optional
Make sure you have placed the freezer bowl of the ice cream maker in the freezer for whatever amount of time it needs-mine needed 7 hours.
Place stout in a saucepan and boil, reduce to about 1 cup.
Whisk the egg yolks and sugar together until they are light yellow and thick.
Reduce the heat on the stout to low, add the cream and milk. Simmer and slowly stir in the egg mixture. Add slowly and stir so you don't end up with scrambled eggs. Stir until the mixture is slightly thickened and then strain into a storage container. Refrigerate until cold.
Process according to your ice cream maker's directions. Add the chopped toffee pieces in the last 5 minutes of mixing. Let freeze for a few hours before serving.