By now you might be getting the impression that I am not a fan of healthy eating but that is not the case. This recipe is closer to who I am and what I eat normally but don't get me wrong, I love to treat myself as well. Chickpea and tuna with Dijon dressing is my creation inspired from a recipe I found on Self magazine's website years ago when I was on a mission to lose 20 lbs. (which I did for about 6 months and then some came back and remained). This is a recipe where you can omit things you don't like and put in things you do….I place it in the "everything but the kitchen sink" category, meaning you can put almost anything in it for your needs and wants. I sometimes place this recipe on a bed of baby spinach and/or with steamed rice. I have also been in a tea mood so I made some iced tea and added minted simple syrup, easy and refreshing for the summer, even though until recently the temperatures have been mild here in Minnesota. After a year here, I still do not understand this state.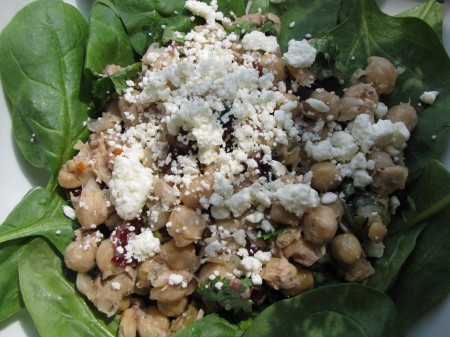 Chickpeas and Tuna with Dijon Dressing
Makes 8 servings (2/3 cup)
Ingredients:
2 15 ounce cans of chickpeas, washed and drained
1 1/2 tbsp lemon juice
1 tbsp olive oil
1 tbsp Dijon mustard
1/4 cup red onion, chopped
1/3 cup green olives with pimentos, drained and sliced (or kalamatas or 1 tbsp capers)
1/4 cup cilantro or flat-leaf parsley, chopped
1 tsp dried thyme
1/4 cup feta, crumbled, Parmesan-Reggiano or manchego cheese, shredded
1/3 cup dried cranberries or cherries
5-10 ounces of tuna, drained
salt/pepper
pine nuts-optional
baby spinach and/or rice-optional
In a bowl whisk together lemon juice, olive oil, and dijon mustard. In another bowl, combine all the other ingredients that you wish to include and pour dressing over and mix well. Cover and chill for an hour or so to allow flavors to blend and then serve over baby spinach, rice or by itself.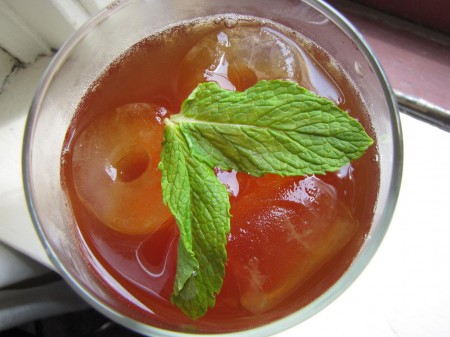 Iced Tea with Minted Simple Syrup
Makes 2 quarts
Ingredients:
4 black tea bags, Lipton or your favorite iced tea blend
2 quarts of water
Simple Syrup with Mint:
1 cup sugar
1 cup water
1 1/2 cups chopped mint leaves
Make tea as directed. In a saucepan, bring water, sugar and mint leaves to a boil, and stir until sugar is dissolved. Turn heat down and simmer for a few minutes and then strain through a sieve. Place in container to cool more and when cooled completely, add to tea.