The verdict is out-we're going to make it after all! Greg received that raise (read that link for more info) which is enough to allow us to stay in Minnesota. Our next step is to find a house, boost our savings, reduce our debt significantly over the next 4 years and then move on from the state. (Those are my hopes anyway.)
Does this mean I will return to the dabble every day? Not exactly. I've decided to continue posting 3 days a week while the holiday season approaches and while I'm charged to find our ideal home.
I'm picky about some things. Martha Stewart "particular" when it comes to our first home. This is not our forever home. This is not our forever state so it is important that we build equity, have the ability to make adjustments to the house for future resale (the goal is profit when the market recovers) and all within our small budget and with our own hardwork.
Greg and I are thrilled to remodel and repair most of the house ourselves. Greg was kind of bred for this…he came from a construction family who put him to work as a young man helping with almost every step of building a new home. Any questions we have are answered by his mom, a real estate agent, and dad, former contractor. My parents are handy as well; my mom passed down the ability to improve the décor on a budget for staging.
When we discuss our ideas with others, they assume we're "flipping" the house which has a negative connotation in our minds.
"Flipping" means painting and primping a place without improving the problem areas. Instead of fixing the imperfections in the wall, you paint over it. Instead of fixing the leak in the tub or sink, you slap in a different, more appealing tub or sink. It could mean the roof still needs replaced, the bricks need tuckpointing, things aren't level and so much more but it sure looks appealing. Sometimes I resort to using that term so that others know our intention but it's not correct. Nothing would drive Greg crazier than skimping on known issues and turning around to sell it without giving notice of those issues. We've both seen this happen.
It needs to meet these requirements before I even consider it: the roof and windows have to be in good/newer shape, we're hoping to find a 3 bedroom/2 bath over 1200 square feet, have the ability to knock down a wall in the kitchen to make the space more open, sound foundation/exterior, wood floors in decent shape and an overall look that reads "potential" to me. Of course there's more but I'm not about to show all of our anal retentive cards to you today.
I've only found 3 houses that fit the bill and the most recent one just went off the market in 2 weeks. That was a disappointing day. We have less than 6 months for this house to make its appearance.
To comfort my woes and doubts that a house will come on the market in time, I made roasted cauliflower with Parmesan and pancetta adapted from a Giada DeLaurentiis recipe. Spicy, creamy goodness for my "particular" self that went beyond simply fitting the food bill.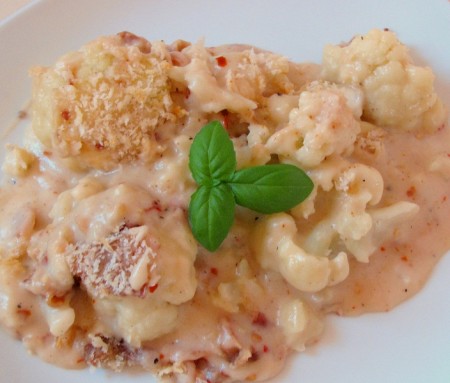 Roasted Cauliflower with Parmesan and Pancetta adapted from a Giada DeLaurentiis recipe
Serves 4 to 6
Ingredients:
1 large head of cauliflower, cut into pieces (about 6 cups)
3 to 4 oz. diced pancetta
¼ cup butter
¼ cup all-purpose flour
1 ½ cups milk
1 clove garlic, thinly sliced
½ to 1 tsp red pepper flakes (this was pretty spicy with 1 teaspoon)
1 cup grated Parmesan
coarse salt/freshly ground pepper
dash of nutmeg
1/3 cup breadcrumbs
Preheat the oven to 350F.
Bring a large pot of water to a boil and blanch the cauliflower for a few minutes then transfer the cauliflower to a buttered baking dish. In a skillet, brown the pancetta over medium-high heat and transfer to a small bowl.
In the same skillet, melt the butter. Add the flour and stir constantly until combined, cooking for about a minute. Slowly add the milk, stirring continuously until there are no lumps. Add the sliced garlic and red pepper flakes, stirring over low heat until it thickens and coats the back of a wooden spoon. Add the Parmesan, salt/pepper, nutmeg and reserved pancetta. Stir and pour the sauce over the cauliflower in the dish. Top with the breadcrumbs and bake until golden and cauliflower is tender, about 30 to 40 minutes. Serve immediately.