Today is my Greg's 25th birthday. Happy birthday, honey husband (even though you are at work) but no worries, I have a great meal planned that I will share tomorrow. My birthday is looming early in September. (My mom's birthday is the day before so I like to think I was a gift-hahaha….happy birthday, mom!) Where does the time go? I could answer that but won't even get myself started.
As promised last week, the recipe that I changed to make much tastier than the one I found on tastespotting- chana masala. A normal chana masala is a vegetable dish consisting of chickpeas, tomatoes and spices, making it dry and spicy. However, I opted for not so much a paste but a nice topping for rice that is creamy. The original recipe did not have very much spice or flavor so I added some broth, chipotles in adobo, sweet potatoes, peas and plain yogurt to help with the spice, keeping with the vegetarian theme. It may not even be called chana masala now; I call it my weekend meal.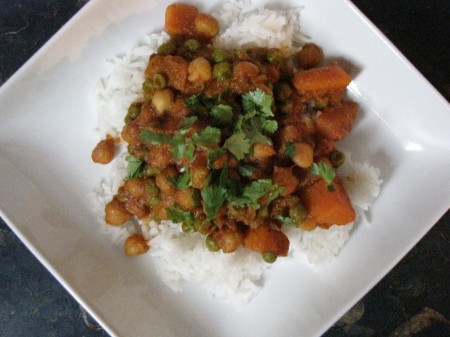 Chana Masala
Serves 4
Ingredients:
1 tbsp olive oil
1 tsp tumeric
1 small red onion, diced
2 medium sweet potatoes-cut into bite size pieces without skin
4 tbsp tomato paste
1 tsp garam masala
½ tsp ground coriander
½ tsp ground cumin
½-1 chipotles in adobo with small amount of sauce (optional), chopped
1 15 ounce can chickpeas (garbanzo beans)
1-1 ½ cups broth (added throughout in several batches)
½ cup peas (optional)
½ cup plain yogurt
cilantro (optional)
3 cups steamed rice (or egg noodles)
If serving with rice or noodles, make as directed and I recommend rice with this dish.
In a large skillet, heat oil on medium and add tumeric. Cook onion and sweet potatoes about 5 minutes. Then, add tomato paste, garam masala, ground coriander, cumin, chipotles in adobo and ½ cup of broth-cook about 7 minutes more. Add chickpeas and peas, plus another 1/2 cup of broth (should like more like a thick sauce at this point). Reduce heat slightly and simmer for 10 minutes or until peas are cooked completely (more broth may be needed). Remove from heat. Mix in yogurt and serve with rice (or noodles) and top with cilantro.