Monday is my husband's 25th birthday. He enjoys growing old and can't wait to impart wisdom and be an old smartass. (We both have that down in the young form.) I am not so fond of the actual growing older thing though (my 27th is coming). I think Greg is an old soul in a young body and I love that about him. He's the kind of best friend that everyone deserves in their life and I plan on celebrating with him for a long time. We generally don't give gifts to one another, due to money and a mutual understanding that we can put that money towards debt and/or a vacation someday. We have plans for the future that would equal all the gifts we never gave to each other. For now, some of our time will continue to include Tetris and Mariokart tournaments-the games and Wii have paid for themselves by now.
I promised a recipe and you shall receive one today- spicy Cajun cabbage soup. This is one of those recipes I spoke about in a previous post, one that needed improvement. The original was bland and quite honestly, I had no interest in finishing my bowl. I changed the name to protect the reputation of the originator. The picture is of the first recipe because I forgot to get a picture before the new recipe was gone.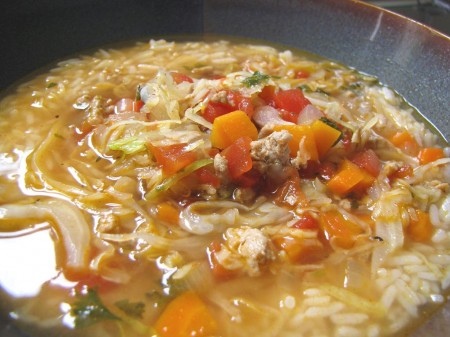 Spicy Cajun Cabbage Soup
Ingredients:
2 tbsp olive oil
1 lb. spicy smoked sausage, cut into bit-size pieces and/or add some smoky bacon salt/pepper
5 cloves of garlic, chopped
1 onion, chopped
2 large carrots, peeled and chopped
1 bay leaf
2 tsp dried thyme
3 tbsp fresh parsley
1 tsp sage
1 tbsp Cajun seasoning
2 tsp paprika
9 cups chicken stock
1 14.5 ounce can diced tomatoes
1 head of cabbage, cored and shredded
3 cups of steamed rice or egg noodles
In a large stock pot, heat olive oil over medium heat and add sausage or bacon, garlic, bay leaf, salt/pepper, onion and carrot and sauté until sausage is browned and vegetables are soft. Then, add thyme, parsley, sage, Cajun seasoning, and paprika-cook for a minute or so to incorporate into mix and then, add stock and tomatoes. Bring to a boil. Reduce heat to low-medium and add cabbage, cover and simmer until cabbage is tender. Give it a taste and add more spice if needed. Steam rice or make egg noodles (keep out of soup) and place soup over before eating. Don't forget the bay leaf is in the soup. I forgot once and the recipe called for a food processor, you can imagine what happened. Oops!