Operation Greg's 25th birthday was great-he came home early from work and we cooked, danced a little bit and had a nice afternoon/evening together. He had so many kind wishes from people that made his day even better. Thanks, all!
I was very pleased with the ribs, sauce and pie. I only burned my hand taking the sweet potatoes from the oven so in my mind, it was successful. All this birthday talk has me planning my mom's (and mine) birthday in a few weeks. My mom, dad and sister will be arriving in Minnesota late on mom's birthday and….ha mom, I will not reveal anything…. (Insider joke alert: "It's not a necklace.")
(Chuckling to myself) Anyway, I debated over which recipe to list that I made yesterday and since I announced on several other sites about my banana cream pie, I think I should do that one. Greg requested it and I believe my mom made it awhile back. I found it again on the foodnetwork website from Jodi Miller and changed it to our tastes. I'm not a huge fan of very sugary desserts; small doses are enough for me. I like, as does Greg, a salty/sweet combination or savory/sweet taste and this hits the spot with a pretzel crust. It's almost a no-bake recipe and infact, requires more time in the refrigerator.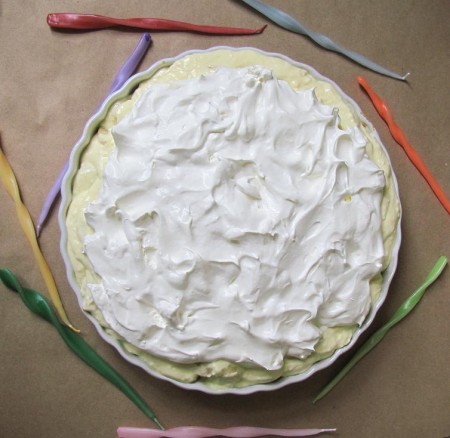 Pretzel Crust Banana Cream Pie
Serves 8
Ingredients:
Crust
¾ cup flour
¾ cup crushed pretzels
5 tbsp butter, room temperature
3 tbsp water
Filling
8 ounces light cream cheese, softened
1 cup whipped topping, plus 2 cups for topping
4 large bananas, sliced right before placing in filling
2 ounces of instant vanilla pudding
4 cups of milk (to make pudding)
Preheat oven to 400. Place butter and cream cheese out to soften for later.
In a large bowl, combine all crust ingredients with fingers and place in a pie dish or tart pan, pressing into bottom. Bake for 15-20 minutes until hard (it's difficult to tell when it's cooked b/c it doesn't really change color). This is a crumbly crust in the end. Set the crust out to cool completely.
If using Cool Whip, set out to soften. Make pudding as directed; mine required 4 cups of milk and 5 minutes of refrigeration. While that is setting up, slice bananas. Take pudding from the refrigerator and add cream cheese, 1 cup of whipped topping and bananas. Mix well and when crust is cool, place filling over and top with 2 cups of whipped topping and back to the refrigerator it goes for at least an hour. (This is where it should be stored, which is not long in our 2 person household.)