Less talking, more packing, dabbler! My bedroom is a mess. I hate to admit that I am considering bringing 8 pairs of shoes for a 2 week trip. Never thought I was THAT person.
Anyway, this will be quick with fewer words but the same delicious caliber of recipe that I try to provide 4 days a week.
This one came with angels singing and the skies parting because it can help anyone with an overabundance of yellow summer squash. YELLOW SUMMER SQUASH!
I really wasn't sure what to do with all of the squash from my friend's garden still in my kitchen. Lucky for me, this recipe just fell into my lap when I was perusing the interweb for tank tops. Go fig! I was hesitant at first since this is a pureed soup and I'm not the biggest fan of those types. Wrong, wrong, wrong was I. (We watched Star Wars last night.)
Don't worry, I will hold your hand through this for the others who might also have an aversion to this particular style of soup. This was delectable. Buttery, velvety and topped with pistou, to cut through some of the creaminess, it's wonderful and surprisingly filling.
Pistou is similar to pesto with olive oil, garlic and basil (or another herb) but does not include pine nuts (or another nut) and cheese. It's a thinner sauce than the thicker concoction that is pesto. To confuse you, some do add cheese to their pistou but traditional versions do not include that ingredient. This is a typical condiment, often made with a mortar and pestle (not with mine), found in France on bread, pasta and soups. I think placing it on summer vegetables or using it as a dip would be tasty too.
Drizzled over this Smitten Kitchen recipe, adapted by me, enhances the individual flavors that will impress. YELLOW SUMMER SQUASH…I can't get over it.
Bookmark/print/whatever you do mark this recipe for the present or future. This is one that I think you'll come back to again and again when that season rears its gorgeous face.
I changed the sweet potato to your average baking potato and changed the mint/parsley combination in the pistou to a simple basil and garlic combination.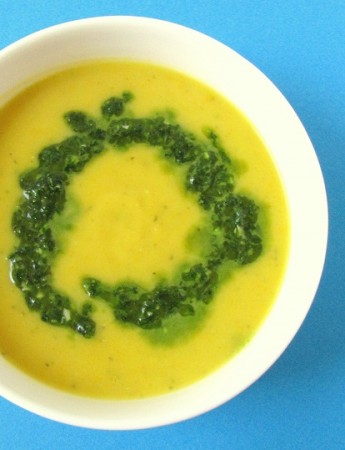 Summer Squash Soup with Basil Pistou Sauce
Serves 4 to 6
Ingredients:
6 tbsp butter, cut into pieces
1 medium onion, halved and thinly sliced crosswise
2 lbs. yellow summer squash, halved and thinly sliced
2 carrots, peeled and thinly sliced
1 potato (1/2 pound), peeled, halved, and thinly sliced (yellow, red, white, Russet…your choice)
4 cups chicken broth (veg works too)
coarse salt/freshly ground pepper
Pistou:
1 ½ cups fresh basil
1 large clove of garlic, cut in half
1/4 cup olive oil
2 tbsp water
1/4 teaspoon salt
Soup: Melt the butter in a large pot over medium heat, cook onion with a few pinches of salt, stirring, until softened, about 8 minutes. Add the squash, carrots, potato, and broth and bring to a boil. Reduce heat, then simmer, until vegetables are very tender, about 20 to 25 minutes. Remove from the heat and cool, about 15 minutes.
Puree the soup in a blender or food processor until smooth (be careful with hot liquids) and transfer to the cleaned or a new pot. Season with salt and pepper to taste. Simmer on low until you serve.
Pistou: Pulse the basil and garlic in a food processor until finely chopped. Add the oil, then the water and salt, blending until it transforms to a sauce.
Serve the soup topped with a swirl of the pistou in each bowl.