This day, August 25th, is a significant day for my in-law family. Besides it being my husband's youngest sibling and only sister's birthday AND Big Greg and Eva's anniversary (his parents), this sister sibling is moving to Indiana University to start college. I wrote about this (and bacon and egg cups) a few weeks ago here.
Today is her moving day from the town she has always called home to somewhere that will resemble next to nothing of what she has known in her years on this Earth in a great and scary way. I can imagine the range of emotions everyone is experiencing. Eva, I bet you are tearful and it wouldn't surprise me if you were too, Big Greg. Sam, Greg's youngest brother, if you are there, you are probably hungry. I tease.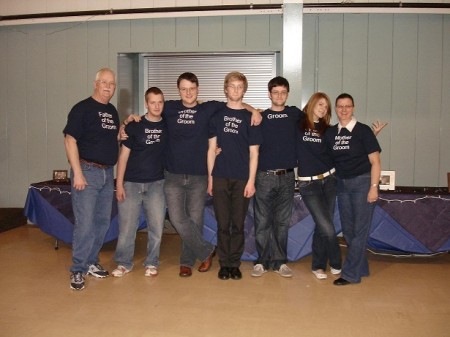 The baby of the family is starting college…I remember when she was starting 6th grade. (Hold back those tears, dabbler.) I know she will be just as, if not more, successful in college as she was at every other school. She is an intelligent, capable, fun, enjoyable person. We will be visiting her and the campus in a few weeks, as I've mentioned in the past post above. Don't worry, Purdue, rival of IU, we're coming to you first. IU has a beautiful campus and town area and will now hold part of my family. Be good to her! Enjoy your time and take advantage of every opportunity in education and some of those thrilling parts of life and maybe love.
Good luck, Big Greg and Eva and enjoy this day for both you and your daughter!
All that is left to say is happy birthday, Leslie! Happy anniversary, Big Greg and Eva! Read more about them here (and get my chicken marsala recipe).
I have purposely not posted the skirt steak recipe for the fajitas that I made for Greg's birthday last week, knowing this day was coming and seemingly a perfect time to share and keep with the special occasion theme. This cut of steak is rather inexpensive and improved by marinating for several hours and cooked to tender perfection.
Greg wanted an authentic fajita marinade on the skirt steak and I found it in this recipe from Food & Wine by Jesse Vendley. I trusted this one when I read that he and his two brothers make this wrapped treat from a cart on the streets of Soho where street food is taken seriously (in my mind). Instead of grilling, I pan-seared the steak and served it in a soft flour tortilla (corn is great too) with pico de gallo. The onion/pepper mixture didn't turn out as well as the meat portion so I won't share that with you. My bad. Top this with your favorite fajita ingredients and bask in the amazing smell exuding from your kitchen thanks to the spice medley.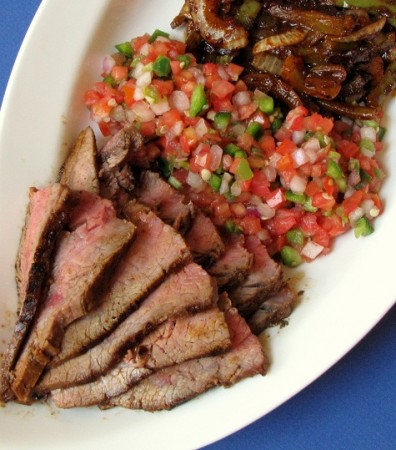 Chile-Spiced Skirt Steak Fajitas from Jesse Vendley
Serves 8 to 10
Ingredients:
2 tsp sweet paprika
1 tsp ancho chile powder
1 tsp garlic powder
1 tsp onion powder
1 tsp light brown sugar
1/2 tsp chipotle chile powder
1/4 tsp ground cumin
1/4 tsp ground coriander
1 tsp salt
1/4 tsp freshly ground pepper
1/4 cup plus 2 tbsp fresh lime juice
1 tbsp vegetable oil (plus more for pan)
1 1/2 lbs. skirt steak
flour or corn tortillas, warmed
cheese, avocado, pico de gallo, your choice of toppings
In a large bowl, combine the paprika, ancho powder, garlic powder, onion powder, sugar, chipotle, cumin, coriander, salt and pepper. Add the lime juice and oil, mix to blend. Add the steak and coat. Either allow the steak to stand at room temperature for 2 hours or place it in the fridge for 4 hours to marinate.
You can either pan-sear or grill (as the original recipe called for) – both directions are below.
Grill: Grill the steak over medium-high heat, turning twice, until lightly charred on the outside and medium-rare (around 130F to135F) inside, about 6 to 10 minutes total. Transfer the steak to a work surface, tent with aluminum foil and let the meat rest for 10 minutes. Thinly slice across the grain and serve with the tortillas and your choice of toppings.
Pan-Sear: In a preheated skillet with a small amount of vegetable oil, over medium-high heat, add the skirt steak. Cook, on each side, medium-rare (around 130F to 135F) will take about 6 to 10 minutes total- it will vary by pan and its ability to cook evenly. Transfer the steak to a work surface, tent with aluminum foil and let the meat rest for 10 minutes. Thinly slice across the grain and serve with the tortillas and your choice of toppings.
*Keep in mind that skirt steak tends to be tough and best cooked very slow or quick by pan-searing/grilling and medium-rare tends to be the best level of doneness. Be sure to slice it across the grain-the best cut for this meat. FYI: I went slightly beyond medium-rare for our tastes and it was still tender.