Clink clink clink clink was the noise I heard about a minute after my husband left for work in the company car at 4:30AM. (He was able to bring home this car, for the first time last night, because he actually didn't work late for once this week and his carpool driver and our friend, Josh, wasn't able to bring him home.)
The clinking was due to construction/maintenance from the town workers and it wasn't a cutesy, small clink. No, this was similar to the sound a pneumatic nail gun makes right outside the apartment. We can't get a break. To me, this is not a town that would require such tasks at 4:30AM. The clinking went on for 45 minutes, actually longer but I couldn't hear it as much when they boogied on down the road.
Along with the clinking were a few workers yelling statements not work-related along the sidewalk and the beep beep beep of a large truck backing up. Oh, and flashing lights. I came to the conclusion that the Defeat of Jesse James Days Festival is coming and they must be prepping. The festival will whirl in and out while we're visiting home. (Thank goodness.)
Both Greg and I can't remember the last time we had a good night's sleep. We experience annoying neighbor(s), the town doing maintenance in the early morning (anyone remember when I complained about the street sweeper at 3AM…it's coming back again), drunks and smokers stopping to converse, the college students too young to drink but they want to be out and other young ones making some kind of noise (I often can't decipher what they are saying…I think they are just putting nonsense syllables together and screaming), car alarms, music pumping inside of parked cars and a few other things that make a loud bump in the night. Come on!
For twenty plus years, I was a girl that lived by GM in Fort Wayne, Indiana where our house was surrounded by railroad tracks and the annoyances that come with that. Twenty plus years where sitting and waiting on a stalled train was the norm, often resorting to turning around and going the long way in hopes that that track didn't also have a stalled train-sometimes it did. Depending on which way you were coming, the highway or the backroads, you could race the train or see if one was sitting so that you could continue on down the highway, through town and to the other backroads to home. That is also frustrating but if you weren't in a hurry, you could sit there on the phone, sing at the top of your lungs or dance outside of the car with your sister. Chinese fire drills were easy.
My house was on the other side of the track-no more than a mile down the country road. The sound of the trains rolling through (not sitting there) at night became soothing against the sounds of the crickets and nocturnal beings at my country home. It was faint and familiar. With the fields full of lightning bugs that could be seen outside of my bedroom window and those sounds, I fell into deep sleep most nights. I don't expect that here but I do expect people to use common courtesy in town after 10PM during the work week. I'll be back in my old bedroom in a few weeks…can't wait.
Back to the trains, I remember my bus turning around often as well, after some thought from the driver (and sometimes more than thought, choice words). My grandpa's fields were there and backing the vehicle down the hill into the small stone drive was a common ritual. One bus driver became so annoyed that she contacted GM. They said the train wasn't allowed to sit for more than 10 minutes…I don't think that was the case; I saw no change.
The only change I've taken note of recently is when I roast the fruit of the summer season-peaches, plums, cherries and apricots. The next time I make this (soon), I'm adding pears from my friend's orchard. These stone fruits transform into something tender, sweeter with the best fragrance in my home since I made the chile-spiced fajitas weeks ago that I shared yesterday. The tender fruit with the vanilla and rosemary (optional) is our absolute favorite dessert right now and taken to a new level of sigh-worthiness when served with ice cream, whipped cream, yogurt or crème fraiche.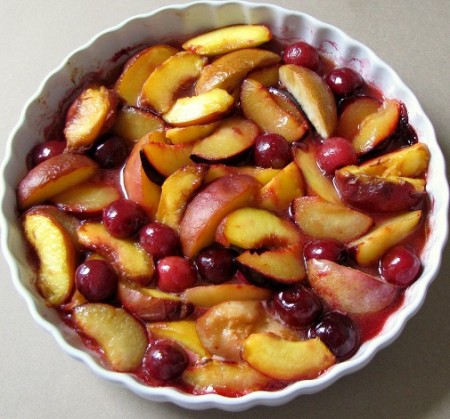 Roasted Summer Fruit with Vanilla
Serves 4 to 6
Ingredients:
2 peaches (nectarine), pitted and quartered
2 plums, pitted and quartered
2 apricots, pitted and quartered
2 pears (that is my suggestion for the next time I make this), cored and quartered
handful of cherries, pitted and halved
3 tbsp sugar
1 vanilla bean, halved and seeds removed to a small bowl-*see below for how to do this (or a few splashes of quality vanilla extract)
2 sprigs of fresh rosemary- optional
3 tbsp unsalted butter, softened
1 tbsp fresh lime juice
vanilla ice cream, whipped cream, yogurt, crème fraiche for serving-optional
*Split the vanilla bean lengthwise in half with a thin, sharp knife and scrape out the seeds. Place in a small bowl.
Preheat the oven to 400F. Prick the skins of the peaches, plum, apricots and pears with a fork and set aside in a large bowl with the halved cherries. Place the sugar in the small bowl with the vanilla seeds and stir. If using quality vanilla extract, stir this with the sugar.
In the fruit bowl, add the optional rosemary, sugar/vanilla mixture, butter and lime juice. Toss well and place in a roasting pan, cook, stirring occasionally, until fruit is tender, about 20 minutes. Remove the rosemary sprigs and serve warm with ice cream, whipped cream, yogurt or crème fraiche with the pan juices drizzled over top.