I'll share what I share over there. That'd be the kitchen renovation we're in the process of doing. Over there being the blog I have written at far more recently and often than here, the Wits.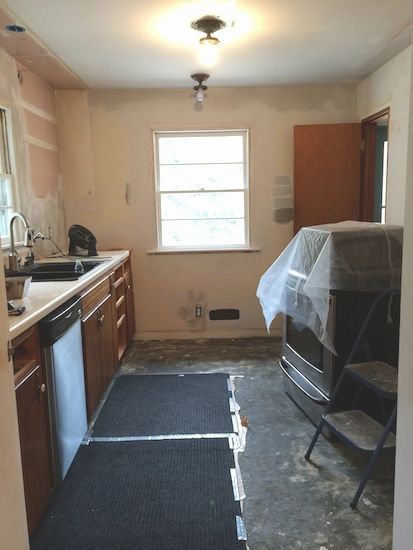 It's been nearly a few months with a ramshackled room that I used cook in. One entire side is torn out and the upper cabinets are gone on the other side. All that remains is the sink, dishwasher, base cabinet and the countertop (speckled with drywall mud, dust, paint and whatever else has graced the reno). Otherwise, this was a spot once called a kitchen. With its stove, microwave, sink, dishwasher, space to chop, cabinets to store cookware, utensils and dinnerware, etc.. At first I really enjoyed the newly demoed space because it meant progress, change, and most of all, that we're almost finished with the house so we can move to Seattle. Then, weeks went by with little happening and the novelty wore off. Greg works late. Certain tasks take the hit. I get something cleaned up or finished and the next step for Greg involves ruining the said task I just marked off the list, only to be put back on the list…while I'm cursing at him.
And yelling and cursing are happening a lot. This past weekend was a breaking point where I wanted to cause my husband harm. With each project we've hit that point. It's called marriage.
Most of the appliances and food stuffs spilled into the the dining room and parts of the living room. I grab a knife from a box atop the fridge in the dining room, pick up a cutting board from the stovetop in the kitchen or in the dining room depending on if it's safe in the kitchen (this weekend we saw sparks…don't get the plug stuck and rip out the terminal), then I take a look around for a spot to get knifey on something just to end up hoping the wobbly surface I found clear won't result in slicing my finger. Often this knifin' around falls on the dining table that barely seats 2 and on top of that (literally) is the microwave. This table is partially in the dining room and partially in the living room and completely in the way. We make do.
I have to pat myself on the back because I've still been able to make some darn delicious meals. Oddly I think I've made more recipes of the delicious variety with everything in a hellish state than not. Maybe I won't know what to do with an actual updated kitchen. Yeah…no. I've committed to organizing the recipes we've been eating for many months in the hopes of sharing them with you. Today I went through those and snagged one that stuck out. It has bacon. Enough said. Not enough? Avocado, bread and cheese. I hope you didn't pass out from all that awesome.
Bacon, Avocado and Cheese Sandwich
Drizzle & Drip original recipe
Serves 1
Ingredients:
your favorite baguette, sliced to your liking and toasted
1 ripe avocado, smashed (perhaps slosh a little lime juice on it)
a few pieces of cooked bacon
a handful or two of blue cheese (or your favorite cheese, perhaps cheddar)
Smear the smashed avocado onto your toasted bread, top with bacon and cheese put the bread lid on and slip into sandwich heaven.