Are you grilling? We try to grill as often as we can in the months that are not winter or winter-like in Minnesota (so about 2 months…ha). Whether it be on a weekday evening or throughout the weekend in these warm spring/summer days we are outside getting our grill on. (I should note you can do this in your oven too. Just put it at 400F and place your bundles on a sheet lined with foil and roast for 12 or so minutes (that will vary).
For those of you who also said yes (and eat meat), I bring you bacon-wrapped asparagus. I probably could have said only bacon and grabbed the attention of many of you.
I had a few strips of bacon and a bunch of asparagus on hand so this happened, a bit of meat wrapped veg. It was a hit but I never had doubt.
Speaking of backyard, guess who gets to bring out the cultivator (or go buy one) and tear up their yard again this year because "winter kill" wiped out most of the yard that sprouted last year? We do! Not just the back but the front yard where inches upon inches of ice killed a large section. But we're in the midst of putting in new patio pavers and some landscape edging so we'll be outside anyway.
Who am I kidding, we prefer to be outdoors this time of year…but not so much repairing the same thing we did last year. Dead yard doesn't scream "good for resale" but it does have me screaming "let's move earlier" out of frustration.
Maybe soon we'll actually have grass to look at while we're eating our grilled whatevers.
Grilled Bacon-Wrapped Asparagus
Makes 6 bundles
Print
Ingredients:
1 bunch of asparagus, about 24 to 30 spears, stems removed (I did the old snap method)
6 slices of bacon
1 1/2 tbsp olive oil
1 tsp garlic powder (or garlic salt-just skip the salt step then)
salt and pepper
*Prep your grill for high heat. In a small bowl, mix the olive oil and garlic powder (or garlic salt) and set aside. Take 4 or 5 pieces of aspragus (depending on how many spears you have) and wrap a piece of bacon around them. Continue to do this until you have 6 bundles. Take your oil mix and divide among the 6 bundles, brushing it everywhere. Don't forget to coat your grill rack with some oil before placing them on. Add a little salt and pepper to each bundle. Place on the grill, turning once or twice, for 10 to 12 minutes or until bacon is crisp and asparagus is tender. Serve and enjoy!
*I should note you can do this in your oven too. Just put it at 400F and place your bundles on a sheet lined with foil and roast for 12 or so minutes (that will vary).
Roasted radishes are where it's at, folks. Nothing new. Nothing difficult. Just radishes with some oil and vinegar, a smidge of salt and fresh pepper.
I noticed when spring rolled around-yeah, it finally arrived after some snow at the beginning of May here in Minnesota and a few other parts of the U.S. The last winter storm wiped out some tree branches around here and negated the yard cleaning we performed the weekend before. It's still a mess we get to tackle this weekend.
But back to the radishes. I had some leftover from a pickled veg recipe that we used to top fish tacos and everything else (we love pickled things) that week. I had some watermelon and your standard variety radishes and thought the White on Rice Couple's recipe sounded like the way to take these babies to Special Town. Population: roasted, somewhat sweet, less crisp radishes. Different from their normally crisp, peppery ways.
The watermelon variety did not roast long enough. Now that I see the picture, I realize they weren't uniform in size which probably didn't help and how did I miss that? Maybe it's the regular chaos that life hands us we're trying to cope with (the car needs repaired, the water softener stopped working, the dog needs spayed, we aren't going to be able to do the house renovations we planned and some we need to do in order to see the return we expected, and we're trying to figure out how we could move to Seattle earlier, etc.) and the fact that it was late and they had already taken much longer to roast than expected and I served them with herb risotto and you have to time those things just right to consume risotto as it's meant to be consumed. Maybe it was that.
They were worth the wait and the less creamy risotto was still delicious. Which is seriously the least of our worries and fairly ridiculous after I read through this in the edit. 
And happy Mother's Day Sunday to all your terrific, hardworking, unconditional loving moms.
Roasted Radishes with Balsamic Vinegar
Serves 2 to 4 as a side dish
Print
10 radishes (the original called to keep the tops and roast them too but mine came without), washed, roots and stem removed (keep your greens if you have them)
2 tbsp olive oil
2 tsp balsamic vinegar
1/2 tsp sea or kosher salt
black pepper
Preheat the oven to 350F. Make sure your radishes are washed, dried and I'd cut them in half. In a bowl, combine the olive oil, vinegar, salt and pepper. Whisk then toss in the radishes (and greens if you have them). Be sure all is evenly coated. Not required but it's easier to place a sheet of foil on a roasting pan or baking sheet then spread the radishes (and greens) out. Roast for about 10 minutes or until the greens are crispy (again-if you have them). Remove the greens and continue roasting the radishes for about 5 more minutes or until tender. Mine took a bit longer. Serve and enjoy.
Speecy spicy and hotsy totsy like the Swedish Chef says from the Muppets. Could be the use of a habanero in place of a jalapeno in these snap peas. I was very pleased with this (yet another) Real Simple recipe.
Naturally though, I couldn't stick too strictly to their version. That little habanero twist had our lips burning in the best way that heat loving people like Greg and I adore. Use a red jalapeno if you are not a heat-seeking foodie. That is if you're looking for more visual interest use a red chili or red Fresno pepper or most of your dish will be green….like Kermit. How did I get on a Muppets kick? It's not easy being green.
As you can see in the picture, I paired it with a breaded pork chop. A grand idea if I do say so myself. The heat and freshness spiked with lime went well with the fatty, heaviness of the chop. Top the snap peas with cilantro and peanuts for even more oomph. No bland side dish here and it's ideal for spring which finally arrived in Minnesota. I'll ignore the fact that they are calling for snow tomorrow. It won't stick and I'll be grilling soon enough on the patio. Right?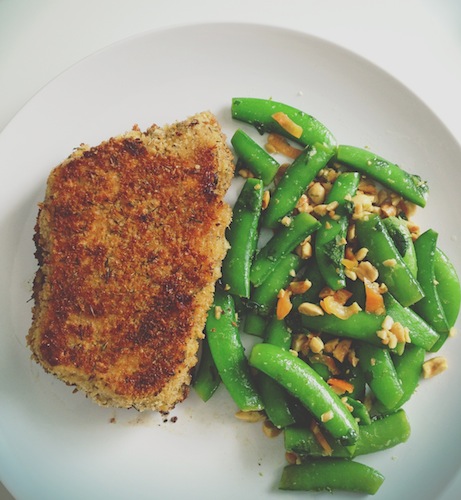 Chili-Lime Snap Peas
Serves 4
Print
Ingredients:
kosher salt
1 lb. snap peas, trimmed
1 small habanero (if you like a heated kick) or red chili pepper (like A jalapeno or Fresno), thinly sliced or minced
1/4 cup roasted peanuts, chopped (smash them in a plastic baggie with a wooden spoon or measuring cup)
1/4 cup fresh cilantro leaves
2 tsp canola oil
1/2 tsp finely grated lime zest, plus 1 tbsp lime juice
Bring a medium pot of salted water to a boil and set up a bowl of ice water. Add the snap peas to the pot and cook until just tender, 1 to 2 minutes. Drain and transfer to the ice water then drain and pat dry. They should be bright green. Toss the snap peas with the chili, cilantro, oil, zest and juice with a pinch of salt in a bowl. Add the peanuts just before serving or they will become soggy.