Much has happened since July.
After remodeling the kitchen we started on the basement. That took nearly a few months. Once that was finished we met with our real estate agent towards listing our house. Remember how we've been updating our home for the last almost 3 years in an effort to profit and move to our dream location in Washington state? Member that?
We finally got it listed last month…and had been told an offer was coming our way the next morning. I kid you not. It did and it is an amazing offer without hassles. We close on October 17th. The buyer is a very nice (sounding) man. I believe he was the first to schedule a tour too. We were stoked that that many people wanted to see our place the first day it was listed (and the following day) then wham. Dreams come true-goals accomplished.
But he wanted to be in the house as soon as he could, so things have gone very quickly…very. It's only now I can breathe a little and wanted to update you peoples with the news.
WE MADE IT HAPPEN-WE'RE MOVING TO WASHINGTON! (That's all I wanted to put in this post, but I thought you deserved more.)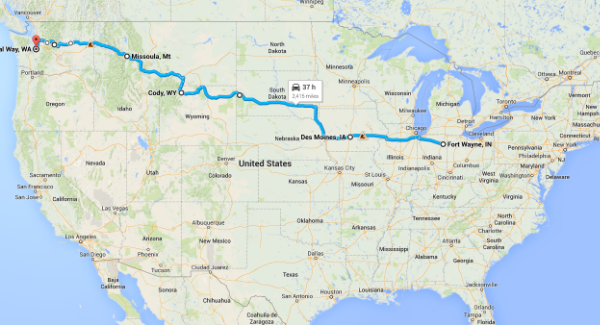 After a trip to Indiana to see family and friends, Greg, the pups and myself will be driving across the country with stops in Deadwood, SD, Cody, WY, Yellowstone, Missoula, MT, Leavenworth, WA then to our rental house in Federal Way. (I left out our stay in Iowa because, well, it's not a thrilling part of Iowa…is there such a place there?  Kidding.)  I've booked cabins, cottages and houses in place of hotels. We haven't had a vacation or honeymoon, oh, ever and, although we are driving the 40+ hours with pups who will surely be annoyed, this is exciting. It's all exciting.
Know any great places to eat along the way?
Saturday marked 5 years of the Dabble's existence.  No kidding.  5.whole.years.
I haven't been around much lately and when I have I've been all "look what I've (we've) done to the house" or "look who likes what I (we) do."  Which seems as though I'm exactly where I'm supposed to be at this point in life.
I think much of that was made possible because I wanted to put myself out there and started here.  Trying to connect with others who enjoy their passions as much as I do.  Those who have a strong zeal for something, anything in life.  I revere and connect with those folks.  People, such as yourself, who like to use quality ingredients with a seasonal focus of the home cookery variety.  People who enjoy sharing their lives and finding the odd events life brings funny and something that bonds us all (or should).  People who enjoy taking something most others see as junk and making it into something special (like furniture/a house/simple ingredient…hint hint those are my areas of interest…and by no means the only things I speak of).  It started here and it lead me to follow other passions.
No one would have found me if I didn't start here.  I feel honored and humbled that anyone even cares.  I just do what I do and if it sparks interest (or doesn't), well then, there it is.
My life is completely different from 5 years ago in the best ways ever.  (My standards for myself anyway.  You gotta set your own idea of success.) I thank you if you're still here.  I'll be back.