Guys, I think my skills are hitting an all-time high. Things are clicking better than ever in the kitchen. I'm in the zone, a relaxing-but-focused zone. Best of all: I am not taking the time to get a photo of the process. Unlike the last almost 7 years of this site. I'm just in it and getting the most joy I've ever felt from homecooking. I'm also eating a hot meal instead of a mildly warm version after trying to snap a photo. High five!
I'm buying better quality cookware which includes a lovely oval Staub coquette, a 33rd birthday present to myself back in September. Not that it's always necessary, but I think there are basics to save up for and that's what I did.
Along with the Staub was a trip to Eugene/Portland where I ate/drank at Falling Sky Brewing, Oakshire Brewing Public House (thank you Kris for the suggestion-LOVED their sour cuke berliner weisse), Sweet Life Patisserie (one of their employees wished me a happy birthday twice which was so kind), Deschutes Public House for a beer before dinner at Trattoria Gallo Nero (the Oscar Mayer Wienermobile went by while we were there and the staff ran to the window for a pic, loved it), Tasty n Alder for brunch or what was second breakfast for us, Sizzle Pie for late night slices, and hit up not one but two farmers markets where I bought armloads of produce (and feta) which was more than I should have but nothing went to waste. All delicious.  I'll never forget the experiences. Gonna go back soon.  (Thank you to my sis-in-law Leslie for dog sitting.)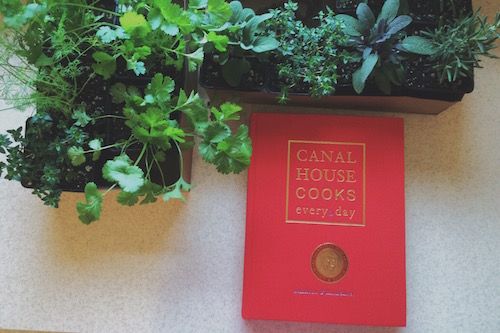 I'm also buying cookbooks. I was poor(er) and foolish in my younger years and deprived myself of the joy of a good cookbook. The feel of the pages, the photos, the tone, tips, wisdom, passion and, with the true greats, a guarantee the recipe was tested and tweaked then well-written and would turn out just as you'd expect. It won't let you down. It can give you joy with the simple (and sometimes not) process of making, creating. It can give you a learning opportunity, improve your skills. It will give you a moment in time where you've provided something special for those dearest to your heart. You will want to do it as often as you can. You will want to find quality ingredients and gather the best equipment you can afford-not a lot of things, just what it takes for your current ability. You will want more and respect more and (for me) dance more and talk more about food in general with whomever will listen (or whomever is too nice to tell you to hush). Greg and I have the best conversations at our kitchen island while I'm preparing a meal, bread, cake, whatever. He places himself on a stool then pours two glasses of wine (or beer) while I weave around the kitchen.  He claims he is spoiled, but I think it's what we all deserve, a good meal.
I finally bought Canal House, Food 52's Genius Recipes and their Baking & Vegan books. Inspiration and adoration.  I relax in our newly finished master bedroom reading, rereading, planning what I'm going to make over the weekend or for the following week. Those cookbooks are very much worth your time and money.  I don't have much, but those I do have are classics or going to be anyway.
My most current cookbook purchase is Ruth Reichl's (one of my absolute favorite people) My Kitchen Year: 136 Recipes That Saved My Life. When Gourmet was chopped out of existence I think most of us subscribers, food enthusiasts and general society were shocked. The crew behind the publication and Ruth were, of course, the most astounded. She describes the pain and growth of the situation with the same personal, touching tone she brings to all of her works. I highly recommend this cookbook memoir and her older books.  She is an inspiration and fascinating human being.
What are you reading? And what are you gaining from it?