The time has nearly come to leave for our 2 week visit home to Indiana. Greg and I leave bright and early tomorrow morning. Again, there will not be a "fond of" Friday post. We will be fondly driving through Chicago about that time. (I hope fondly…sometimes traffic is horrible.)
I'll be back at the dabble Monday, September 20th. You can follow me on twitter (thedabble) or flickr (thedabble). I might add a few lines about what I'm doing or where I'm going and a picture or two. Maybe.
Today is errand day which is why this will be brief. Have a great couple of weeks! I know I will. Here I come, new nephew (and family/friends)!
Before I run…walk away with pep in my step, here's a simple recipe for some of that delicious sweet corn available now. No description; I think the ingredients speak for themselves. Simple and perhaps my last 2010 summer recipe. Geesh!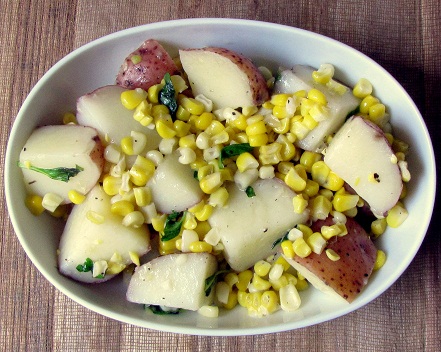 Herb Buttered Potatoes and Corn
Serves 8
Ingredients:
2 ½ lbs. baby red potatoes, scrubbed clean and halved or quartered (your choice)
6 ears of sweet corn, shucked and kernels removed form the cob
3 tbsp butter
¼ cup fresh basil or parsley (or herb of your choice)
coarse salt/freshly ground pepper
In a large pot, cover potatoes with water and 1 tsp salt. Bring to a boil, and then simmer until tender, about 15 minutes. Remove, keeping the water, into a large bowl and cover with foil to keep warm.
Bring the water back to a boil and add the corn kernels. Cook for a minute and drain. Add the corn to the potatoes and toss with the butter and basil or parsley. Season with coarse salt and freshly ground pepper. Serve warm. Feel free to add a little smoked paprika or cayenne for a kick.