Keeping this post short, sweet, a little tangy, hot and pretty darn good on a number of things.
I'm of course talking about this tomato apple jam with ginger, chilies, balsamic vinegar and a few other ingredients. I created this after raiding a friend's garden, helping gather the last pick of produce that would otherwise rot.
There were beacoup amounts of apples, some tomatoes and Thai chilies. My tweets (yeah from twitter) voiced that I had roughly 4 tons of apples. Sorry to those that recommended cider (hard cider specifically), I made applesauce (a twist this year with brown butter and rosemary-Greg really likes it) and apple butter which pretty much wiped out the supply.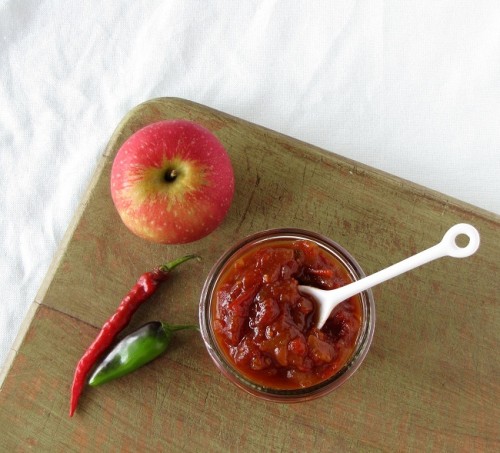 So 3 apple recipes came about in the last week around here. This being the best of the recipe bushel. A little apple humor. Very little.
Greg and I had a late dinner of this tomato jam over ricotta on baguette slices (and a nice glass of wine). It's like ketchup's more complicated, more flavorful cousin. It would be lovely with eggs, layered in a sandwich, topping rice, over baked camembert cheese and excellent with pretzels/fries. Tested and approved. My version is spicy hot but you can tame it down with a jalapeno or no pepper in place of the Thai chili.
Sweet and Spicy Tomato Apple Jam with Ginger, Chili Pepper and Balsamic Vinegar
*You can make this less spicy or not at all by using a jalapeno in place of the Thai chili or no pepper whatsoever
Makes a little over 4 cups
Ingredients:
3.5 lbs tomatoes, roughly chopped with seeds and skin attached
2 large apples, peeled and diced
1 medium onion, diced
¾ cup brown sugar
2 tsp fresh ginger, minced
1 Thai chili pepper, minced (keep a few of the seeds for the heat and pitch the rest) or a jalapeno with very little seeds or skip altogether
1 cinnamon stick
¼ tsp cumin
pinch of ground cloves
1 tbsp lime juice
1 ½ tbsp salt
1 ½ tbsp balsamic vinegar
Place all of the ingredients (except the balsamic vinegar) in a large pot. Bring to a boil then reduce the heat to a simmer over medium heat, stirring occasionally, until the juices have evaporated and the tomatoes and apples have softened and the consistency is thick. This could take a few hours. Remove from the heat and add the balsamic vinegar. Once cooled slightly, remove the cinnamon stick and place in jars. Store the jam for up to a week in your refrigerator. I like it at room temp or warm over ricotta on toast, with pretzels and fries, in a sandwich, over rice, with eggs, in a box, with a fox, on a train. Now I'm going all Green Eggs and Ham Seuss style on you. I'm just saying it's like ketchups more mature cousin so the possibilities are endless.