Happy birthday to my grandma! (I'll see you soon. Tell grandpa to practice Aggravation.)
I'm sending my gratitude to my brother-in-law who fixed the comment section Friday. I did a little dance and added a few more options to the site after said dance. It wasn't quite working when I tried doing both at the same time. Warning: my print option isn't functioning as I would like and I'm now working on that issue…along with a few others that popped up with my new plugins. It never ends.
How was your weekend? I had a good time…too good Saturday and needed a day of rest Sunday. The rib fest was impressive. My only complaint is that patrons didn't get to sample any of the competition food (unless related or friends of friends on the down-low). A rib/brisket/pulled pork vendor was the only source, from what I saw, for carnivorous feasting that was out of many of those items before 2PM (when we wanted to sample). The event was intended to go on until 11PM. The band playing when we entered was excellent but I'm not sure who it was and the beer choices were decent. I didn't venture towards the art area on the other block of the event. Instead, we went with some friends to the Cheese Cave. Delicious!
After that, we went on an impromptu camping trip to reader and friends ("Auntie") Jayne and Tom's lake campsite with our pals her son, daughter-in-law and grandson. They were so kind and welcoming and made us food and served us beverages. I will leave out those details but it was a grand time. Greg and I took a walk around the area. The lake is huge and peaceful. Thank you for having us!
I don't know about you but when it comes to sweet corn season, I'm busy stuffing my face with its goodness and freezing batches upon batches for the next few months. My freezer is full of this summer's bounty, in one form or another, and the two chickens graciously given to us by our friend. I'm always looking for new ways to use corn in my meals and since I'm a "researcher, " navigating my way through website after website, I have found a keeper that I would like to share.
This one was discovered…like I'm an explorer (geez)…on Chow.com, one of those treasure-troves…seriously, Annie, stop with the explorer thing…of a website. Allysa Torey, in "At Home with Magnolia," was my inspiration and this was her shared recipe on Chow. I call it a gratin while she calls it a casserole (tomato/tomata) and I spiced it up to contrast the sweet corn and pep up the squash. You can use a number of different cheeses for this but I was partial to Spanish Manchego. Allysa requested sharp white cheddar. I really don't think you can go wrong-Parmesan, yellow cheddar, Swiss, mozzarella, etc… With the spicy flair, I added fresh, chopped cilantro but for all you haters, flat-leaf parsley will suffice. I like that herb too but think it can be too dull for some dishes-there, I said it.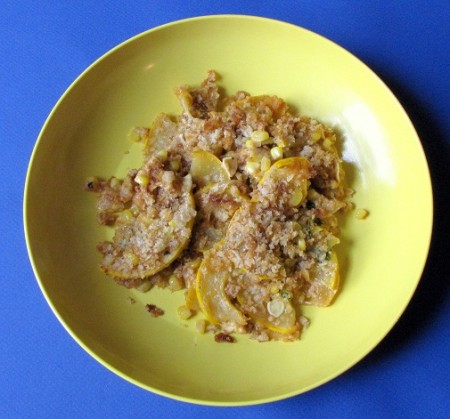 Summer Squash and Sweet Corn Gratin
Serves 6
Ingredients:
2 tbsp olive oil
2 tbsp plus 2 tsp butter
2 tbsp garlic, minced
1 cup breadcrumbs
1 ½ cup onion, chopped (white or yellow preferred)
4 cups yellow summer squash, thinly sliced
1 ½ cups fresh or frozen sweet corn
1 cup Manchego cheese, sharp white cheddar or your choice, grated or shredded
1 to 2 tsp cayenne pepper (depending on how much heat you'd like)
½ cup sour cream
½ cup heavy cream
2 tbsp fresh cilantro, chopped (or flat-leaf parsley)
coarse salt
freshly ground pepper
Preheat the oven to 350F. Lightly butter or oil a square baking dish.
In a large skillet over medium-low heat, add 1 tbsp of the oil and 1 tbsp of butter. Add the onion and cook until tender, 8 to 10 minutes. Meanwhile, for the breadcrumb topping, heat 1 tbsp of oil and 2 tsp of butter over medium-low heat in a saucepan. Add the garlic, do not brown, stirring occasionally for 2 to 3 minutes. Add the breadcrumbs, stirring to toast evenly, for about 2 minutes. Remove from the heat and set aside.
To the skillet, once the onion is tender, add the squash and corn, raising the heat to medium-high, stirring often, until tender. This time will vary but make sure the squash is tender because it will not cook much in the oven. Remove from the heat
Stir in the cheese, cayenne, sour cream, heavy cream, cilantro and salt and pepper. Mix well and transfer to the baking dish. Sprinkle with the breadcrumb topping and bake uncovered for 30 to 40 minutes, until the top is golden.