Sometimes the stars align and I have chicken, chorizo, shrimp and Arborio rice, which means paella at our place. Having the meats, spices and rice make it an easy meal option, only a few more ingredients are required for an "as close to authentic as I can get" rendering.
The word paella comes from the Latin word for pan 'patella.' There are many versions these days but the original recipe is based on seafood, sometimes rabbit or duck and maybe snails from Spain (Valencia). Today it remains a dish of rice, spices, beans (not in this version), meat, vegetables, saffron, paprika, stock and quality oil cooked over an open fire but don't worry, you can make this over a stove too. I can't wait to make it when we go camping-that's the plan anyway.
I fell in love with paella when I saw Martha Stewart do a segment years ago. She used the largest pan I'd ever seen over an open fire in her backyard to feed a crowd at one of her parties. (I want to find a similar pan…and have a similar party.) Since then, I have been obsessed and vow to have more authentic paella in Spain some day. Until then, I have my mixed paella rendition below and that makes for a very tasty substitution.
When Saveur recently had an article about this dish, I knew I had to make the recipe (there's no rabbit, duck or seafood beyond shrimp in this one so nothing too complicated to obtain). Learn more about it at Saveur magazine here, learn the techniques here (highly recommend it) and see the numerous variations of it here.
I took the time to steep the saffron (a major component in paella) and simmer the sofrito (the vegetable base with paprika) for an hour, which allows the flavors to infuse and produce a richer essence in the end. I used my trusty cast iron skillet and halved the recipe for the two of us…it still lasted several meals later, without complaints. The Saveur recipe said it would feed 6 to 8 but I think this meal can feed many more.
Another note, the rice is rather important in this meal-use a short-grained style. Valencia or bomba were advised but I had Arborio…I know it's Italian but finding different styles of rice in southern Minnesota can make for quite a task.
The presentation is glorious; placing a large skillet of deliciousness on the table is impressive. If you have a gathering of some sort, this could possibly be THE thing to make. In my mind it is…and please invite me.
The first bite was bliss and the leftovers were even better (with a little broth added since the rice had soaked up the rich flavor the day before). I added green olives, a dash of white wine and a handful of chopped cilantro but it's not necessary. I omitted the mussels to keep the cost of groceries down (but as I said before I had most of the ingredients already).
Pair it with white wine, for me, a dry white wine, a toasted baguette and friends. This meal is amazing, easily at the top of my all-time favorite dishes.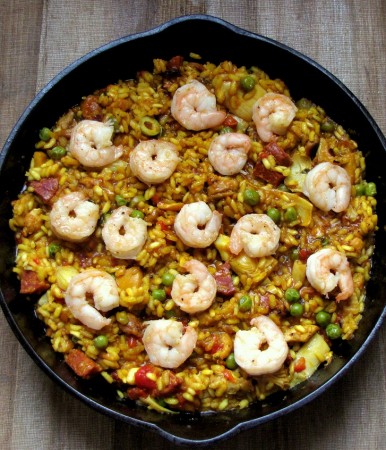 Mixed Paella
adapted from a Saveur recipe
Serves 8 to 12
Ingredients:
30 threads saffron, crushed (a scant 1⁄2 tsp.)
1 lb. boneless, skinless chicken thighs, cut small pieces
10 large or 15 medium shrimp, peeled and deveined
salt/pepper
1⁄2 cup extra-virgin olive oil
3 oz. dry-cured Spanish chorizo, cut into small coins
1 tbsp smoked paprika
3 cloves garlic, minced
3 dried bay leaves
3 medium tomatoes, minced
1 small onion, minced
7 cups chicken broth
2 1⁄2 cups short-grain rice, preferably Valencia or bomba (I used Arborio)
7 oz. jarred artichoke hearts, quartered
8 oz. fresh or frozen peas
3 jarred roasted red peppers, torn into 1⁄2″ thick strips
12 mussels, cleaned and debearded-optional
¼ cup green olives, pitted and chopped-optional
1 tbsp cilantro, chopped-optional
1 to 2 tbsp dry white wine-optional
Place the saffron and 1⁄4 cup hot water in a small bowl- let sit for 15 minutes. (This will color and flavor the dish better.) Season the chicken and shrimp with salt and pepper. Heat oil in a large paella pan or large shallow skillet over medium heat. Add the chicken, shrimp and chorizo. Cook, turning occasionally, until browned, about 7 minutes. Be sure that the shrimp are not overcooked, remove them form the pan before completely cooked.
Transfer the shrimp to a plate, leaving meats in the pan. Add the paprika, garlic, bay leaves, tomatoes and onions, cook, stirring often, until onions soften, about 8 minutes. Add reserved saffron mixture (with water), optional wine and broth, season with salt; bring to a boil over high heat. If you have time, reduce to a simmer for at least 20 minutes and up to an hour. The longer this sofrito simmers, the richer the flavor in the end. It's up to you.
Sprinkle in rice, distribute evenly, add the quartered artichokes, peas, optional green olives and peppers. Cook, without stirring, until rice has absorbed most of the liquid, 10–12 minutes. Reduce the heat to low, add reserved shrimp, and nestle in optional mussels hinge side down; cook, without stirring, until mussels have opened and rice has absorbed the liquid and is al dente (firm but not hard), 5 to 10 minutes more. Remove pan from the heat, cover with aluminum foil and let sit for 5 minutes before serving. Add the chopped cilantro over the top and serve. It's great with a dry white wine, a toasted baguette and friends. (Watch out for the bay leaves.)