Happy birthday to my youngest sister! My side of the fam is going on a trip today to Shipshewana for this event which was something we used to do often. It holds such great memories (except that time when I was very young and lost all of the pretty jewelry my parents bought me). What is Shipshewana you might ask?
Besides going to that link above to find out (which you should), I'll tell you that it's a huge outdoor market in an Amish area of Indiana. Be prepared to walk and get a suntan/burn. It's a place where you can buy giant-sized underoos (that may or may not be used as a joke to trick your single guy pals…I would never buy these huge panties and place them in embarrassing locations around said person's habitat so that our mutual friends could find them and think hilarious thoughts…never), books, fabric, soap, vintage glassware, candy, pool toys, and a million other things.
It will take you all day to go up and down the sandy rows, some booths will look more like a garage sale, and you can haggle but beyond the flea market, there are buildings (with air conditioning) holding crafts, quilts, antiques, farm animals, jewelry, more gag gifts (ahem), etc.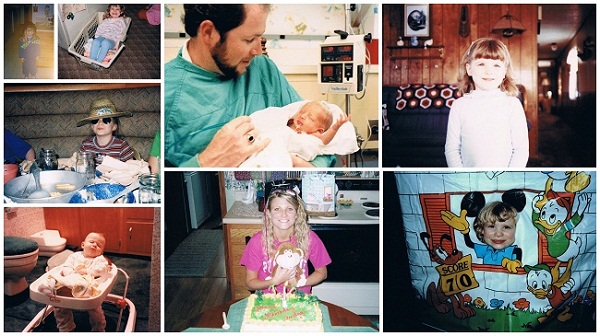 You can eat fudge, caramel corn, taffy, cinnamon buns, pies, bread (all this being Amish made of course or sold by people dressed as Amish folk), get a hearty meal in one of the very busy restaurants (my picks are Wana-Cup or the Blue Gate) and you can also buy/sell a horse/pig/sheep/goat/cow at auction, go to an antique auction, make an Amish person blush, learn how to make an instrument/quilt/churn butter, get in the mood for Christmas by visiting one of their ornament stores, buy lawn ornaments (whirligigs, etc.) and garden supplies, go on a horse and carriage ride, buy furniture and much more.
The traffic is awful and parking is in a grassy field-remember where you parked. Was it by the pedestrian bridge and which lot number is that you will ask yourself squinting at the sign where you enter the market while slathering on the sunscreen then tossing it into your giant bag for your finds. That's how we do it. Oh, and another tip, if you can't decide to buy something and might come back later, remember the row number because, from experience, you won't recognize one row from another when you go back. True story…several times over.
Have fun, dear family! I hope the weather is better and you are all feeling up to par. (Bad colds going around.)
Now on to this little number. A simple number that is delectable hot or cold (pasta salad-ish). Fantastic for warm weather dining. Originally a Real Simple recipe but I made it my own by omitting the pine nuts (too expensive for my budget that week), adding spinach and a smidge of grated cheese.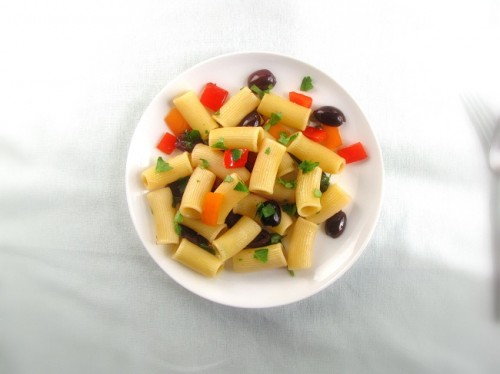 Pasta with Spinach, Peppers, Capers and Olives
Serves 3 to 4
Ingredients:
1 lb. rigatoni or penne (any pasta really)
2 tbsp olive oil
2 bell peppers (red and yellow look great), cut into bite-sized pieces
1/3 cup kalamata olives, pitted and halved
¼ cup fresh parsley, chopped
2 tbsp chopped capers
2 tbsp red wine vinegar
1/3 tsp red pepper flakes
2 handfuls of baby spinach-optional
freshly grated Parmesan cheese
Cook the pasta according to the directions on the container. Reserve 2 tablespoons before draining to aid the pasta adhering to the other ingredients.
Meanwhile, in a large skillet, heat the oil over medium-high heat. Add the peppers and cook until tender, stirring occasionally, about 5 to 6 minutes. Add the olives, parsley, capers, vinegar, red pepper flakes, reserved pasta water and salt/pepper. Cook until heated through, about 2 minutes. Turn the heat off and add the pasta. Carefully toss. (This is why a large skillet is needed.) Add the spinach at the very end, tossing until slightly wilted. Serve warm or refrigerate for a chilled meal but be sure to add grated cheese before serving.