We did it! "Operation move" is complete and it only took 2 ½ days. Really. It's not that we have that much "stuff" (although it was more than I thought), it was the 23 steps up and down to our old apt, one limited capacity Subaru Forester for most of the moving, then the 30 steps up and down to our new apartment and our average human strength. Calf, ankle and back pain along with blisters and callused hands after day one didn't stop us. I meant to take pictures of the entire thing but it clearly was not a la-di-da take your time kind of move. I managed to snap some bad shots of our new place in its empty glory. It may not look special but it means so much to us.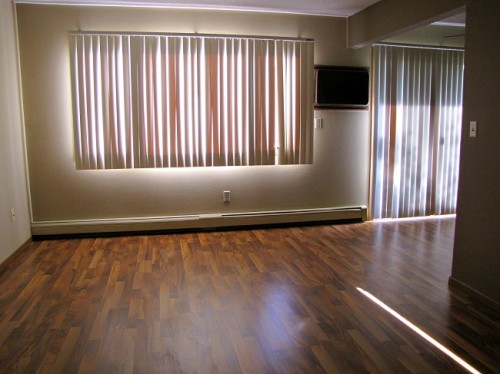 Now, I don't know why, we feel more adult in our late twenties in this particular living arrangement. I mean, we've lived very near here (right next door actually) a few years ago and were miserable. I blame not being able to find a job in my degree field (or at all) and the shock of the cost of living in this small town atmosphere on top of not knowing a soul then there was the fact that we were facing the bleak looking parking lot on the first floor (ugh). Downtown living proved itself daunting-we could have liked it but bad neighbors, annoying/drunken nightlife, car alarms going off, revving engines, town maintenance at 3AM and screaming teens/college students outweighed all that we enjoyed about being there. We've adjusted and realigned ourselves with our goals and dreams, all the while, enjoying our space on the backside of the complex where the trees sway, birds play and we can call it a day. (That didn't start on purpose but certainly ended there.)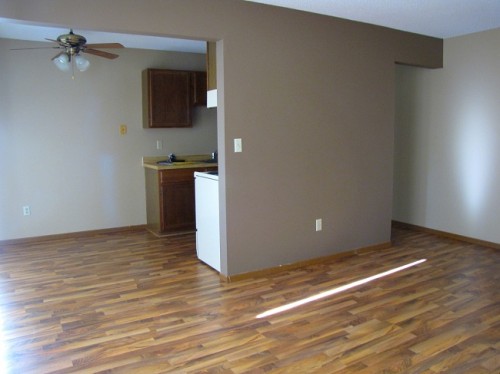 Not the smoothest of moves (ex-lax). There were some things damaged during the move…ahem, Greg. He didn't listen to me and the finish came off of our only side tables due to his taking them apart and taping the legs together. Sure they were cheap but that wasn't the point. Now those go on the list-the very long list of things to get someday. A few things were scratched. While organizing the bathroom, I dropped a small (but expensive) bottle of perfume so there is an overwhelming scent down the hall. The smell of my pain. The night before our move I dropped my drink on our chair…the first spill on our furniture of course the last night in the place and of course me after thousands of reminders to Greg to be careful not to spill or drop anything on it. Typical.
Big thanks to our 3 helpers! Our big, strong helpers…I'm no Dainty Dolly but I did abstain from moving the big items the second day since we had these guys around. Plus, I had my fill of heavy lifting the day before and I'm smart enough to know that if someone lets you get away without helping haul large pieces, you step aside and let them do their thing. A dozen moves with just the two of us to do all the work and you'd be ready to let someone handle it too. Poor Greg didn't have that option but he enjoys digging in to jobs like that and looks forward to being sore. He says it's a good sore. We both agreed that we've done this too many times and I went as far to say our next move will be handled by a company. If we even have things. Moving is much easier if you sell your belongings and start over wherever you land. But I like my things and it took us years before we found anything and could also afford to get the pieces. I'm still debating that one.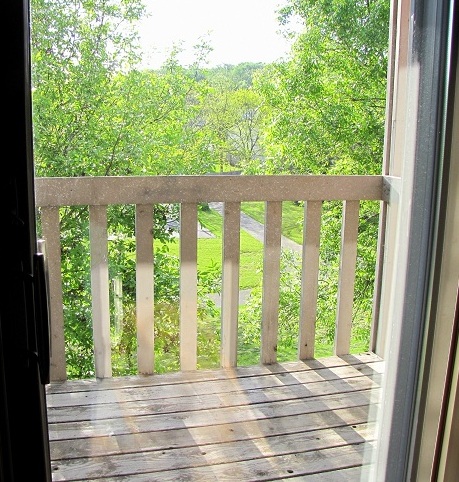 But we've quickly fallen in love with our new space-it feels like we've been here longer than a few days. Monday-Memorial Day- was spent not fussing over organization or cleaning or physically moving much but Greg and I did go out to get some herbs, a new showerhead and a few other miscellaneous items. We came back to work on a few small projects before retiring to our new favorite spot-the balcony with beer in hand, good music playing on our Bose radio and leftover Chinese food. A few hours went by and before we knew it, bedtime had come and a shortened work week faced us which brings me to now. I'm at the coffee shop down the street checking all things requiring internet-something we won't have in our place til Friday.
It seems like we've arrived where we're supposed to be for the remaining time in Minnesota. A house isn't a priority any longer although we're still checking some out. I am back in the geographical area where this website was dreamed up and created for no more of a reason than I love food and equally as much, love to prepare it. I didn't even read a single food blog until I began this site and it didn't dawn on me that this hobby and one of my passions could be a career and consume my thoughts in the best way ever. It wasn't until we moved to downtown Northfield that I put the entire site into actual existence. In a sense it feels like things have come full circle for the dabble. In this new space I want to post more frequent like the old days and bring back my "fond of" Fridays. Inspiration is back in time for the summer days. Thanks for being here with me.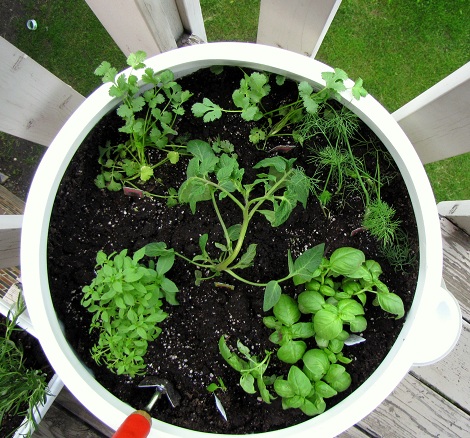 Before we made the transition, when the weather was still chilly, I made this risotto recipe from Real Simple. In those times, nothing sounds better to me than a large pot of rice baked in butter, broth and white wine with grated cheese. It helped that I doubled most of the ingredients and added more broth the following day to reinvigorate the rice into a creamy dish once again…not something every risotto aficionado will agree with but it was just as delicious. Now that the temps have finally warmed up in Minnesota I can't say I would make this warming recipe but it's definitely one to keep in your arsenal for a later time. But geesh, doesn't it sound great?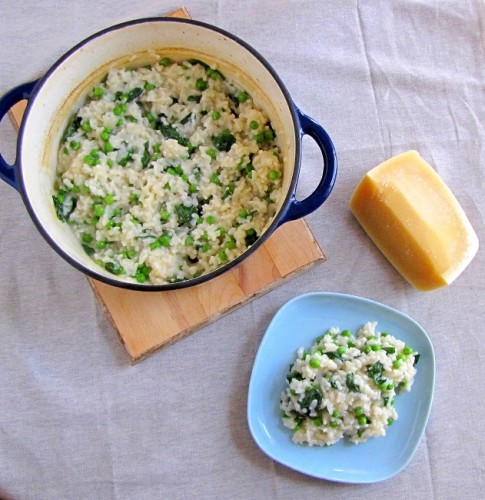 Baked Spinach and Pea Risotto adapted from Real Simple
Serves 6 to 8
Ingredients:
4 tbsp unsalted butter
2 shallots, minced
coarse salt and freshly ground pepper
1 cup dry white wine
6 cups (plus more for the following day) low-sodium chicken or vegetable broth
2 cups Arborio rice
1 ½ cups frozen peas
4 oz. baby spinach, roughly chopped, stems removed (about 2 cups)
½ cup grated Parmesan cheese, plus more for serving
Preheat the oven to 425F. In a large Dutch oven or oven-safe pot, melt the butter over medium-high heat. Add the shallot, a pinch of salt and pepper; cook, stirring often, until soft, about 3 to 5 minutes. Add the wine, stirring until almost evaporated, 3 to 4 minutes. Add the broth and rice. Bring to a boil then cover the pot and transfer to the oven. Cook until the rice is tender and creamy, about 25 to 35 minutes. Check every few minutes beyond the 25 minute mark. Add the peas, spinach, Parmesan and another pinch of salt and pepper to your taste. Stir and if the risotto is too thick, add about ¼ cup more of the broth. Serve warm with more grated Parmesan soon after.