Because I love you. Because this is one of those recipes that must be shared. Because it's March and spring is coming. (Even though our backyard is an ice rink at this moment with the "storm" that came through Minnesota and other states…mostly rain now frozen and a little snow.)
I bring you my version of No-Boil Pasta Bake which was originally with chicken from Faith at the Kitchn but I left the chicken out and added/omitted a few ingredients…speaking of the Kitchn, have you voted in their Homies? There are six categories with some of your favorite home design and cooking blogs (you can also nominate) to cast your vote for 2012's best o' the blogosphere. I was nominated in the recipe category. Wink wink nudge nudge.
And do use fresh herbs and milk with a higher fat content for flavor and thickness on the pasta bake. Sun-dried tomatoes in oil was one of my additions to the topping and while optional, I thought it added even more to the dish. Plop it together in a casserole dish covered tightly with aluminum foil or a Dutch oven with a tight-fitting lid, bake then in about an hour you have something your guests/family will rave about. That easy and it makes the kitchen smell like pasta and cheese heaven.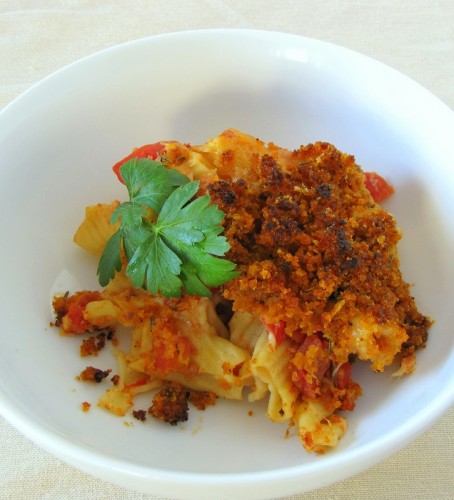 No-Boil Pasta Bake with Cheesy, Basil, Sun-dried Tomato Topping
Serves 4
Ingredients:
8 ounces (1/2 pound) dried rigatoni pasta, uncooked
4 large cloves garlic, minced
1 tsp anchovy paste (optional)
28 oz. can diced tomatoes -I might get whole canned tomatoes, like San Marzano, and dice myself next time for quality purposes
2 cups shredded cheese, such as mozzarella or a mix of mozzarella and provolone
1/4 cup shredded Asiago cheese (or Parmesan or a mix)
pinch of salt
freshly ground pepper
a few dashes of red pepper flakes (optional)
2 cups milk (I'd go 2% or whole)
Cheesy, Basil, Sun-dried Tomato Topping
1/2 cup dried breadcrumbs
1/2 cup shredded Parmesan or Asiago cheese
1/2 cup loosely packed fresh herbs, such as basil, thyme, rosemary and sage (I'd go for at least 3 of these fresh)
pinch of salt
freshly ground pepper
1 tbsp sun-dried tomatoes in oil (optional)
1/4 cup olive oil
Heat the oven to 400F, lightly grease a 3-quart casserole dish with olive oil or, in my case, a Dutch oven with a tight-fitting lid. If you use the casserole dish, you'll need to bake it with a double layer of aluminum foil.
In a large bowl, mix the dried pasta, minced garlic, anchovy paste and diced tomatoes (with their juices). Stir in the salt and pepper. Stir in the cheeses and add a few dashes of red pepper flakes. Spread this mix in the baking dish and pour the milk over the top. Cover tightly with a double layer of foil or a lid with your Dutch oven. Bake for 50 minutes, or until the pasta is tender. Remove from the oven then turn the oven up to 450F.
Meanwhile, prepare the topping. In a food processor, whirl the breadcrumbs, cheese, herbs, sun-dried tomatoes with oil, a pinch of salt and a few grinds of pepper. Slowly add the olive oil, blending until the texture resembles wet sand.
Slowly remove the lid (or foil) from the casserole dish. Be careful. Spread the topping over the bubbling pasta and return the uncovered dish to the oven. Bake for 10 or so minutes or until the topping is toasted and crispy.
Take the casserole out of the oven and let it cool for about 10 minutes before serving.