I read an article from Apartment Therapy, a site I visit daily, that fits perfectly with my notion that this blog encompasses other related interests. Call me crazy but I happen to believe those of you homecooks/food enthusiasts might enjoy or appreciate design/décor/travel/etc also. Living a good life-making this life yours-is what it's all about and this is my voyage towards that and maintaining such a thing. Hope you'll keep along for the ride. But I recommend reading this piece (Design is the New Food)-made me all warm and fuzzy inside-to gain more insight into my beliefs.
Wonderful weekend: sold our dining set to a sweet lady from Wisconsin, bought beets, radishes, broccoli, oatmeal raisin cookies, mint/chocolate mint plants, habanero jelly and brick oven roasted marinara from the farmers market. The last of those two being from the local Red Barn Farm. The samples were like nothing I've ever tasted, roasted in their outdoor brick oven and probably using high quality balsamic vinegar since that was the kick that put me over the edge. I had to buy a jar. The habanero jelly satisfies our spicy, hot tastes-hotter than the average market find. House-sitting went well and we came home with sauerkraut and another jar of marinara and full bellies from pork sandwiches. Thanks, Simon family!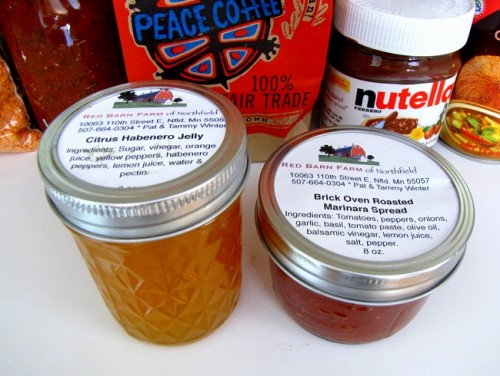 Our trip north to purchase a few furniture pieces from craigslist went very well. I'm really enjoying meeting the people through this site. (No crazies so far.) Kind people are showing up at our place and welcoming hosts invite us in on our travels. (Well, there was one guy who wasted our time when he lied about the condition of the piece but overall, good experiences.) The woman we met the other day lost her husband to cancer. They enjoyed refinishing antiques and a slew of dressers were left in their garage. She is moving to another town to be closer to her daughter and will not be finishing their projects. We are meeting up with her in July to pick up another dresser to work on. (It's our new idea to make some money on the side….we're pretty excited.) The problem we're having is fitting all of these pieces in our Forester. I try to visit numerous ad locations in one day since we're up there and over an hour from our apartment but space is limited and we find ourselves passing on promising furniture due to the drive alone.
I'll show you our new goodies later when I have the rooms set up in a better way. Things are kind of askew around our apartment. Selling, moving, refinishing, prepping for a garage sale, and general downtime are the culprits. Our dining room consists of our foldout camping table and folding chairs until I'm able to make my idea come to fruition for that area. Which reminds me, I found a tulip table (the white, mid-century modern table) on my old faithful pal craigslist so the process is starting tonight. How's your summer?
I'm feeling slightly better and am able to eat a wider variety of foods. Hooray! This week I'm all about tossing an easy pasta dish together with the ingredients in my refrigerator and pantry. Feta, pine nuts, radish greens and penne with balsamic vinegar or wilted beet greens and a fried egg on top of a slice of country bread. I'm also making quite a bit of refrigerator jam for a no fuss topper on toast, ice cream, on top of puff pastry and baked or by itself. You might notice the cream scones in the picture which were perfect, if I do say so myself, with this rhubarb and vanilla jam (still on that vanilla bean kick around here). That recipe to come later this week. If you don't have or are not fond of rhubarb, you can use strawberries or another fruit in their place.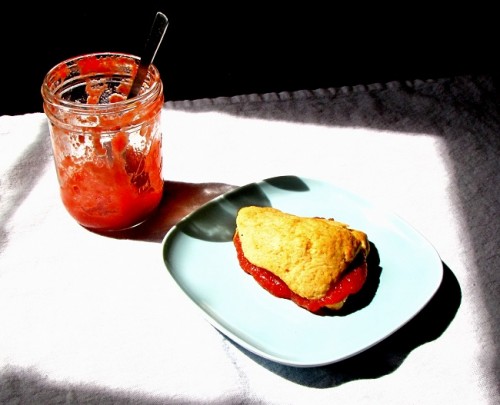 Rhubarb and Vanilla Jam from the Runaway Spoon on Food52
Makes 1/2 pint
Ingredients:
8 3/4 ounces rhubarb, chopped into small pieces (or use strawberries or other fruit)
1 cup sugar
2 tbsp water
1 vanilla bean
Place the rhubarb pieces in a saucepan with the sugar and water on medium heat. Split the vanilla bean, scrape out the seeds and add to the saucepan along with the bean. Stir until the sugar is dissolved, scraping the bottom and breaking up the fruit with a spoon. Cook for about 20 minutes or until it's thick but not quite spreadable since it will thicken as it cools. Remove the bean and spoon the jam into a clean pint or half-pint (Laura Ingalls Wilder reference) jar. When cool, top with the lid and refrigerate. The jam will keep for a few weeks but I doubt it will last that long.