I'm noticing a trend where people who have blogged for a whole 9 months (shake a lot of sarcasm on that) are writing posts about how to make a decent amount of money blogging. Decent to me would be a few hundred a month-enough to buy some groceries for a week or two but for bigger bloggers, enough to get you by in life (living the dream). When I woke up and decided to post today this was not the topic or recipe in mind. I was actually going to talk about a winner of a dish from the couple at Sprouted Kitchen (they only have winners), well, from their cookbook but adapted by other awesome bloggers at Love and Lemons. Another time, friends, another time.
The post took a turn and I found myself talking about money. Money making blogs to be specific. I should have tried to get back on topic or talked about something else. Like potty training puppies (which is part of my exciting life right now) but since this is a food blog (mostly), that would probably not interest those of you who came for the recipe…I'm not above it. Bodily functions are funny and we all fart.
Couldn't stop myself from going down this path that is controversial.
So, I kept the money making topic going and decided to add a cookie recipe. Because I like to reward you for coming…I've been puppy training too long. I can't help but think of what some dickbag said about people posting cookies and desserts merely to draw in a crowd to your blog which goes along with the topic in a roundabout way. (Purposely writing about a topic to get attention which uh duh, that's what blogging is somewhat and sometimes always about. 95% of the time I just pull out a recipe from the pile and write without much thought about why that one at that particular time.)
After 3 1/2 years here at the Dabble, I make enough, when my blog is actually functioning, to buy a cookbook every 3 months. A used one on Amazon. That's it. Ok, so some higher and some lower times in there. I've had one lump sum of $150 for 3 months from one company whose product I liked in return for a link on my sidebar. Then it was not renewed because go fig, simple links you can barely see on a sidebar didn't work so well for them.
I must be doing something wrong. You're probably shaking your head in agreement. I've worked hard to share recipes, sure I don't post more than once a week these days (don't think about the recent time I've been away for technical issues) but I have built an arsenal of recipes and information from the days of posting every single weekday then to a few times a week to today with one a week. Not to mention the amount of work I do to get my little ol' blog found through websites like Tastespotting, Tasteologie and Foodgawker then there's social media, commenting on other sites and all that jazz. I have been commended on my writing voice a number of times through the years, guest posted, highlighted by some lovely sources (Huffington Post, Refinery 29, the Weather Channel, the Kitchn, the Heavy Table and so on). I'm sincere and honest. And you have to know I'm invested after 3 1/2 years making next to zilch when my husband and I could use the cash to support us.
We're talking some struggling going on. I work my bum off salvaging, refinishing, dealing furniture, you know like 60 to 70 or more hours a week like small business owners do, to make part-time pay. I blog here, I blog about our DIY, house renovating and furniture redecorating at thewitsblog.com. (I make even less money blogging there after 1 1/2 years. Like enough to buy a pack of gum in a month. We did get a bunch of free gloves though which was cool and a nice company to feature.)
I've avoided writing a post like this because 1) some people will be offended 2) some people will say you shouldn't write for money or to make money 3) cookies…I've lost my train of thought…oh yeah, the point is that I provide some form of amusement, knowledge, or something that some people come to see or obtain, like a consulting job (like a boss)…but it's been with barely any financial gain for a long time while feeling more and more serious work-ish (understatement). Granted, pleasure is definitely attached (why would I keep going if there wasn't a happy feeling associated) and while I didn't set out to make money, the thought crossed my mind around the 2 year mark. I'm not asking you to directly pay or for a mountain of money to swim in like Scrooge McDuck…although what's with those sites that have a donation button for their content? I'm not sure that's the way to go but that's just me.
One of those money making techniques other bloggers are writing about should say write a post about how you make money and include a bunch of websites and links-the ones that supposedly assist your website in making money-and then get paid by those groups for those links. Don't mention how you're being paid to write this bull or that the average blogger will not make money this way.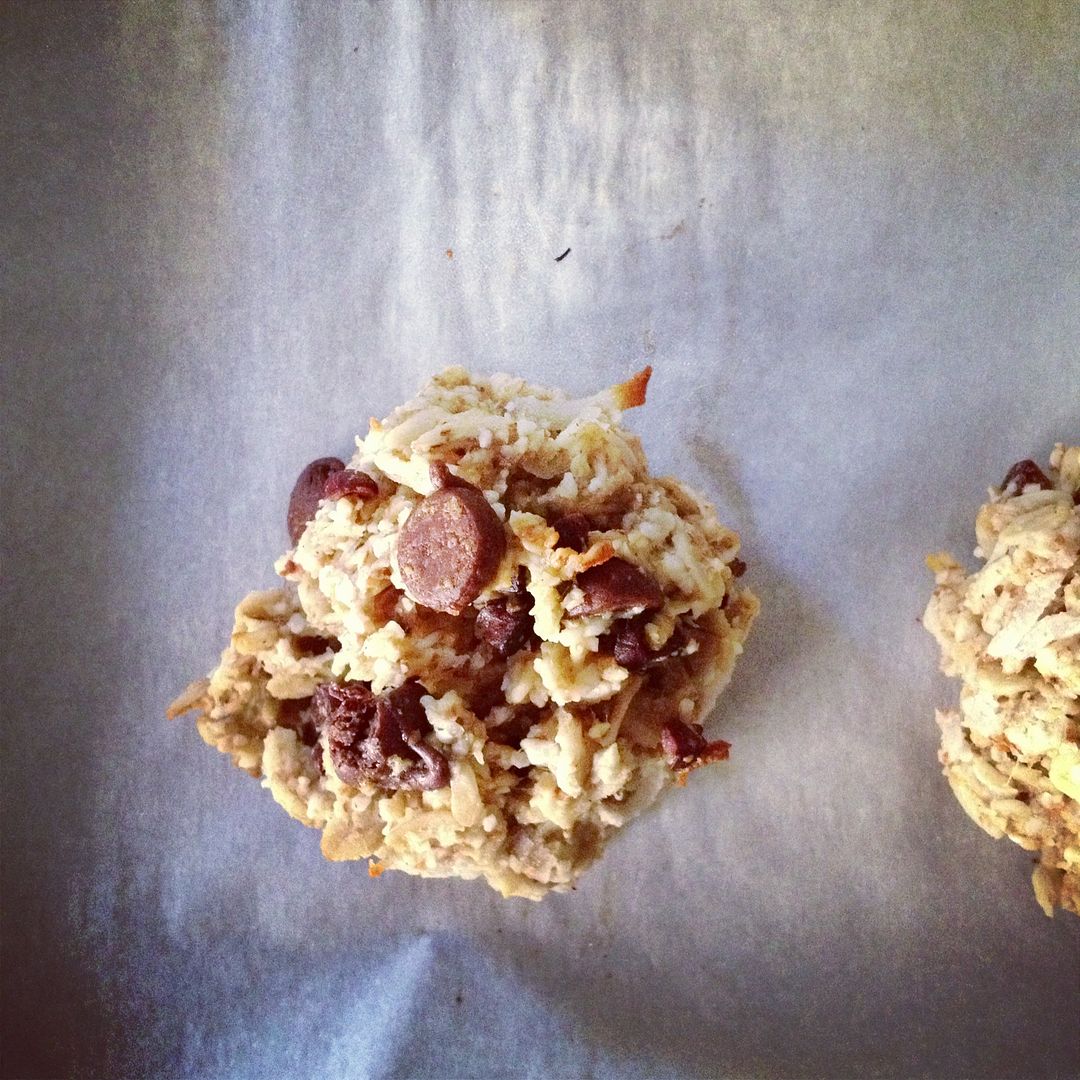 Cookies are coming.  Promise.
Because I've signed a few contracts (in most cases this contract seemed ridiculous) with some of the groups that are consistently stated by other bloggers to be of help, followed their guidance and got absolutely nowhere. Some of these groups were supposed to help me find companies and products, boasting how they "help the little guy" and came highly recommended. Then, one in particular stands out in my mind, gave me and every blogger and their brother the same list where you would get coupons or "invitations" to buy the newest processed item (maybe Velveeta), review it and be reimbursed once you submit what you had written. Reimbursement being your accomplishment. This same group also provides opportunities (that you have to compete for with about 4 million other bloggers) to try out/write about, in a positive tone, the latest demeaning, faddy item you've ever seen in your life or rather disgusting "food" (term used loosely). This matches with my ideas about eating local, healthy, fresh, seasonal, my farmer market loving self how? I'm not saying I'm better than anyone else just that this obviously doesn't correlate with me.
It feels similar to the survey you fill out to make a penny but it takes 45 minutes of your time. Very similar. I should listen to my instincts and disregard the article because often these "how I make money" posts start popping up all over the place at the same time with the same info. I can't hide my dismay that many are being churned out by people known to be reputable bloggers whose follower count is very high and thus, what they say is like God. Some who create wonderful recipes, DIY projects and such. I retrieved my info about money making from one of these bloggers and stopped following them when a number of their sources were phonies. In no way am I saying if you've done a post like those (because I haven't read them all) that you are the culprit. If I ever figure out real ways to put a little something in a hardworking blogger's pocket I'll share too.
I must add that I have accomplished a number of things that I am proud of that did not earn me money (directly I should say since I did have ads up when the piece ran for some of them). I did reach some people and gain new subscribers from those and continue to have people find and tell me of their support which is freaking fantastic. Love you guys. Money or no money, you'll still find me here. But this takes effort and time. I had the time to write this much today because I happen to have a few thousand dollars worth of furniture and decor on the market, waiting to be grabbed up (and I also type fast and my mind has a lot of opinions) so it's at these times I have no space in my house to store new things until those items leave. A few big ones will do just that this weekend so I'll find myself with less time to pester you fine people and more time stripping (not like that), sanding, painting, contacting customers/clients and doing all the self promotion that I have to to have our furniture creations found (very similar to what I do here). There is a stripped, antique dresser in the studio that beckons my attention after this post.
By the way, if you'd like to know about a a legit ad service, Lijit are the people I'm working with now. (Legit and Lijit, huh?) Probably not using them to their potential but they have been helpful and I do make a tidge.
But someone out there is making money in ways that don't sap the part that makes you feel like a decent human being. Please tell me how and please avoid sending me to sources that will only send me coupons for energy drinks.
Cookie time. A bit of a different take. From Heidi at 101 Cookbooks although it's a recipe from her friend Nikki. Delightful little nuggets.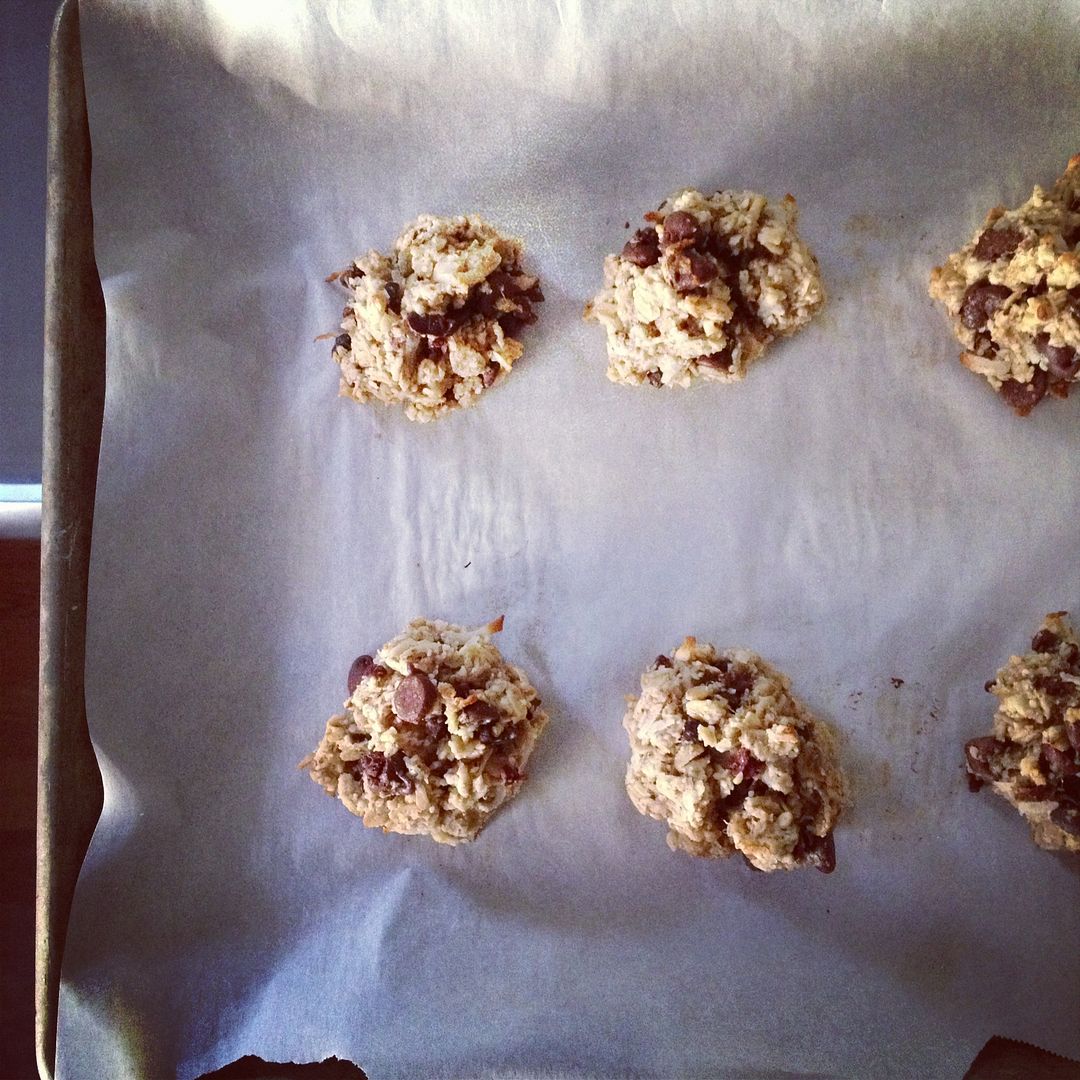 Chocolate, Banana, Coconut Cookies (aka Nikki's Healthy Cookies)
Makes about 3 dozen tiny cookies
Ingredients:
3 large, ripe bananas, mashed (about 1 1/2 cups)
1 tsp vanilla extract
1/4 cup coconut oil, barely warm (so it isn't solid or olive oil)
2 cups rolled oats
2/3 cup almond meal (make by pulsing almonds in a food processor until it is the texture of sand as Heidi says)
1/3 cup coconut, finely shredded & unsweetened
1/2 tsp cinnamon
1/2 tsp sea salt
1 tsp baking powder
6 to 7 oz. chocolate chips or dark chocolate bar, chopped
Preheat the oven to 350.
In a large bowl, combine the bananas, vanilla and coconut oil. Set aside. In another bowl, whisk the oats, almond meal, coconut, cinnamon, salt, and baking powder. Add the dry ingredients to the wet and stir until combined. Fold in the chocolate chunks/chips. Drop dollops of the dough, about 2 teaspoons, an inch apart, onto a parchment lined baking sheet. Bake for 12 to 14 minutes.