We had a lovely weekend with just each other, celebrating the birth of our nephew Nolan and the upcoming birthday of Greg, my husband. Tomorrow is his 26th celebration of the day he came into the world. I'm so glad he did.
What did I do for the almost 2 years that I was here without him? I've told my adoring husband this-if he remembers is something else-I believe our lives paralleled each other while growing up, experiencing similar events, habits and things we took pleasure in doing so that one day, these parts of our individual lives would lead us to one another. An instant recognition, a feeling, in both of us that said, "oh, they you are-I've been waiting for you."
For instance, we both enjoyed picking berries from our grandparent's garden as young ones. I often imagine that we were doing this at the exact same moment and would love to make a movie based on the notion of soulmates. In case I actually do this, I won't share the other parts of the storyline. So yes, paralleled because we were meant to be together and the individual moments in our lives were preparing us for each other. Geez, I'm a sap.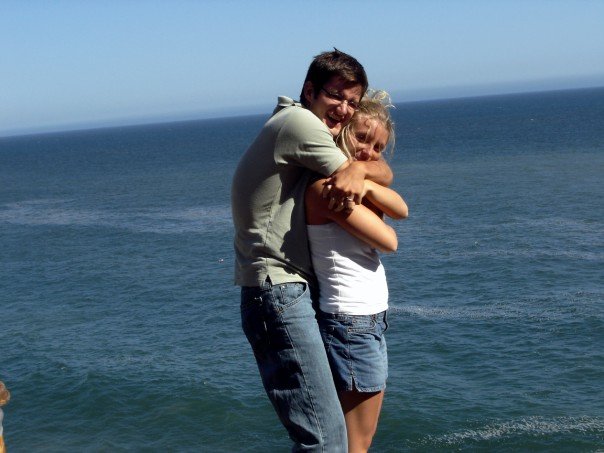 For the weekend, we decided to reconnect with one another, holding hands and laughing all weekend long. I miss it. Stupid Monday. Although, we spent too much money and I will not be grocery shopping the following week. Oopsies.
Nephew Nolan is doing great at home but I hear mom and dad are pretty tired. My sis said she had something like 4 hours of sleep in 3 days. Welcome to parenthood…I don't know yet but I imagine that would be the thing to say.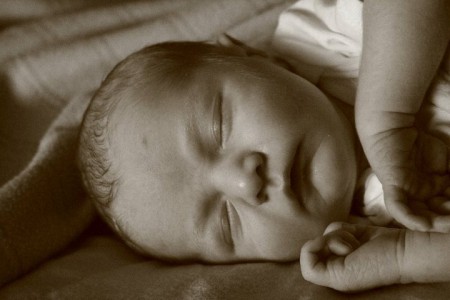 Something not so lovely happened Saturday- the comment portion of the dabble decided it was working too well for over a year and thought it should stop doing this for funsies or something. Now, it needs attention that I can't give it. This means that, once again, my brother-in-law gets to take a peak at the issue and hopefully find a solution. What this means to you, dear readers, is that I can't see any of your comments to approve and answer. I don't like this one bit.
Not only that, but the past comments and responses have disappeared that I have approved. They are still there also, just lost in the hubbub of the system so I am told. You might notice that it still states that there are comments at the bottom of each post but they are absent when you click on them. My sentiment, decided over the weekend, was that because of this problem, I didn't want to post anything until it was fixed. I dislike working on something that is behaving sketchy at best. I want things firing on all cylinders.
But then I realized that I have an easy recipe for my new favorite ice cream topping: pistachio praline from the June issue of Bon Appetit. Simple but the result is something that might make people think you are a cooking genius. The crunch and caramel coating over tasty pieces of pistachio…mmm…try it and you'll see what I'm talking about. It's just so good and can be sprinkled on top of most desserts-cupcakes, cakes, puddings, etc… I recommend French vanilla ice cream where the praline takes on a different flavor than when sampled alone.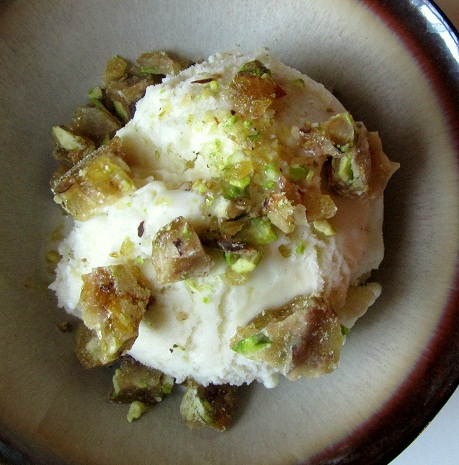 Pistachio Praline from Bon Appetit
Makes about a cup
Ingredients:
¾ cup sugar
3 tbsp water
¾ cup unsalted natural pistachios, lightly toasted and chopped
Line a baking sheet with aluminum foil and set aside. In a saucepan, over medium-low heat, combine the sugar and water, stirring until the sugar dissolves. Increase the heat to medium-high and boil caramel without stirring until it reaches a deep amber color, swirling the pan occasionally, about 6 minutes. Add the chopped pistachios; coat them evenly with the caramel. Spread the mixture onto the baking sheet in an even layer and cool completely. Peel from the foil when cool and if needed, break into smaller pieces. Store in an airtight container for up to a week.