I've been gone far too long.  Let's see…it was around Thanksgiving-ish.  I'll try to do better. I have lots of recipes worth sharing. Yada yada.
Sooooo…
Much has been going on in our lives.  Most of that can be found at thewitsblog.com.  Including 2 new bathrooms.  One has marble hexagon tile involved and the other was a big transformation.  We're going on to the kitchen which is where this post comes in.
I could use your advice and opinions about Ikea kitchens.  In the blog world this seems to be a huge, often touchy subject.  Let me know what you think.
Here's the post I wrote yesterday for that other blog of mine.  (For any confused souls out there…we're renovating our house-pretty much the entire thing-by ourselves before putting it on the market and moving to Seattle…we're in Minnesota right now…the goal is to now have it finished this summer.)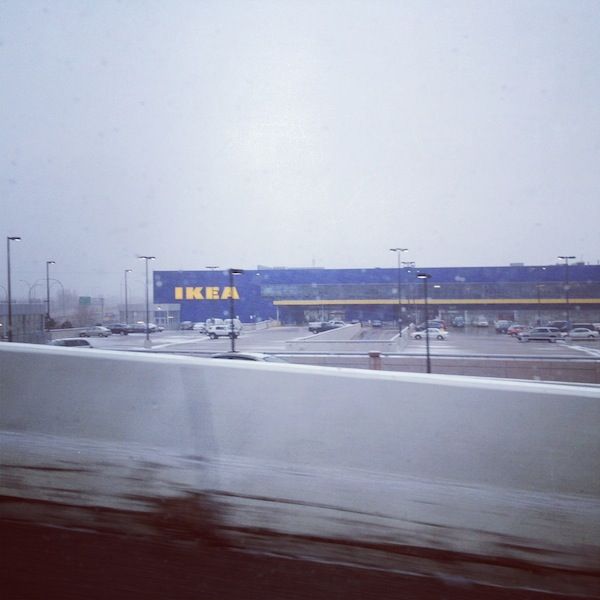 We went to Ikea Friday. 40 minutes from our home. Smack-dab in the middle of their kitchen sale.
Greg and I planned on being there for hours of kitchen design hell help after reading experiences from other bloggers.  The truth is that it is much easier than I thought.
I'm not going into why we chose Ikea cabinets because there are plenty of others who have written about their decision regarding the quality and such. The facts are that we're renovating our home for resale, are on a tight budget, a lot of designers choose Ikea then make custom choices in other areas of the kitchen-moulding, hardware, built-ins, etc..
And that's exactly what we're doing. Only using Ikea cabinets and adding different moulding, hardware, appliances (the ones already here), and fixtures. We went over the numbers and it looks like we'll be able to renovate the kitchen for about $5000 ($2600 in cabinetry). Everything but the flooring.
What we're working with currently…that is a rare photo with me in it…enjoy
The original 1952 kitchen is still intact with pink paint inside the cabinets, poorly constructed "shelves", weird residue that will not come off, sticking drawers, a weird plaid liner in some of the cabinets, and the hardware keeps falling off because parts are rusting away and we can't fix them completely without replacing them. It's past time for an update.
Using the Ikea kitchen planner is easy-ish. Sometimes it's rather frustrating trying to place items and it takes some finagling. (Right now I can't log in to it, but that's because our computer is being ridic since updating to Maverick…issues, Apple.) You aren't supposed to rely fully on the planner when it comes to having the exact parts (plinth/toe kick/panels/legs,etc.)-that's why going to Ikea and meeting with an employee is necessary. They will make those adjustments and recommendations.
Not from Ikea-our own rendering 
Go with all of your measurements-room dimensions, windows, appliances, etc., know the cabinets you want (we're doing Adel off-white…the famous shaker-style), have your plan as exact as you can get on your own with their online planner and bring your questions.
Once at Ikea, you will be seated at a computer where you log in to your online design. You will have to do most of it on your own if you haven't already-employees are there to help.  There are some affordable options if you want to hire that part out.  Some specifically design Ikea kitchens.
Back to our trip. It was one of those moments where we swooped in, were helped to a computer immediately and everything just went smoothly. We were out before the arguing couples next to us had even decided on the size of one of the base cabinets. We high-fived (yes we still do that) and were on our merry way to the housewares section where I got a step stool for the newly finished bathroom. Bing bang boom.
We'll see about the ease of our self-installation though.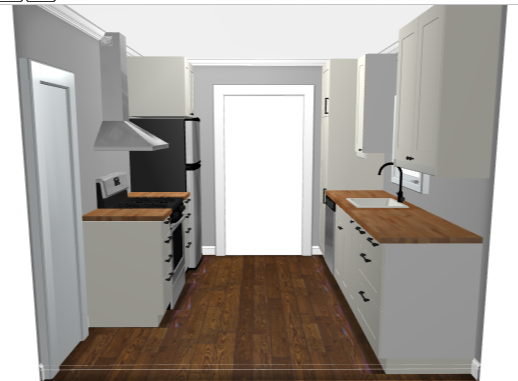 New layout…kind of (it's missing some components)
Delivery seems to be one of the tricky parts.  It is affordable.  I believe they said ours would be $99 and they hire delivery out.  You then assemble all the parts yourself from lots and lots of boxes.
However, I am hesitant after reading some nightmare delivery situations. It takes a long time to mark all of the boxes to be sure you have everything. If they don't have something you've ordered and you miss it, you might have to purchase it again. That's what I've read anyway. Same goes if you order your kitchen and load your own truck at the store and miss something. Pressure making sure all of the parts are there in hundreds of boxes does not appeal to me nor does having to purchase something again. Keeping a delivery truck at your house long enough to get a good count of your materials sounds nightmare enough. The type of drivers we've had here didn't even want to wait just to let me see if a single cast iron sink arrived without damage. I can't imagine the shipping companies giving someone an hour to check their items. By the way, if you don't open the boxes, you can return most things to Ikea. There are mixed tales of Ikea taking something back or letting you have a part that was missing without paying again. I'm not 100% on their customer service in this area. Contact Ikea for this.
We're hoping to avoid that by picking up the items during a few trips ourselves. Greg going by after work helps a ton too since he works close to the store. We're lucky like that in this case and it helps our budget. We can break it into parts. I can store it in the other bedroom.
Greg and I are also somewhat lucky our kitchen isn't very big and that the design looked a lot better without upper cabinets on one side (besides the one above the fridge).
We designed, re-designed and re-re-designed with Ikea's online kitchen planner at home. I took a few afternoons over a few weeks dedicated to going over our layout options then we took an entire Sunday to go over it with one another to get the final design.
The MLS pic of part of our kitchen…aka the dopes of the kitchen
We do not want to keep the kitchen layout as-is with new cabinets. Oh no, we're adding a tall pantry cabinet, bringing in the doorway a smidge to accommodate a built-in for our standard fridge (that could be the hardest part because this will be a custom job with plenty of its own plans), getting rid of the upper cabinets by the stove because we're putting in a wall range hood, and best of all, we're adding base cabinets on either side of the stove so the stove and fridge aren't just sitting out in the open like dopes. I can't stand when there's no counter space or storage and the fridge and stove just stand by each other in the open. I believe this will revolutionize this kitchen. Revolutionize, ha.
To recap: super easy in terms of going to the store (mid kitchen sale even at the Twin Cities store), logging in to our online plan, having an employee look quickly over it and answer all of our questions in literally one minute, then she quickly turned to print the entire thing out (took the longest). She then revised it since you can't rely fully on the planner then gave us a comprehensive list of our kitchen where she said everything at this point was in the warehouse. Again, mid-kitchen sale…which we didn't even qualify for because our Ikea kitchen total is about $2600 and it took $3500 to save 10%.  No complaints there.
They DO NOT have financing like some will tell you. We were told the company they worked with-GE Capital from my research-wanted to boost the interest rate to 35% so Ikea told them where to stick it.
Anyone have an experience or two to share using Ikea cabinets?