Over the past few weeks I've read through the culinary magazines that I subscribe to with fervor, looking for my next recipe fix. When Greg walks into the apartment, mail in hand, and there's a magazine in those somewhat winter-dried hands, I get excited. I'm pretty darn happy he's home too so the magazine is icing…I'm not one to say icing is the best part of the cake so he's the dill pickle on my sandwich plate…I love dill pickles.
I can't recall if I've said this before but Greg and I don't eat very much seafood. Lately though, as we've walked by the shrimp at the market, we've been in the "let's get it and then let's get even more" mentality.
In the past, shrimp and my ability to pay attention while it cooks hasn't coincided or produced anything worthwhile to eat (overcooked and tough) but something has clicked. I can make some tasty shrimp these days. Don't ask me what happened-I'm too busy picking out shrimp to question why the cooking gods have smiled upon me and granted me this talent. We are prompted to grab more than we ever have in our 8 years together and this has ignited another thought, "find more shrimp recipes." Done and done.
Not only do I love the flavor combination of the recipe, it's super simple. Give it a go and thank Real Simple magazine. If you want to find more shrimp recipes (this one was in a group of 10 ideas for the crustacean from this publication), look here.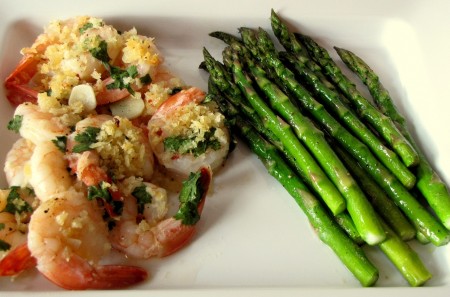 Real Simple's Garlic Baked Shrimp
Serves 4
Ingredients:
1 ½ lbs. raw, deveined, tail-on shrimp (size is your choice)-thawed if frozen
4 cloves garlic, thinly sliced
2 tbsp white wine
salt/pepper
¼ cup butter, melted
¼ cup panko breadcrumbs
dash or two of red pepper flakes-optional (I added this and loved it.)
2 tbsp fresh parsley or cilantro (coriander), chopped (dried will work in a pinch)
Preheat the oven to 425.
In a baking dish, combine the shrimp (patted dry), garlic, white wine and salt/pepper. Mix the butter and breadcrumbs (add the red pepper flakes-optional) and sprinkle over the shrimp. Add the chopped parsley or cilantro and bake until the shrimp are opaque, 15 to 18 minutes.