I just finished a post over at the Wits about my parent's reveal of the mudroom they created. It's pretty sweet. It follows the remodel of both their kitchen and bathroom which are nothing short of amazing.
Much like this recipe from Nigella Lawson. I made it Sunday and both Greg and myself can't wait to eat it again. It's the kind of dish I'd pull out for guests and I intend to when my in-laws visit.
The ingredient combination might sound a little weird but it totally works. Works so well it made me say totally. If you have buttermilk to rid of it can help you out. I let it marinate for 12 hours (probably a little longer), added more garlic and left out the extra oil drizzle at the end. It doesn't need it.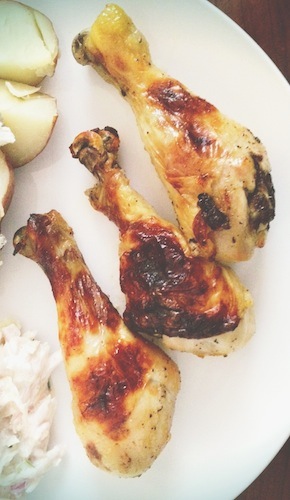 Buttermilk Roast Chicken from Nigella Lawson
Serves 2 to 4
Ingredients:
12 chicken drumsticks
2 cups buttermilk
1/4 cup canola or vegetable oil
3 large cloves of garlic, crushed
1 tbsp pepper
1 tbsp sea salt
1 tsp cumin
1 tbsp maple syrup
Place the chicken in a large freezer bag, add all the ingredients and shake to coat. Let marinate in the fridge for at least 2 hours but I'd let it go overnight (I did 12 hours). When ready to roast, preheat the oven to 425F. Take the chicken out, shaking excess marinade off, and arrange them on a sheet lined with foil. Roast for about 30 minutes or until brown and cooked through.