Remind me, this is spring time, right? Nearly mid-April? There is rain (as I type), making a pond of our backyard, causing both myself and the dogs to stare out the porch windows, wishing we could spend time outside.
We did visit our first estate sale of the season-a pleasant surprise over the weekend and there was a somewhat warm Sunday. We brought the antique sideboard outside to sand. Dueling sanders buzzing and annoying the neighbors. I spray painted some hardware for another piece of furniture which means it was warm enough to get that stuff out without the paint drying crackled and splotchy.
Now there's Storm Walda bringing 5 to 12 inches of snow over the next 3 days. That crap just melted here in our southern Minnesota area. My dad called this morning to find out what we're getting and reminded me of what could be and what's going on in northeast Indiana. Much of the same wacky weather but temps reaching 75 today then dropping 30 degrees in a few days. Sounds about right.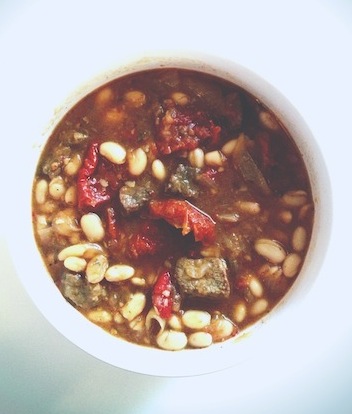 My food cravings are a bit wacky too. This weather means stew to me, something comforting but, on the other side of my mind is the part that seeks recipes for the grill and fresh ingredients to munch on while sitting in my Adirondack chair in the lovely sunshine. The comforting stew won out.
It was featured in Real Simple's April 2013 magazine in an article about umami. Savory mixed with sweet, salty, sour and bitter. Exactly what I wanted in my stew. I made this suggested recipe from the magazine with sun-dried tomatoes, onion, thyme and white beans. Delicious.
I have to be honest and tell you I didn't think it would blow me away but it did. Few ingredients and very easy. Do yourself a favor and get a nice baguette to sop up the broth. Use any canned white beans to make it easy on yourself. Cannellini, Great Northern, etc. etc.. I only added a smidge or two of white wine which makes everything better. Everything. Especially dancing or rather your opinion of how well you are dancing.
I knocked out one tablespoon of oil-just wasn't necessary. If your pot is rather dry, if you're browning the meat in batches (which is a good idea), go ahead and add that second tablespoon of oil between batches. Mine was not but I was just under 1 1/2 pounds of beef. I am trying really hard not to add "that's what she said"…to a few places in this post.
….. resisting it….
Braised beef with sun-dried tomatoes and white beans from Real Simple
Serves 4 (with a baguette, otherwise I'd say 3)
Ingredients:
1 tbsp olive oil
1 1/2 lbs. beef chuck, cut into bite-size pieces
kosher salt and pepper
small drizzle of dry white wine-optional
2 medium onions, cut into 6 wedges
4 cups beef broth (they listed chicken broth…just keep an eye on the sodium)
1 cup sun-dried tomatoes (about 4 oz.), halved (loose-packed but I had oil-packed)
8 sprigs fresh thyme
2 14-15.5 oz. cans white beans, rinsed (Cannellini, Great Northern, etc.)
Heat 1 tbsp oil in a large pot or Dutch oven over medium-high heat. Season the beef pieces with salt and pepper. (If your broth isn't low sodium you'll want to add a good amount of salt to season the beef.) Brown on each side, 5 to 8 minutes. I did this in batches to not crowd the meat (resisting that earlier urge). Transfer to a plate. Add the wine and onions to the pot and cook, turning occasionally, until they start to soften, 5 to 7 minutes. Add the broth, tomatoes, thyme and beef and bring to a boil. Reduce the heat to medium-low and simmer, covered, until the beef is tender, about an hour. Add the beans and cook until heated through. Remove the thyme sprigs and you're ready to go or completely forget and have a stem pop up that ruins the spoonful of yum (true story). Add a baguette to sop up the broth and you'll be sitting pretty.