I'm just going to casually slip in. Hoping it goes unnoticed that I have again been absent for over a month (nearing two). How's life? How's the fam? How's the weather?  Stressful, good, turning cold/about to snow here
Today I found myself wandering away from finding a cheap alternative to self-leveling floor compound for the basement (there apparently isn't one) and a cast iron self-rimming sink (changing my plans from an undermount to a rimmed version…story behind that I won't go into) under $250 with 2 holes for our impending kitchen update to pinning numerous recipes.
You know how it goes. I found a recipe on someone's Pinterest board which lead to looking through the whole board then I found a number of other boards on other Pinterest user boards (fact: Pinterest is a gateway drug) who had pinned the very same recipe as me which obviously means they have the same taste in recipes as I do so, you just can't pass it up, ya know? Especially when you're pretty much void of new recipes. My collection dwindling in the folder. My attention has been focused elsewhere.
The old Instagram account is being used on a more regular basis these days (after removing the private option) and might give the impression I am laden with recipes. Lies. All lies. Maybe fibs. Dipped in chocolate so these untruths are tasty.
Admittedly, I've had some real goodies for dishes but I crave more. Something warm for the "it's almost snowing" season, filling with flavor, and has no more than 500 calories per serving (lady on a diet watching her calories and doing more strength training with her cardio). I'm hungry, ya'll or y'all. I don't know. I'm from a town in northern Indiana, near the corner, almost to the Michigan and Ohio lines. Like supper versus dinner. I say dinner. Relatives say supper. Pop or soda. Pop in our household. What was I talking about? I got a new hairstyle. No, that's not it although I did. Note to self: update photo at the top.
I was getting to the delicious bits of the post. Apple cider cream pie and pumpkin spice rice krispie treats. Yum and yummer. (It's taking all my strength not to insert a Dumb & Dumber joke here.) Thought I'd give you the two best dessert/treats I've had in the last 2 months. Even though I think these go in the all-time best record books for that category. Loved them.
The apple cider cream pie…well…

In 2009, Allison Kave and her boyfriend, Jay Horton, were winners in Brooklyn, New York's Pie Bake-Off with this clever pie. The challenge was to use a local ingredient, so they chose apple cider and developed this delicious combination of cream pie and apple pie. Winning the contest was the impetus for Kave to open First Prize Pies in Brooklyn. ~Food & Wine
It won a freaking prize.  A totally deserving one and was reason enough for me to try it.  Umm awesome.  Not overly sweet nor too tart and the cinnamon whipped cream really set it off.  This would be great for Thanksgiving.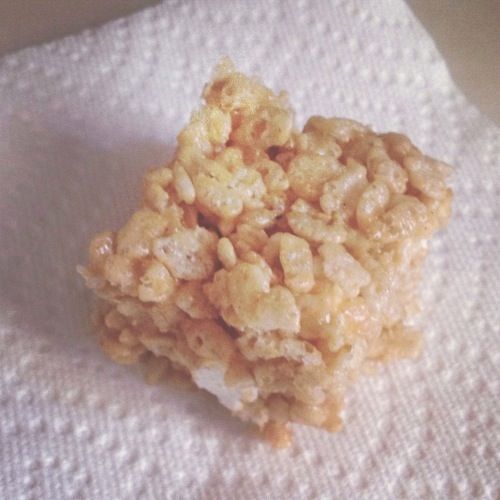 The pumpkin spice rice krispie treats I'm sure will become something you make each season when everyone goes gaga for pumpkin.  Delicious.  Also good for Thanksgiving or a weekend when you want to cry in the bathroom over the amount of calories you've consumed (why did you make an entire batch while "watching your calories") because you will eat an entire pan alone in a day or two.  Just happens.  No, I shared with my significant other (and sent a few to our friends).  Regretted that decision.  Be sure to follow the directions exactly or you'll get soggy treats.
Apple Cider Cream Pie from Allison Kave and Jay Horton
Print
Ingredients:
Crust: Make your own or be a cheater pants like me and buy it this time
1 cup all purpose flour
1 tbsp cornstarch
1 tbsp sugar
1 tsp salt
1 stick (8 tbsp) unsalted butter, cut into 1/2-inch dice and chilled
3 tbsp cold milk
1 tsp apple cider vinegar
Filling and Topping:
2 cups apple cider
1 cup sugar
1/2 cup sour cream
1/4 tsp salt
4 large eggs
1 cup heavy cream
1/2 tsp cinnamon
Crust: in a food processor, combine the flour, cornstarch, sugar and salt. Add the butter and pulse in 1-second bursts until the mixture resembles coarse meal. Combine the milk and vinegar and drizzle it on top. Pulse in 1-second bursts until the dough just comes together. Turn the dough out onto a work surface, gather up any crumbs and pat into a disk. Wrap in plastic and refrigerate until chilled, about 30 minutes.
On a floured work surface, roll out the dough to an 11-inch round, a scant 1/4 inch thick; ease it into a 9-inch glass or ceramic pie plate. Trim the overhanging dough to 1 inch and fold it under itself. Crimp decoratively and chill the crust until firm, about 15 minutes.
Preheat the oven to 425°. Line the crust with parchment paper and fill with pie weights or dried beans. Bake in the lower third of the oven for about 15 minutes, until the crust is barely set. Remove the parchment and pie weights. Cover the edge of the crust with strips of foil and bake for about 15 minutes longer, until the crust is just set but not browned. Press the bottom of the crust lightly to deflate it as it puffs; let cool. Lower the oven temperature to 350°.
Filling: in a medium saucepan, boil the cider until it's reduced to 1/2 cup, about 10 minutes. Transfer to a bowl and let cool. Whisk in 3/4 cup of the sugar, the sour cream and salt, then whisk in the eggs.
Pour the custard into the pie shell without removing the foil strips. Bake the pie in the lower third of the oven for 35 to 40 minutes, until the custard is set around the edge but the center is slightly jiggly. Let the pie cool completely.
Topping: in a medium bowl, using an electric mixer, beat the heavy cream with the remaining 1/4 cup of sugar and the cinnamon until firmly whipped. Mound the cream on the pie, cut into wedges and serve.
Pumpkin Spice Rice Krispie Treats from Nealy Dozier at Dixie Caviar
Ingredients:
3 tbsp unsalted butter
1/4 cup canned pumpkin puree
1 (10 ounce) bag mini marshmallows PLUS 1 cup
1/4 tsp pure vanilla extract
1/4 tsp ground cinnamon
Pinch of allspice
Pinch of freshly grated nutmeg
Pinch of kosher salt
6 cups crispy rice cereal
Butter a 9×13-inch baking dish.In a heavy saucepan or Dutch oven, melt butter over medium-low heat. Add the pumpkin puree and continue to cook until it is warmed through. Fold in 10 ounces of the marshmallows, stirring frequently until almost completely melted. Stir in vanilla, cinnamon, allspice, nutmeg, and salt, and remove from heat.
Allow the marshmallow mixture to cool 10 minutes; fold in the remaining cup of marshmallows. Continue to cool the mixture for another 20 to 25 minutes until it is room temperature (failure to cool the mixture will result in soggy rice crispy treats.) Add the puffed rice cereal and stir, using a silicone spatula, until combined.
Press the mixture into the greased rectangular baking dish. Let set for 30 minutes before cutting and serving.
Here is that recipe I promised you last week. The one to go along with the homemade creme fraiche I told you about. It comes from Ree the Pioneer Woman whom I trust very much when it comes to recipes. She doesn't let me down ever. (I don't know her personally but I bet she's a lovely lady.)
Her braised short ribs are nothing short (ha) of pure awesome sauce (and meat). I especially like that they are free of tomato-anything in a time I am tomato-ed out (beginning of fall).
I whipped up a small batch and regret not getting more bone-in beef short ribs when I had the chance. Before I turn the conversation into a rant about not having simple cuts of meat in any of the 4 stores in town…on a regular basis…I'll just let you know I did not have bacon or pancetta but did have salt pork (the inexpensive salt-cured but not smoked meat from the belly of a pig…which one store does have consistently). Substituto!
Instead of serving it with poletna, I used some of that creme fraiche in place of plain old buttermilk (buttermilk + heavy cream + time = creme fraiche from my last post) in some mashed potatoes. Like this recipe here.
My better half, Greg, loved this dish (as did I of course). Next time I will 1) buy more short ribs 2) make a bigger batch and 3) freeze a portion because I've read it can be done. I plan to do this again soon. Like today if I had short ribs. Which I would get if I had the car and an hour to get to the store that has them. But nooo, I'm covered in paint with a blanket as a bathroom door since we're painting our interior doors and windows right now. I also have some chalk paint to get on a dresser in the garage so, another batch of braised short ribs will have to wait.
*I swear I took a number of photos throughout the cooking process but I can't find those anywhere. The only photo I have is sloppy from the night we had them as a late dinner.
Braised Short Ribs from Ree the Pioneer Woman
Serves 4
Print
Ingredients:
8 whole bone-in beef short ribs
kosher salt and pepper
1/4 cup flour
6 pieces of pancetta (or bacon or salt pork), diced
2 tbsp olive oil
1 medium onion, diced
3 carrots, diced
2 shallots, peeled and finely minced
2 cups red (or white) wine
2 cups beef (or chicken) broth (enough to almost cover the ribs)
2 sprigs of fresh thyme
2 sprigs of fresh rosemary
Salt and pepper the ribs then dredge them in flour and set aside. Preheat the oven to 350F.
In a large Dutch oven, cook the pancetta (or bacon or salt pork) over medium heat until crispy and fat is rendered. Remove the pancetta and set aside. (I didn't know when to add it back but since I used salt pork-which is very salty-I only added a few pieces before putting it in the oven.) Keep the rendered fat in the Dutch oven and add the olive oil then increase the heat to high. Brown the ribs on all sides then remove the ribs and set aside.
Turn heat to medium and add the onion, carrot and shallots to the pan. Cook for a few minutes until starting to soften then pour in the wine and scrape the bottom of the pan to get the delicious bits up. Bring to a boil and cook for 2 minutes. Add the broth, cooked pancetta (or bacon or a few pieces of salt pork), 1/2 tsp kosher salt and lots of black pepper. Taste for salt then add the ribs to the liquid. They should be nearly submerged. Add the thyme and rosemary sprigs to the liquid.
Put the lid on and place in the oven. Cook for 2 hours at 350F then reduce the heat to 325F and cook for another 30 to 45 minutes. Ribs should be fork tender and falling off the bone. Remove the Dutch oven from the oven and allow to sit for 20 minutes with the lid on. Before serving, skim the fat off the top of the liquid. Serve over polenta or the creme fraiche mashed potatoes I mentioned above. The ribs are also great with the creme fraiche on their own.