Speecy spicy and hotsy totsy like the Swedish Chef says from the Muppets. Could be the use of a habanero in place of a jalapeno in these snap peas. I was very pleased with this (yet another) Real Simple recipe.
Naturally though, I couldn't stick too strictly to their version. That little habanero twist had our lips burning in the best way that heat loving people like Greg and I adore. Use a red jalapeno if you are not a heat-seeking foodie. That is if you're looking for more visual interest use a red chili or red Fresno pepper or most of your dish will be green….like Kermit. How did I get on a Muppets kick? It's not easy being green.
As you can see in the picture, I paired it with a breaded pork chop. A grand idea if I do say so myself. The heat and freshness spiked with lime went well with the fatty, heaviness of the chop. Top the snap peas with cilantro and peanuts for even more oomph. No bland side dish here and it's ideal for spring which finally arrived in Minnesota. I'll ignore the fact that they are calling for snow tomorrow. It won't stick and I'll be grilling soon enough on the patio. Right?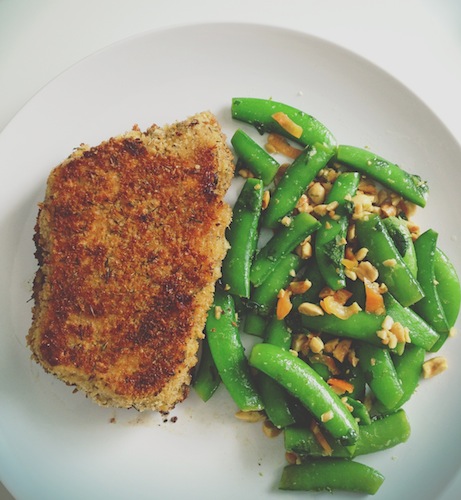 Chili-Lime Snap Peas
Serves 4
Ingredients:
kosher salt
1 lb. snap peas, trimmed
1 small habanero (if you like a heated kick) or red chili pepper (like A jalapeno or Fresno), thinly sliced or minced
1/4 cup roasted peanuts, chopped (smash them in a plastic baggie with a wooden spoon or measuring cup)
1/4 cup fresh cilantro leaves
2 tsp canola oil
1/2 tsp finely grated lime zest, plus 1 tbsp lime juice
Bring a medium pot of salted water to a boil and set up a bowl of ice water. Add the snap peas to the pot and cook until just tender, 1 to 2 minutes. Drain and transfer to the ice water then drain and pat dry. They should be bright green. Toss the snap peas with the chili, cilantro, oil, zest and juice with a pinch of salt in a bowl. Add the peanuts just before serving or they will become soggy.