I have a confession: I'm a quiet (more like silent) follower. I'm not the type of person to leave a comment on a website. It's hard to admit that because every book about blogging talks about how much you should be commenting on other people's posts to "make it" as a successful blogger. They say over 90% of online visitors do not comment. (They also say 70% of statistics are made up….)
There are dozens of bloggers who probably don't know how supportive I am of their work. I should say something but fear my intentions would be spun into something negative so I pass. She's only commenting to connect to a popular blogger. She's trying to improve her site search. She's trying to promote something that she's doing. Etc.
That would hurt. I know people are out there like that. If I respond, my intentions are genuine. Sometimes I get over it and do it anyway. Figuring out exactly what I'm trying to state is lost on me. Much like real-life, human conversation and I go. Similar to when you figure out what you were trying to convey and how to do so but the moment is gone.
Most of my supporters are quiet but I've had an outpouring of encouragement outside of my blog- facebook, email, twitter, word of mouth from family and friends and in person. I'm very grateful for that and I truly adore my supporters.
Since starting the dabble in July 2009, I've had to come to terms with the fact that general blogging etiquette is to respond to another person's website if they have commented on your post. I wasn't aware of this for a long time and still am kind of clueless about blogging etiquette. If I come off rude, I apologize. It's courtesy to comment back and I gladly will. You obviously felt my post enough to say something and I love reciprocating.
I've made a few great connections with other bloggers this way and adore our relationships. I'd like to meet them some day. Sure, there have been a few insulting comments from people who love the anonymity factor of the blogosphere. What possesses someone (besides anonymity) to leave rude comments or email? I have my notions but that's enough for a book.
I'm always second-guessing myself. Do I send out a private message to people on twitter when they follow me or when I add them? Do I send out one message to everyone or make it personal? How do you respond to flickr comments? If someone adds me to their blog roll (sites that person enjoys), is something expected of me beyond a message that I am grateful? If someone adds me to their blog roll (if I even know about it), how do I handle that? When someone FF's me on twitter (Follow Friday which I learned helps suggest that others follow you from a kind person who likes you), do you return the favor or do what I used to do and simply thank them kindly? A woman did this to me every weekend for months and I would tell her how truly grateful I was…then at some point she stopped and 'unfollowed' me…what's that about? That leads me to believe I was supposed to do it back.
Am I supposed to ignore when "popular food sites" fail to give me credit for my material? As a blogger, am I supposed to ignore the thousands of posts about rightfully claiming your material (even hypocritically posted on some of these "popular sites" that didn't give me or my blogger friend credit)? Is it one of those issues where that's what is said but not done- the etiquette really being that you let it go or face ticking people off further up the chain that can ignore you for the remainder of your blog's existence? I'm glad they highlight bloggers like me once in a while and still cherish their work but knowing at least one of their reps is rude is a little unsettling. Was I not supposed to point it out in the nicest way possible (too nice sometimes)? So the guessing goes on and on.
Right now, if I want to follow you after checking out your site, I will. If I want to give you a shout out, it will be on my blog and rarely on twitter. I don't send out private messages thanking you for following me that I can remember but that doesn't make me ungrateful. If I'm feeling you and your work, I might add you to twitter/flickr/facebook/tumblr/etc. but I am not above 'unfollowing' anyone for any reason and it's not personal 9 out of 10 times.
What's your idea of blogging etiquette?
I know one thing I try to do on here is mind my manners and lead you to a tasty recipe. Today's food find is a snack in my top 5 all-time favorites. Greg, my husband, described these as tasting similar to "tiny, baked potatoes of joy." Low in calories, big on taste and you could probably pull these out and impress your guests by not counting on the old bag of potato chips routine…especially if you call them edamame and not soy beans. Sounds better. I politely thank you for stopping by and hope to see you again.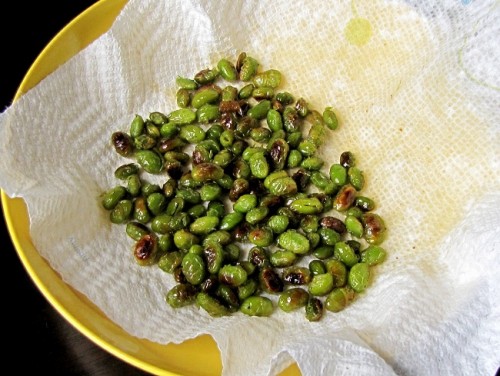 Roasted Edamame
Makes about 3 cups
Ingredients:
1 lb. frozen, shelled edamame
½ tsp sea salt
½ tsp freshly ground black pepper
1½ tsp olive oil
*You can add 1-2 tsp of spice like cayenne, cumin, or paprika or a combination for a change.
Preheat the oven to 400F. Thaw and drain the edamame and pat dry. Toss the edamame, salt, pepper and olive oil in a bowl. Spread in a single layer on a baking sheet and roast for 45 to 60 minutes, or until browned. Shake or stir the edamame around every 15 minutes or so and keep an eye on them so they don't burn. Place in a serving bowl with or without paper towel to absorb the excess oil.