Meltdown week. I ranted on my personal facebook page yesterday. Just couldn't take it any longer. If you can think of an electronic/tech equipment-y thing in our house, you can bet it's not working correctly or at all. This has been on repeat for a month. The printer, the computer, our cable/internet/DVR, my phone, my blogs, my iphoto folder, etc.. One thing was solved. (I went to write you earlier this week and couldn't get the dashboard to come up on any browser. And I haven't even begun the switch to a new host like I brought up in the last post.)
When I finally got back on here after a month of other technical issues preventing me from doing so, I was feeling all kinds of happy and motivated. My recipe was even accepted on Tastespotting like in the old days. Baby, I felt like I was back and my devotion to you and the Dabble renewed. I had the idea to write a post about ingredients that have changed my life, got all pumped then had these problems come along…every.single.day a new thing and had the wind knocked out of my sails. So, when I get back on board with that idea, it will come to you. I began diverting my attention with choosing paint for our living/dining room. Check that out at my other blog, thewitsblog.com-it includes embarrassing pictures of our living and dining room and an awkward scenario. The ushe then.
Earlier this week I made the world's grossest cookie. It had chocolate and banana chips but the tahini and whole wheat flour turned on the recipe, taking it to Disgusting City instead of Nom Nom Central. Not that there's anything wrong with whole wheat flour or tahini but it was so wrong together in this case with the other bits. The week before, I made one of the tastiest which I'm here to share today. It's a spin on the no-bake cookies of my childhood and uses coconut oil which I've been dabbling (ha…it's the name of the blog, people) with these days. And Nutella. I think that should do it so here's the recipe.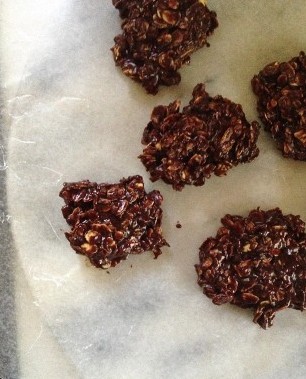 Nutella No-Bake Cookies
Ingredients:
1/2 cup sugar
1/4 cup cocoa
1/4 cup milk
1/4 cup coconut oil
1/4 cup Nutella
2 cups old fashioned oats
1 tsp vanilla
pinch of salt
*I added a palmful of cacao nibs but they are optional
Get out a baking sheet, plop some wax or parchment paper on top and set aside. In a saucepan, mix the sugar, cocoa, milk and coconut oil over medium-high heat. Bring to a boil for about a minute then remove from the heat and stir in Nutella, vanilla, oats and salt (plus the cacao nibs if you're doing that). Drop on the wax or parchment papered baking sheet by the spoonful and refrigerate until chilled. Now you're in Nom Nom Central.