If you stay busy enough you don't recognize the truth of the matter. You are busy enough that horrible things may only seem like a nightmare. Something like a family member finding out they have cancer. A mass in the lung the size of a grapefruit, inoperable. Something you've been unable to wrap your mind around, something that knocks you and your family off the trail of everyday, content life and makes you want to do almost anything but face or talk about it (I was gone last week) or do much cooking in my case. But I couldn't say no to the waffle recipe below.

Once you stop, when you pause during the day, a time you purposely try to fill with activities and ways to still embrace life and hope. Paint a nursery dresser for new life coming, work on your first house, find more mid-century dressers to hoard collect, go out to a new restaurant, ogle over hardware, spend time on Pinterest, care for your new puppy-you realize that not only is this real, it's happening as your life in a few states away is happening. You are not there, there's nothing you can do.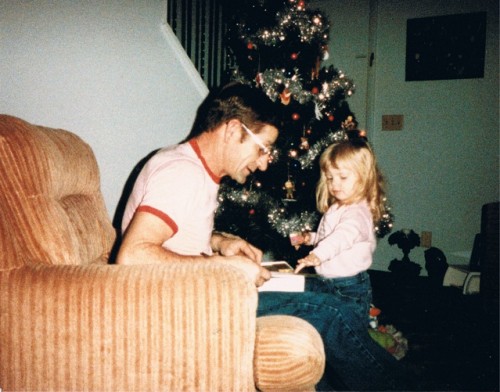 He was jumping and running around in August over our visit. Being the person, being my grandpa, the man I've known for almost 30 years. My grandpa was going to be the one, if any of us in the family were going to, to live to be over 100. He's active, in his 80's, and full of energy, wisdom and an orneriness that gives him vitality and a lust for life. And he has cancer. In his lungs, in his bones (in the bones being something I found out over the weekend).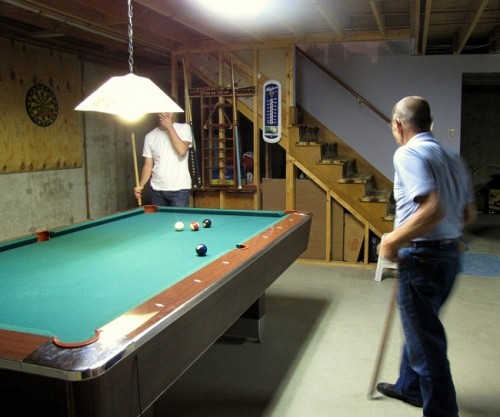 Then in January, he was down in the hospital with what they thought was pneumonia. Not pneumonia, it turns out, it's a grapefruit size cancerous tumor in his lung. The thing to take him down is something that's been there while he's been so full of life. It was most likely there while he was driving around in his Studebaker and playing pool, grilling the family meal at gatherings, there while he was farming and there while everyone commented about his huge appetite and ability to cram so much food into his small body without gaining weight or slowing down. It's been rumored he has a hollow leg where he stores that excess food. Something I wish I had inherited.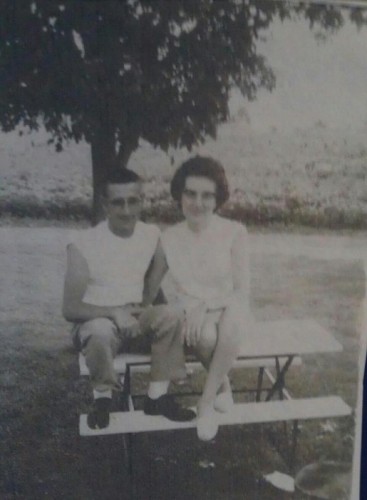 A smart man, a fun person, a loving husband for over 60 years, father to 4 daughters, grandpa of 7 grandchildren and almost 2 great grandchildren (my sister is about to have Baby Girl any day now). We don't have kids yet and the plan was for him to be around when that day came.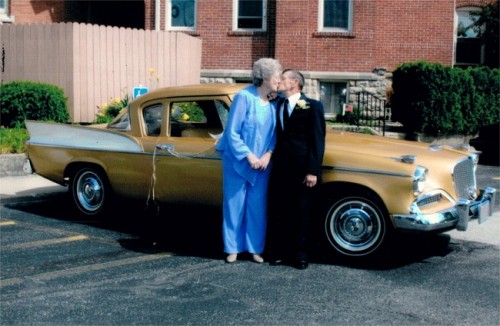 My grandpa is charismatic, to know him is to love him. He's not one to slow down. Not even his hair grays and he's compact at 5'3" (same as me) with brown eyes that sparkle (same as me…well just the brown eyes). He whistles and hums songs that make whatever it is you are doing with or near him that much more enjoyable.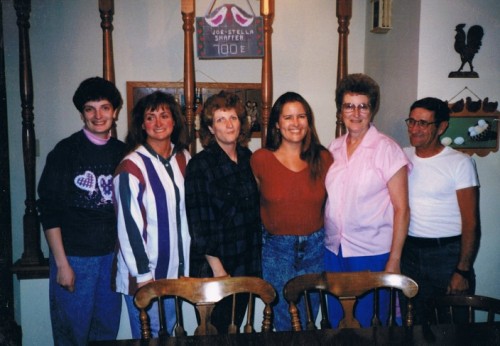 A record plays in their finished basement. A place the family often congregates and one of the most common memories to pop into mind when I'm not busy enough to keep this all at bay. There he sings along, his deep voice booming, while he stokes the fire. He's the type of grandpa to sing 'You are my Sunshine' or 'Say, Say Oh Playmate' while he swings you in the hammock. You feel like he has nowhere else to be and nothing else to do but spend time with you and you feel great. Then my mind flashes to another time and he's leading me through the garden to the gooseberries and strawberries so that we can eat to our heart's desire. The warm, sun-ripened berries taste enhanced by his company. And the marble game known as aggravation, the hundreds of games we've played, with all of our habits, phrases and teasing we've acquired through the years and that does it for me. I'm crying and angry. Really? To grandpa? What is grandma to do? What would any of us do without him? He's a fighter though. He has our support. He has our love. That's about as much as we can do.
So I've been out of my mind with worry, blurry-eyed and angry. Yes, that is different from every other day to you smartasses.

We're waiting to hear the treatment plan. Doctor appointments, scans, oxygen supplies all going on to someone you love somewhere else while I'm playing and loving on the new puppy in our household, Henry. He's a darling boy and long-awaited in our lives.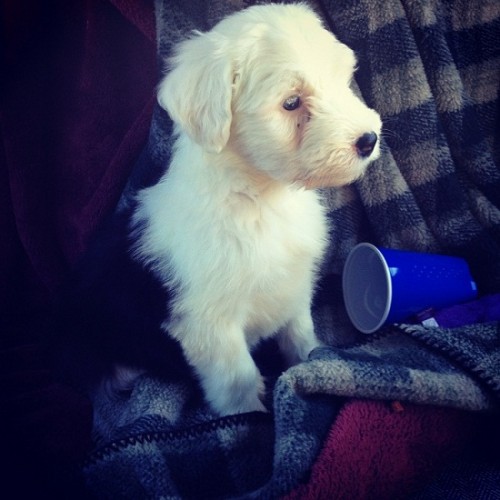 Greg and I are pet people and our last 8 years of apartment living didn't allow for a dog. We have the house now and I went for it. He's an 8 week old, 7 lb., Old English sheepdog. He is ornery and sweet and a character much like my grandpa. And he consumes a lot of time which is nice. He's our baby. He will be around 70 lbs. as an adult so he will turn into our very big baby.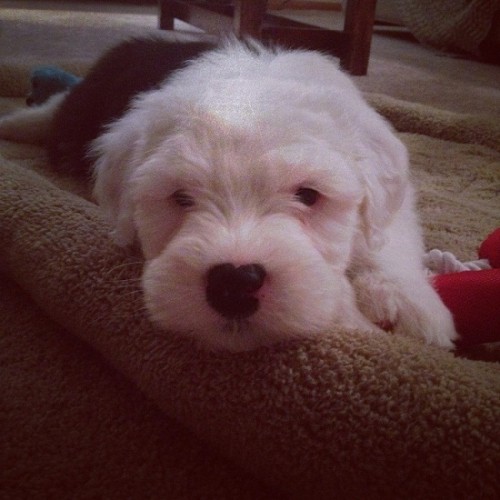 We did purchase a waffle maker before the news and you have to try those out. Even when you don't want to eat, you hear waffle and become hungry, right? Hungry enough to eat your weight in waffles.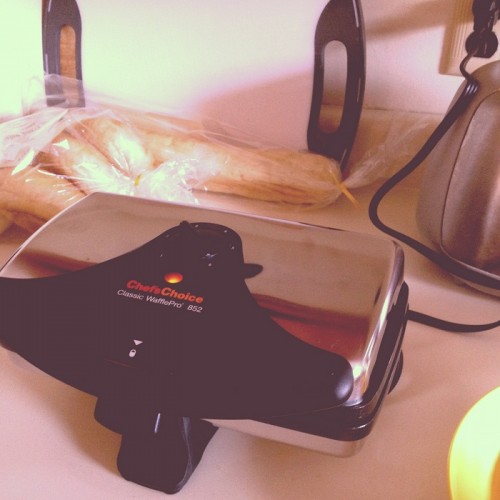 I came across this recipe by accident but I trust the sources-Serious Eats and Better Homes and Gardens- and it does make some delicious waffles. If you have this handy pancake pen, you're good to go for a fast breakfast. I'm not affiliated with the company-it just works great and is worth a mention. Premade, frozen waffles no longer necessary.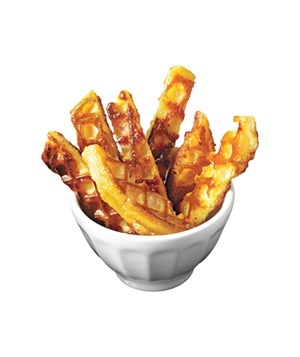 When you want to change it up a bit, these cinnamon sugar waffle fingers look awesome.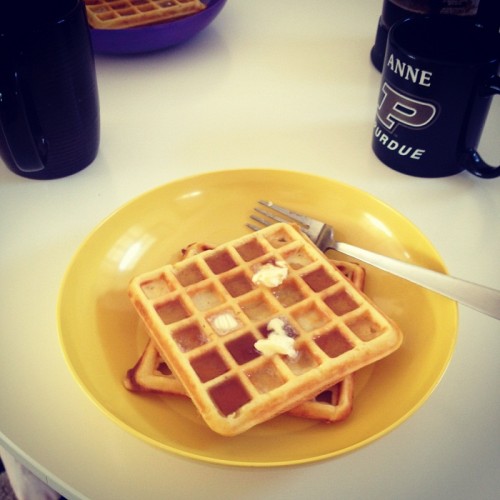 "The Greatest Waffle Recipe Ever" from Serious Eats and BHG
Serves 2 to 4 (or one)
Ingredients:
1 ¾ cups all-purpose flour
1 tsp baking powder
¼ tsp salt
2 egg yolks
1 ¾ cups milk
½ cup canola oil
2 egg whites
In a medium bowl, stir together the flour, baking powder and salt. In another bowl, beat the egg yolks slightly, stir in milk and oil. Add the egg yolk mixture to the dry mix and stir until moistened (should be lumpy).
In a small bowl, beat the egg whites until stiff peaks form (stands straight up). Gently fold the whites into the flour mixture. Do not overmix. Spoon the batter into the waffle maker (don't overfill), following its cooking directions then serve with syrup and butter or however you like your waffles. I like a little butter between each waffle topped with a good amount of syrup. Boysenberry syrup would be lovely too. That's another memory from my grandparent's house. Excuse me, I have to go make these again…for dinner. And some extra for a snack and then again for breakfast.