Just stopping in real quick, on a break from painting the closet, to tell you about or maybe remind you of this recipe. It's all over the foodie blogosphere. I'm a little late to the sauce party. I have sauce on my face. Color me saucy. I'm done. But I'd rather be late than not experience this recipe at all.
This tomato sauce…it's…well…3 ingredients and I had doubts about the rave reviews for these 3 little items simmered together (4 with salt). Whole peeled tomatoes, an onion and butter. Just those things make one of the best pasta toppings ever? Nah but yes, they do. Ridiculously good. Even "wasting" the onion is dandy with me on this one. I say waste because the onion imparts its flavor then is removed.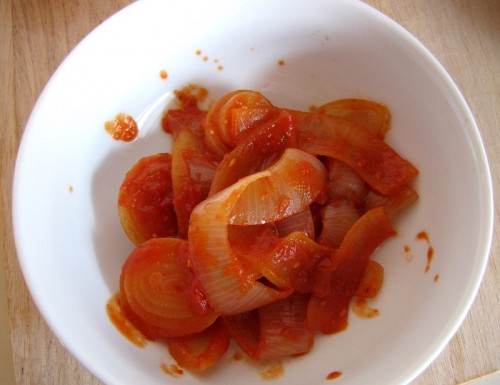 I don't think you'll be complaining. Give it a go and tell me what you think. Just don't do what I've done almost every time I've made this (which has been several times in the last few months) and let the tasty sauce plop you in the face as it simmers. Stand back. Let the sauce cool and thicken then get close and personal.
By the way, did you happen to see me on the Weather Channel last week? Well, my recipe and some photos. Uh, awesome! Growing up, if you were passing through the living room when dad was home, you would most likely see him watching the Weather Channel. He would dance to the local forecast elevator muzak. And it would be hilarious, good fun. When I think about my younger days, my dad busting a move to the weather channel is one of my best memories. Makes me smile. So I feel like I've "made it" by being on there. I'm only partially joking.
Thanks to them and also to Yummly who have made me an official "delicious blog" on their fantastic site with a feature on my cheddar cheese soup. The entire post is about delicious, cheesy recipes. Nice.
Tomato Sauce with Butter and Onion
From Smitten Kitchen adapted from Marcela Hazan's recipe in the Essentials of Italian Cooking
Makes enough to coat about a pound of pasta
Ingredients:
28 oz. canned whole peeled tomatoes (San Marzano brand is my choice)
5 tbsp unsalted butter
1 medium onion, peeled and cut in half
salt to taste
Put the tomatoes, butter and onion in at least a 3 quart pot (I like my Dutch oven for this), set over medium heat. Bring the sauce to a simmer then lower to a slow simmer for about 45 minutes. Stir occasionally, crushing the tomatoes against the side of the pot with a spoon. Watch your face with those plops. Remove the sauce from the heat, discard the onion, add some salt to taste and keep it warm while you prepare your pasta or store it in the refrigerator and use it in the next few days.